From classic cars to crumbling buildings, Cuba carries the faded beauty of an old movie. Famous for revolutions, communism and its delicious drinks, country's political history often goes hand-in-hand with its liquid one. Today we're making one the island's classics, the Cuba Libre.
While classic concoctions such as the Daiquiri, the Mojito and El Presidente might require a little more skill (or a good bartender), this week we turn our attention to a much more simple drink: the Cuba Libre. On the face of it, the Cuba Libre is just rum and Coke with a bit of lime. But dig deeper, and it becomes so much more. This is not just a spirit/mixer, this is a cry for freedom.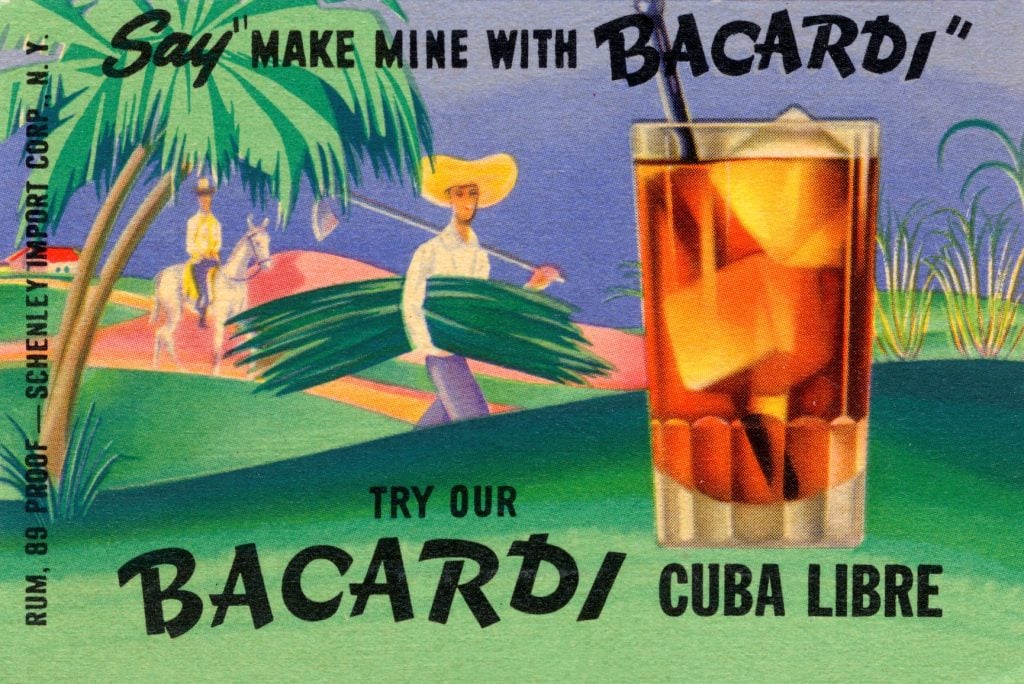 Free Cuba
The Cuba Libre (which means Free Cuba) became a popular drink on the island following Cuba's war of independence with Spain in the late 1800s. Before the arrival of Coca-Cola to the island, reports suggest the original Cuba Libre was a mix of honey or molasses with water and rum, or just water and brown sugar.
But by 1900, Coca-Cola was well-established in the country and no doubt a welcome sight for American soldiers still garrisoned there, following the war.
Bacardi, which at that time was still making its rum in its native Cuba, calls the Cuba Libre "part cocktail, part rallying cry". And original recipes call for Bacardi in the mix.
The rum brand's archivist Rachel Dorion says that in August 1900, a messenger to Roosevelt's commander General Leonard Wood, who was later appointed the Military Governor of Cuba, witnessed a new incarnation of the Cuba Libre that used Coca-Cola.
The messenger, Fausto Rodriguez, said that shortly after the war in Cuba, with military intervention still in effect, two Americans opened The American Bar on Neptuno Street in Havana.
The invention of the Cuba Libre
"Rodriguez remembered meeting an American member of the Signal Corps named Russell who ordered Rodriguez a Coca-Cola. He himself ordered his Coca-Cola with Bacardi Gold rum and a wedge of lime," says Dorion. "The drink became extremely popular among the American soldiers who regularly gathered at the bar."
The story goes that Russell and his soldier friends decided the cocktail deserved a name. They went for 'Cuba Libre', since the phrase 'Free Cuba!' was a cry embraced by both Cuban revolutionaries and sympathetic American soldiers.
Rodriguez later affirmed under oath in the State of New York that the event was the first time the phrase Cuba Libre was applied to an alcoholic drink, and that the ingredients were Bacardi Gold rum and Coca-Cola.
Records from the Bacardi archives show that the Cuba Libre cocktail made with Bacardi rum has been mentioned in publications as early as 1928 and in recipe books in the late 1930s. The earliest advertisement that mentions the Cuba Libre cocktail in the Bacardi archive dates back to the 1930s and it reads: "Say 'make mine with Bacardi'. Try our Bacardi Cuba Libre."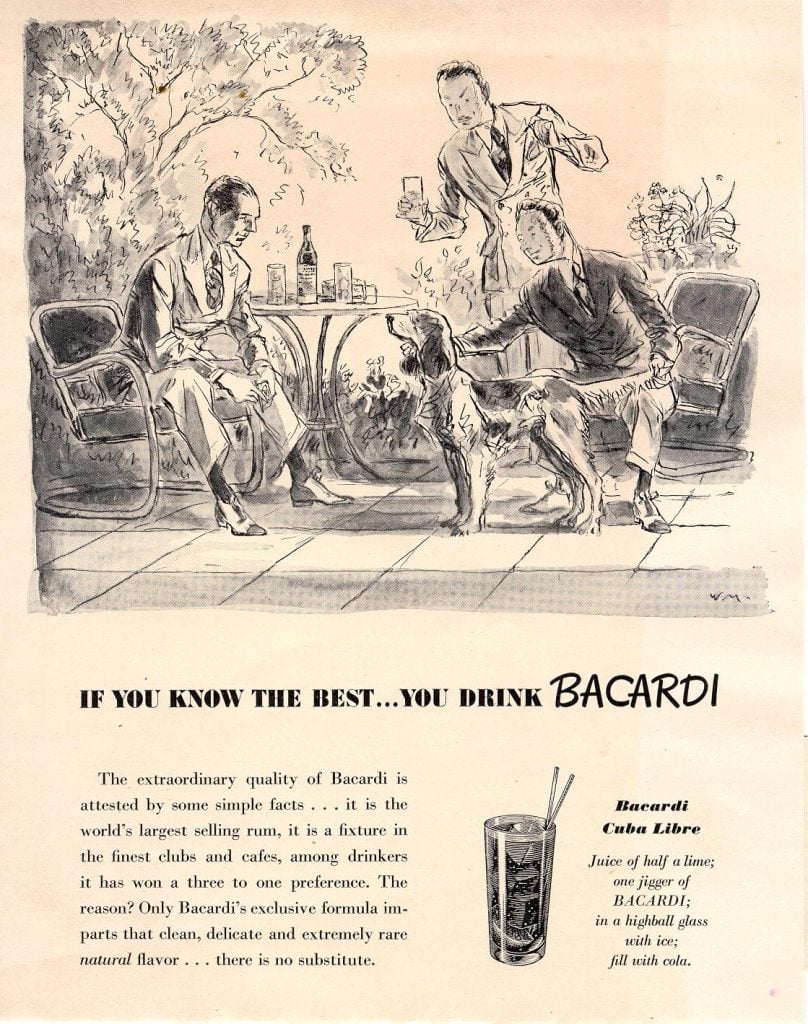 Refreshers to lamb chops
In fact, the Cuba Libre has been advertised in several different ways over the years. In a 1946 LIFE magazine ad, the drink was hailed for being refreshing and by 1953, it was all about calorie counting. This ad claims a Cuba Libre has fewer calories than a lamb chop! Good to know, I guess. 
Besides Bacardi, Pernod Ricard's Havana Club also champions the Cuba Libre. The rum is made in Cuba and in 2018, Havana Club relaunched its Añejo Especial, with a big push for the Cuba Libre cocktail.
"Not to be confused with a basic rum and cola, the authentic Cuba Libre needs a generous squeeze of lime to even out the drink's sweetness," says Havana Club.
First taste of 'freedom'
Balance is always important in a drink. And, as it happens, when you're standing up on a train.
My first Cuba Libre  – and not just a plain old rum and Coke – was 2009, on board an old Hershey's Chocolate train that rattled through the sugar cane fields near Havana to Hershey station. US chocolate magnate Milton Hershey had set up business in Cuba in the early part of the 20th century, establishing a railway for the transportation of his sugar.
Anyway, nearly 100 years later, I was on the train in Cuba with Havana Club rum and about 15 bartenders.
It turns out that besides rum, cola and the necessary citrus, you need three other things to make a good Cuba Libre on the back of a rickety old train: pre-cut limes, plastic glasses and a steady hand. Of course, it also helps if you're surrounded by bartenders.
So, without further ado, here's how to make it: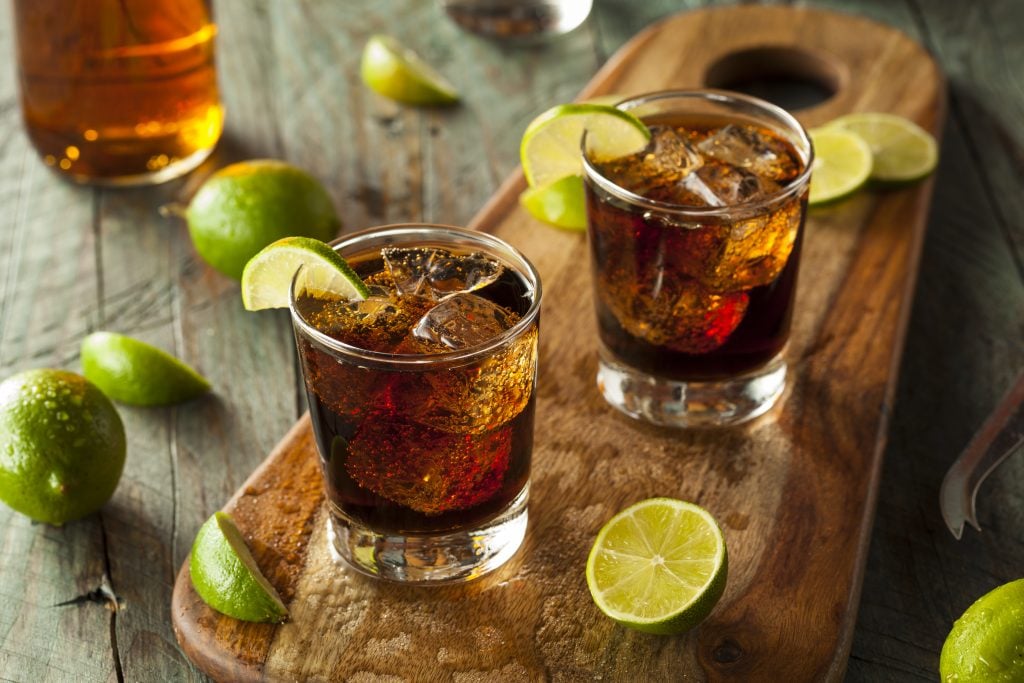 How to make a Cuba Libre
50ml Bacardi Carta Oro rum
100ml Coca-Cola
2 lime wedges
Fill a glass with ice, squeeze over the lime and drop the wedges into the glass. Add the rum and cola. Give it a gentle stir and garnish with more lime. Raise a toast to Cuba Libre!