This week we're honouring both Sober October and Black History Month with a zero-alcohol serve made to support diversity and inclusivity as part of the Equal Measures UK initiative.
A lot goes on in October. There's people trying to abstain from alcohol (I'm sure you've seen our Sober October coverage), there's folks embracing their spooky side and, 2020 aside, plenty of Oktoberfest-based shenanigans. 
However, in the UK, October is also Black History Month. It was launched in London in 1987 to educate people about history that was not taught in school. Over the years it's become a platform to celebrate people of colour within our society and to draw attention to causes that aim to address the lack of progress that's been made in the name of equality.
This year Deano Moncrieffe, an award-winning bartender and owner of Hacha (the amazing agave spirits bar in Dalston, London) has founded the Equal Measures initiative, to "raise awareness around diversity and inclusion within the hospitality industry". Here's how it works: each day of October, Moncrieffe shares a cocktail that's been inspired by a person of colour who the creator believes has had a positive impact on society on the Equal Measures Instagram page. Instead of championing historical figures, the guests are encouraged to talk about people close to them.
"I wanted to drive the positive agenda around diversity and the importance of our hospitality industry reflecting the society it serves in the UK," Moncrieffe explains. "I've been fortunate enough to travel all over the world and it's surprised me how few cocktails are inspired by people of colour. I thought this initiative was a great opportunity to shine the light on black individuals who have made a positive impact but have not been widely recognised or spoken about as much as they should be inside our industry". 
Moncrieffe also felt there needed to be a greater level of transparency on how companies promote and support diversity programs, explaining while there are plenty of diversity programs in place in the hospitality industry, "no one really knows what it is they actually do, how they measure success and how they intend to support people from BAME  communities".
Education was the final key driver behind Equal Measures, with Moncrieffe describing it as the "absolute key to us moving forward positively in the hospitality industry when it comes to diversity and inclusion", adding that means education on "how racism can affect the mental health of your co-workers, how people from many different backgrounds should be represented in senior management positions but currently, the numbers do not reflect this, how we up-skill BAME individuals already in the industry to help set them up for successful careers with the same potential for progression as their coworkers and, finally, education at recruitment level so we can attract more individuals from BAME communities to join our wonderful industry".
This week's cocktail is one that was made with the Equal Measures initiative in-mind and excitingly, actually honours Moncrieffe himself. It was created by the wonderful Camille Vidal, founder of the mindful cocktail website, La Maison Wellness and something of a regular on this blog. Vidal encourages her readers that while drinking this Margarita they should take a moment "to reflect on what positive impact you can make, how you can support inclusivity and diversity in your community. If you are a person of colour we want you to know that you are always welcome". Hear, hear.
At the base of her serve, Mockingbird Spirit, a Tequila substitute that was crafted to evoke the flavours of agave-based spirits, but without the alcohol. It's made with blue weber agave, as well as ashwagandha, and has an earthy, peppery and sweet (think vanilla) profile. There's also fresh lime juice, naturally, and organic agave syrup, which is a neat touch that adds a pleasant sweetness. It also works great as glue to rim or strip your glass (see the image) for the salt to stick to. Organic activated charcoal, which is said to have all kinds of wellness properties (although it is to be used carefully, there's more info here), is a first for me, but I do love how it makes the drink delightfully dark, meaning it actually works as a Halloween serve too! 
Deano's Margarita is super simple to make and champions a really good cause, so we do hope you enjoy it and appreciate what Moncrieffe is trying to do. If you'd like to follow his progress day-by-day, you'll be pleased to know he intends to do Equal Measures every year. "I'm keen to see it grow and develop into something much bigger," he says. "I'm really pleased how it's gone this year considering the obvious challenges of constantly moving goalposts due to COVID-19 restrictions and government guidelines which have placed our industry in such a perilous position".  Good thing we can still imbibe cocktails at home. Here's how to make Deano's Margarita: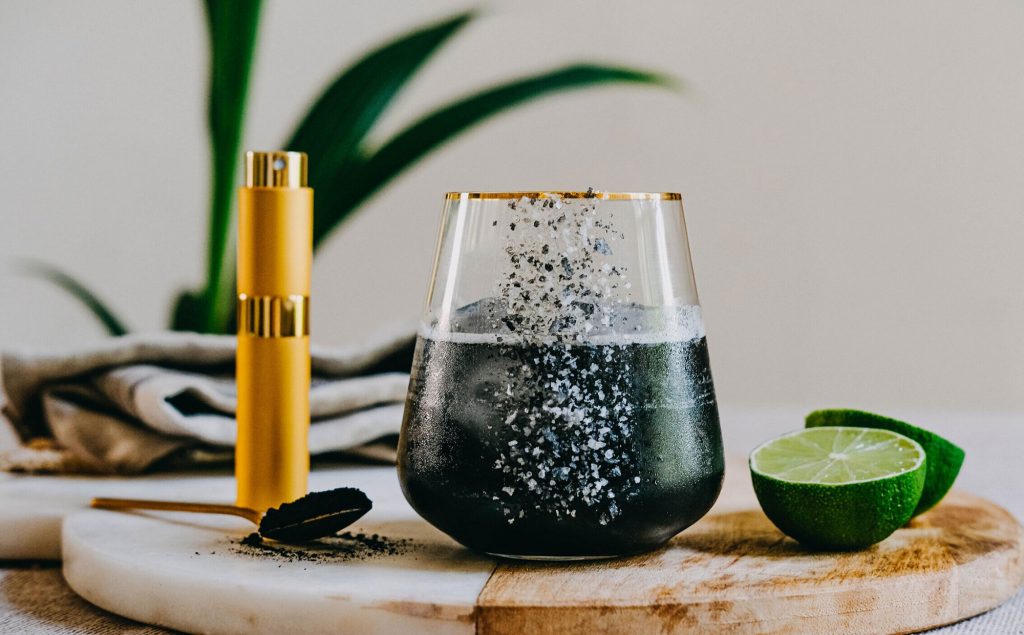 60ml of Mockingbird Spirit
30ml of fresh lime juice
15ml of organic agave syrup
1/2 tsp of organic activated charcoal (sounds complicated but actually widely available)
Spray of mezcal (optional)
First prep your glass by brushing a little bit of agave syrup around the rim of your glass, then sprinkle black & white salt on it. Add your Mockingbird Spirit, lime juice, agave syrup, organic activated charcoal and ice to a cocktail. Give it a good firm shake and then pop some ice in your glass before you strain the mixture in. If you like, you can add a spray of mezcal, which will keep your cocktail under 0.5%, so still technically non-alcoholic.