Today's we're mixing up a take on a classic sherry cobbler but made with English blackcurrant liqueur, created by bartender extraordinaire Alex Williams.
The Cobbler is one of the great old time cocktails: a refreshing blend of ice, sugar, fruit and alcohol, like a Slush Puppie for grown-ups. It's usually made with sherry but you can use pretty much anything, Champagne, Port, even claret. Today, we're mixing up a new version of this classic created by Alex Williams, head bartender at the Great Scotland Yard Hotel in London which opened last year. When we visited in January, we were particularly taken with one of William's concoctions, the Clear Conscience. Based on that old warhorse the Grasshopper, it's made with poitin, Branca Menta and lashing of booze alchemy. The result is something that smells just like a Matchmaker mint. Very clever but also completely delicious. 
Like many in the business, Williams never intended to be a bartender. After studying classics, he intended to pursue an academic career. But while struggling with his MA thesis, he got a job at The Whisky Shop in Guildford and never returned to his books. Since then he's worked for Bacardi Brown-Forman Brands followed by a stint working in India with Chivas Brothers and then behind the bar at some of London's best venues including Black Rock, London Cocktail Club, Discount Suit Company and now at the Great Scotland Yard Hotel. 
The hotel is still currently closed but Williams hasn't been sitting at home playing endless games of Super Mario Kart. He's studying for his WSET Level 3 in spirits, "an absolute beast of a qualification" he told us. And to bring in the money he told us he's been doing a bit of writing for Imbibe, "acting as a bicycle courier for Highball Brands' Drinks Drop", and "collaborating with Love Drinks on these summer drinks", like this week's cocktail which he calls All Cobbling Together.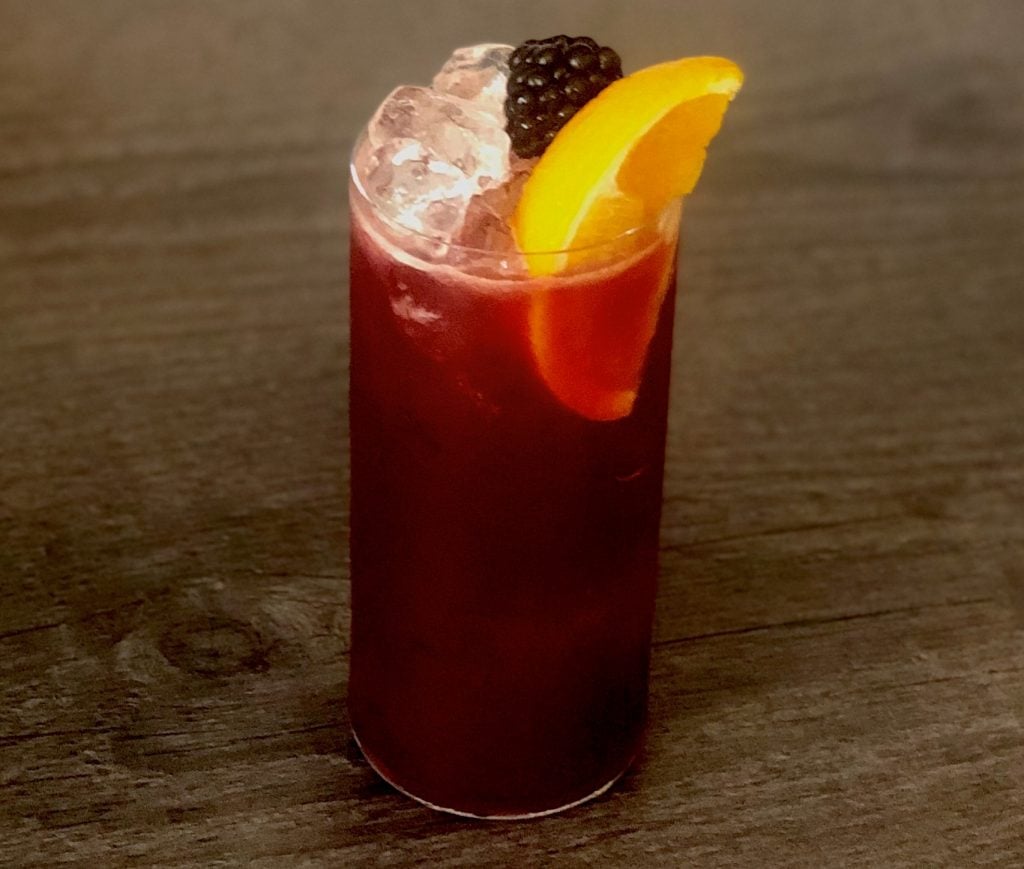 It's a bit unusual as it's made with non-French cassis. Williams filled us in: "I first encountered White Heron British Cassis while working at the Great Scotland Yard Hotel. It was one of the ingredients in our house Punch, the Elephants Cup. In contrast to more widespread creme de cassis brands, White Heron retains great acidity while also showcasing the vibrancy of the fruit flavours. At the time when I was approached by Love Drinks to collaborate with the brand, I was drinking a lot of sherry at home, mainly oloroso, and it struck me that the combination of the cassis and oloroso might sing loudly in a riff on the classic Sherry Cobbler. In my opinion, the Cobbler is a quintessential summer drink: one that is bright and refreshing, with great lip-smacking acidity. While traditionally one might use orange and/or pineapple juice, I found that pink grapefruit juice melded beautifully with the cassis and the sherry, creating a tall, refreshing, and, most importantly, incredibly moreish summer tipple."
Sounds good doesn't it? Here's how to make it:
50ml White Heron British Cassis
20ml Gonzalez Byass Alfonso Oloroso Seco
50ml Pink grapefruit juice
5ml 1:1 sugar syrup (Monin or you can make your own)
Add all the ingredients to an ice-filled shaker, shake and strain into a Highball glass filled with crushed ice. Garnish with an orange slice and a blackberry.