A rum distillery in the garden of England? Yes indeed! We take a trip to Greensand Ridge Distillery.
Distilleries don't come much smaller than Greensand Distillery. Located in leafiest Kent just up the road from Master of Malt HQ in Tonbridge, it's housed in converted stables and employs just two people: founder Will Edge and Chris Poole, a former bartender who looks after sales. "Having only two people keeps the risk low but makes the work harder," Edge told me when I visited recently. "It means a lot of late nights." He uses a combined pot and column still which means he can make a wide variety of spirits in a small space. The rest of the stables is crammed with barrels and fermentation equipment.
When I visited the air was alive with the heady smell of rum low wines coming off the pot still. "Rum is tricky to make, there is so much sugar that it's a toxic environment for yeast; it needs a long fermentation," he explained. After the low wines have been collected, he puts them through a column still on a "stripping run to remove sulphur". The idea, according to Edge, is to make a "soft, subtle rum, a floral spirit that doesn't need lots of ageing". It's spends a year in ex-bourbon casks, and emerges sweet, spicy and as smooth as David Niven in a velvet DJ.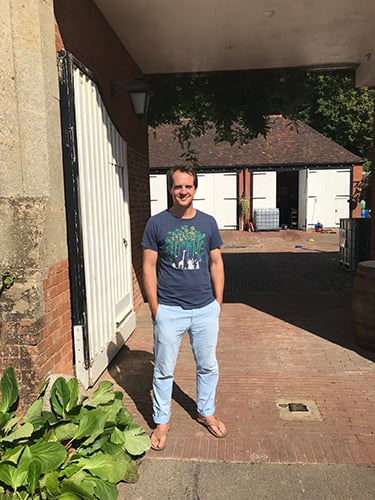 Greensand Ridge's very own Will Edge
'Wonky fruit'
The molasses used at Greensand, as in most places, is a byproduct of sugar refining. From the beginning Edge's ethos has been about using food waste as much as possible. In fact there's something of the Womble about him, making good use of the things that he finds, the things that most everyday folk leave behind. His apple brandy is made from what he calls "wonky fruit" that growers can't sell for eating. The brandy will depend largely on the fruit he can obtain. At the moment "we are mainly using pollinator varieties such as Golden Delicious which are delicate and aromatic".
But it's gin that the distillery is best known for. Greensand Ridge London Dry Gin is made with local botanicals including cobnuts, hawthorn berries, honey, gorse flowers, rose hips, bay laurel, oak moss and poppy seeds. Edge also makes a special Cobnut Ghost gin and a Salt Marsh gin for That Boutique-y Gin Company. Then there's a punchy Rye Cask gin with spicy notes that would make a killer Negroni. The final product in the lineup is Raspberry Ghost made with imperfect fruit steeped in eau-de-vie. It's then redistilled in the pot still to create a clear spirit alive with the late summer scent of raspberries.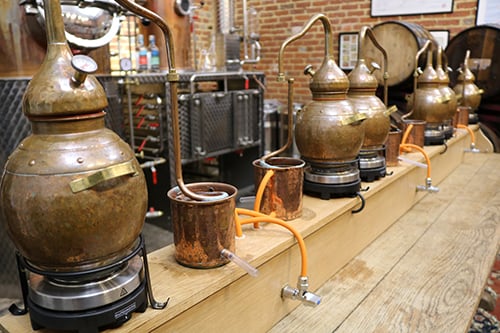 Getting experimental
You hear the 'S' word a lot from drinks people these days, but I got the impression that Edge lives and breathes sustainability. "It's super important to us, we only throw away one bin bag every two months," he said. "We are zero plastic, zero chemical, carbon neutral, very green."
Youthful experimentation
Edge's background is in finance but he gave it up because, as he put it, "I thought long and hard about how to live my life. I'd always liked making things. As a teenager I made beer from kits and moved on to making my own cider. I thought I should get trained and do it seriously." So he did a Masters degree at Heriot-Watt, sold his place in London and moved with his young family to rural Kent.
As with many distillers, there's a restless creativity about Will Edge. "I've always got ideas knocking around my head," he recognises. Things in the pipeline include a Pedro Ximenez sherry-aged gin which will be ready for Christmas, some "more gin-like spirits but not gin" (ooh cryptic!), an apple and a plum brandy which is slowly maturing in barrels, and he is also planning a punchier "high ester" rum which will need some serious cask-ageing. All this experimentation means that soon some of the barrels will have to be sent away to a bonded warehouse.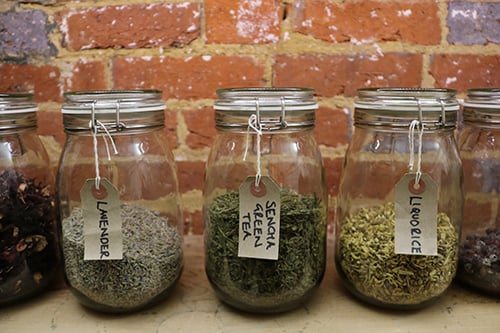 Delicious, delicious botanicals
But that's not all. Edge doesn't just make spirits, he also runs a gin school where you learn to make gin to your own personal specification and get to take your bottle home with you. What could be more fun than that?
For more information on forthcoming products and the gin school see Greensand Ridge's website.