At the tail-end of 2020 it was announced that WhistlePig would be partnering with Moët Hennessy – given that its rye whiskey is all about farm to bottle, how will it keep its charm with the backing of one of the world's luxury industry leaders? We chatted with CEO Jeff Kozak to find out. 
WhistlePig takes the crown as the most-awarded rye whiskey in the world. Not only that, but being founded in 2007, it spearheaded the rye whiskey renaissance and a wave of innovation within the American whiskey industry. The team began by sourcing 10-year-old Canadian rye whiskey as it slowly grew its own production. It wasn't until 2015 that the brand opened its own distillery at its current home, the 500-acre farm in Vermont. The process from milling, mashing, fermentation, and distillation to maturation was overseen by the late Dave Pickerell. The brand is very open about the sources of its liquid with a complete breakdown on the back of bottles. 
A new stakeholder
When we met with CEO Jeff Kozak in London a few months back, he was very excited about the future of the brand – and for good reason, as this meeting was following the announcement of the international partnership between Moët Hennessy and WhistlePig in 2020. "We had never been widely distributed internationally – we always had a small foothold in the UK," Kozak tells me. "But we also never had the inventory or the volume. Our aged whiskies are super scarce, inventory is very tight. Having signed with LVMH, we now have the ability to sell more to the international market."
"It's early days of going back out and reintroducing ourselves to the markets, it's almost like going back and re-educating people all over again," says Kozak. But the reaction has been super positive, with bartenders and sales teams genuinely eager to (re)learn the story, given the events from the last two years. "It's really exciting to have someone who has the brand building history like Moët Hennessy, otherwise it's tough to do it all yourself."
Age statement American whiskey isn't a particularly common sight, which, paired with its focus on rye, are what makes WhistlePig unique. I wonder if, with the expansion, there might be a microcosm of the Japanese whisky industry, where huge demand stripped it of many of the age statement expressions. "There's no plan for us to remove age statements or reduce them, because it just gives us that edge," Kozak affirms. "We've been planning for international expansion and building our infrastructure for a while. I don't see us not being able to support our ambitions. We have eight warehouses with whisky in the US. We have the backing, and now we have the power to get into countries we wouldn't have been able to before." After the core range, the 10-, 12-, and 15-year-old releases, are established, WhistlePig will then begin to introduce other (currently) US-only bottlings. 
"Charm on the farm"
Part of the discussion with the new investment has been about how Whistlepig doesn't lose its youth and freshness. Not in terms of the whiskey, but in terms of the freedom to experiment, make mistakes, and learn from them. A huge benefit that WhistlePig has is that it isn't bogged down with history, something that so many other brands have to take into account. "There are no traditions that you can't break," says distiller Mitch Mahar. "It's nice as a distiller to have that freedom and just run with things." For example, distilling bucketloads of maple syrup, which took nearly four weeks to ferment. Four weeks is an insanely long time, and I ask if there was ever a point where they would have given up on the project, to which Kozak simply answers: "Do you know how expensive maple syrup is?!"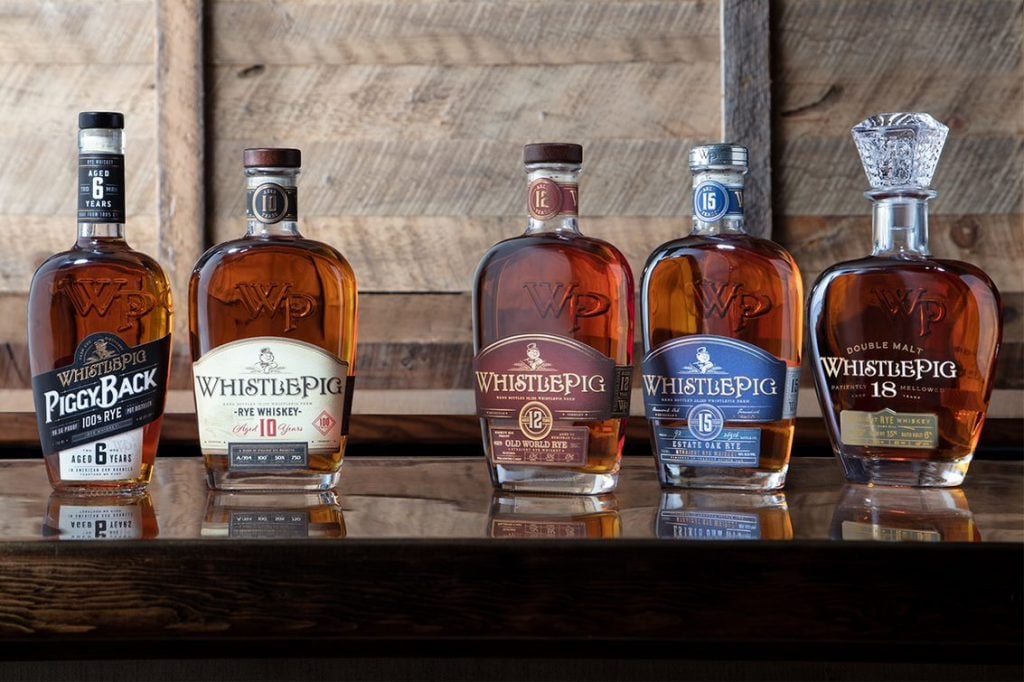 While some of the core range is matured in Vermont oak, cask finishing is where Kozak believes WhistlePig really got recognised. "Finishing in rye whiskey, or US whiskey in general, was never a thing five years ago – of course we stole that idea from Scotch and ran with it." There are over 50 different types of barrels on the farm at any one time, ready to experiment with. "For the first time ever, we're beginning to run out of potential barrels." One-off standout finishes end up in the annual BossHog releases. Last year's was finished in a teakwood ex-cachaça barrel for little over two-and-a-half days (the shortest finish they've ever used), so as not to overwhelm the spirit. Where do you go from there? 
Fermentation
The team are already wondering what to experiment with after exhausting a lot of the cask finishing options. Fermentation may well be it. Four of the five current WhistlePig distillers came from craft brewing backgrounds. Kozak uses the term "blurring categories". Unlike the rules and regulations surrounding Scotch, within US whiskey the team can propagate their own yeast strains, their own enzymes. "We try to see what's going on not just in the whisk(e)y world but also in the beer world," Mahar tells me. They found a yeast strain from the maple tree, but got so excited experimenting with it that they forgot to keep any back, so Mahar is hoping to find it again this year. It's intriguing, and incredibly on-brand.
Another focus is becoming more self-sufficient. What's the advantage of being grain to glass? "Control of the supply chain from start to finish, being able to tell the story behind the grain and the spirit," says Kozak. But with the expansion comes a flipside. "I don't think we'll ever be able to distil as much as we want because we live in the middle of nowhere on a small farm – you're limited. I think it's a balance of how much we can do ourselves versus how much we can source from other individuals. Sourcing isn't a bad thing." Its FarmStock series, first launched in 2017, was a big deal because the releases had a proportion of aged whiskey produced from rye grown and distilled at the farm. Now, FarmStock Beyond Bonded rye and bourbon have hit the market, the first expressions that fully encompass the farm to bottle philosophy. 
In the end, it comes down to balancing the volume of whiskey they want to make with the intricacy that has always made WhistlePig special. "When you're a fledgling company, you don't have all the resources," Kozak continues. "With LVMH we can be in more places, be in the right places, and tell the right stories."
Master of Malt tastes WhistlePig 10, 12 & 15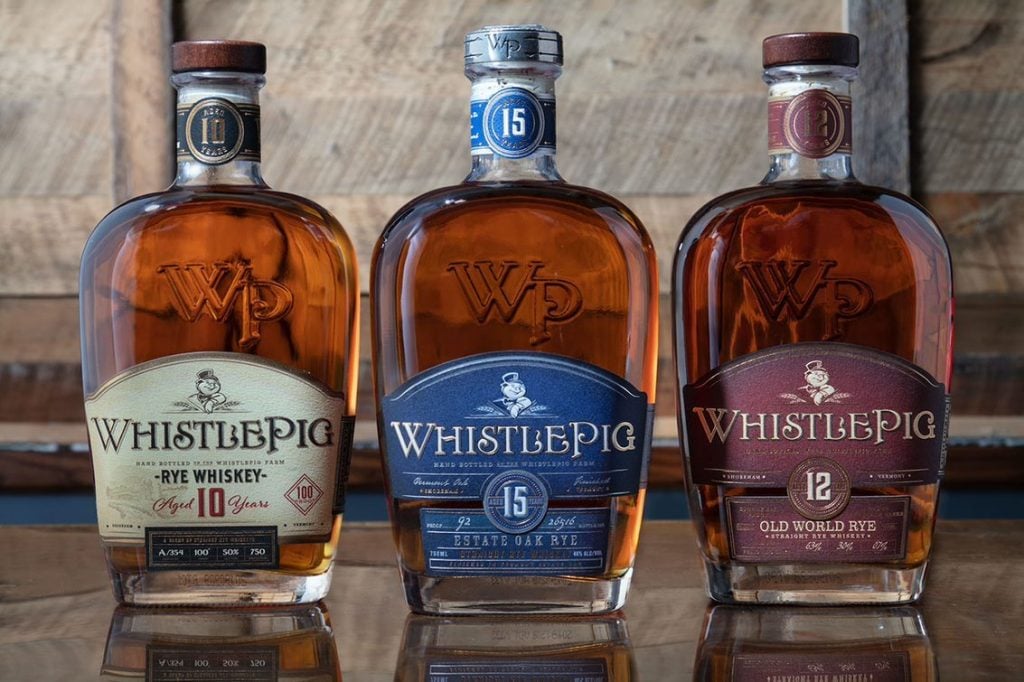 Nose: Cracked black pepper, fresh mint, white chocolate, toasted nuts, and orange curd.
Palate: A symphony of clove, nutmeg, sweet oak, and cinnamon sugar, balanced by fresh grassiness.
Finish: A good dose of peppery spice alongside vanilla shortbread.
Nose: Super jammy, with toasted butterscotch, strawberries and raspberries, and golden syrup. The wine casks really shine.
Palate: Toasty wood spices come in, alongside more berries, ripe pears in syrup, and sultanas.
Finish: Earthy rye balances out a bright, fruity finish.
Nose: Bittersweet cocoa, dried thyme, pear skin, burnt marshmallow, and oak char.
Palate: Rich and viscous, with runny honey, dark caramel, peppery rye spice, and oily orange peel.
Finish: Tannic oak, herbal rye, cinnamon-spiced milk chocolate, and more barrel char.