Día de Muertos is upon us, the day when the dead rise from the grave. It's one of Mexico's liveliest holidays and Patrón Tequila has come up with three delicious cocktails so wherever you are, you can join in.
Every year on 2 November the dead rise up from the grave in Mexico and join the living for a good old knees-up. So a bit like Halloween only with much better food and drink. There are traditional dishes such as pan de muerto (bread of the dead – cackles manically) and naturally, all kinds of agave-based deliciousness for you to enjoy whether you're in Mexico or just wish you were. 
Celebrate Día de Muertos with Patrón Tequila
This Día de Muertos, we've teamed up with Patrón Tequila to show you how to make three delicious cocktails to celebrate the day. It's the number one premium Tequila in the world made from 100% blue weber agave. They do things the old-fashioned way at Patrón, baking the piñas (agave plant minus the leaves) in small brick ovens, crushing them with a traditional stone Tahona wheel, and fermenting them over three days. All this takes place at the historic Hacienda Patrón in Jalisco.
Patrón comes in three main varieties: the classic unaged Silver, the Reposado which spends six months in American oak, and the Anejo which is aged for 12 months. There are also two fancier versions: the super-premium Gran  Patrón and the long-aged Gran Patrón Piedra Extra Añejo.
Right, that's Patrón Tequila. Let's get this party started. 
Three great Tequila cocktails to celebrate Día de Muertos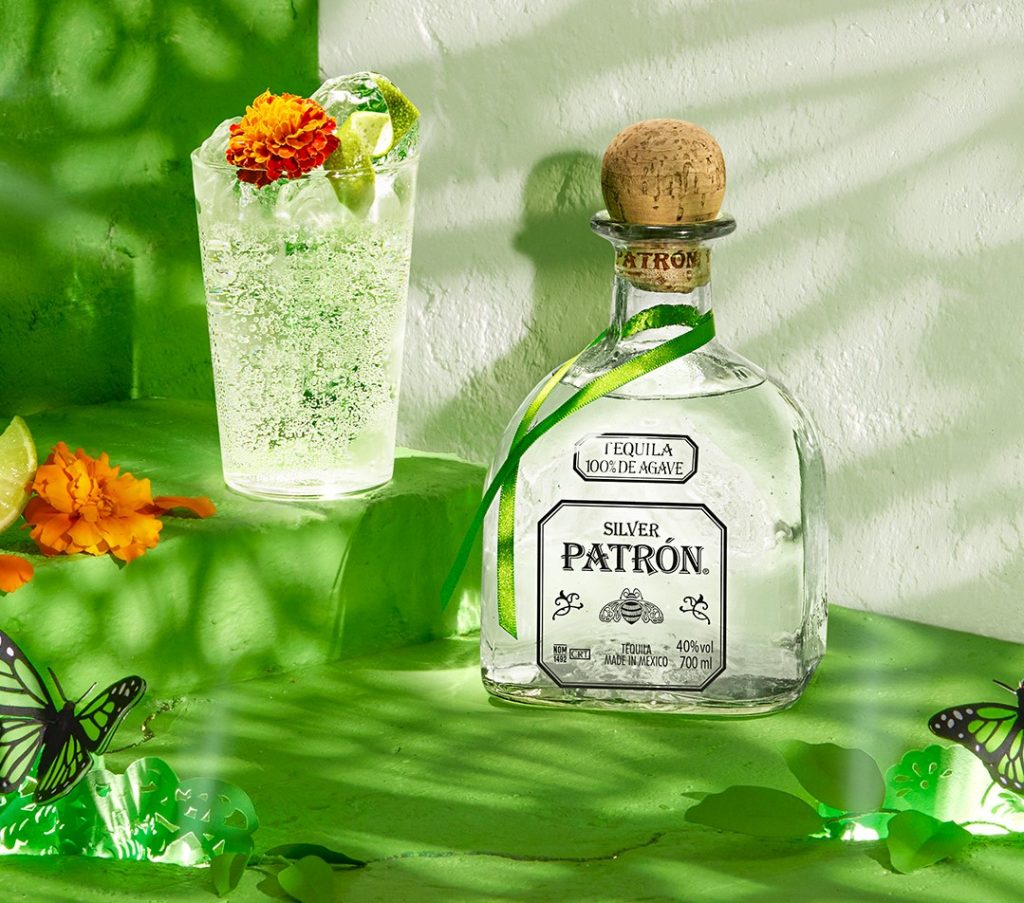 Marigold Mule
A refreshingly floral take on the classic Moscow Mule made with Patrón Silver. For when you want a lighter way to enjoy Tequila.
50ml Patrón Silver
15ml St. Germain Elderflower Liqueur
25ml lime juice
100ml ginger beer
Add the first three ingredients to an ice-filled Highball glass. Top up with ginger beer, stir, and garnish with lime zest and a marigold flower.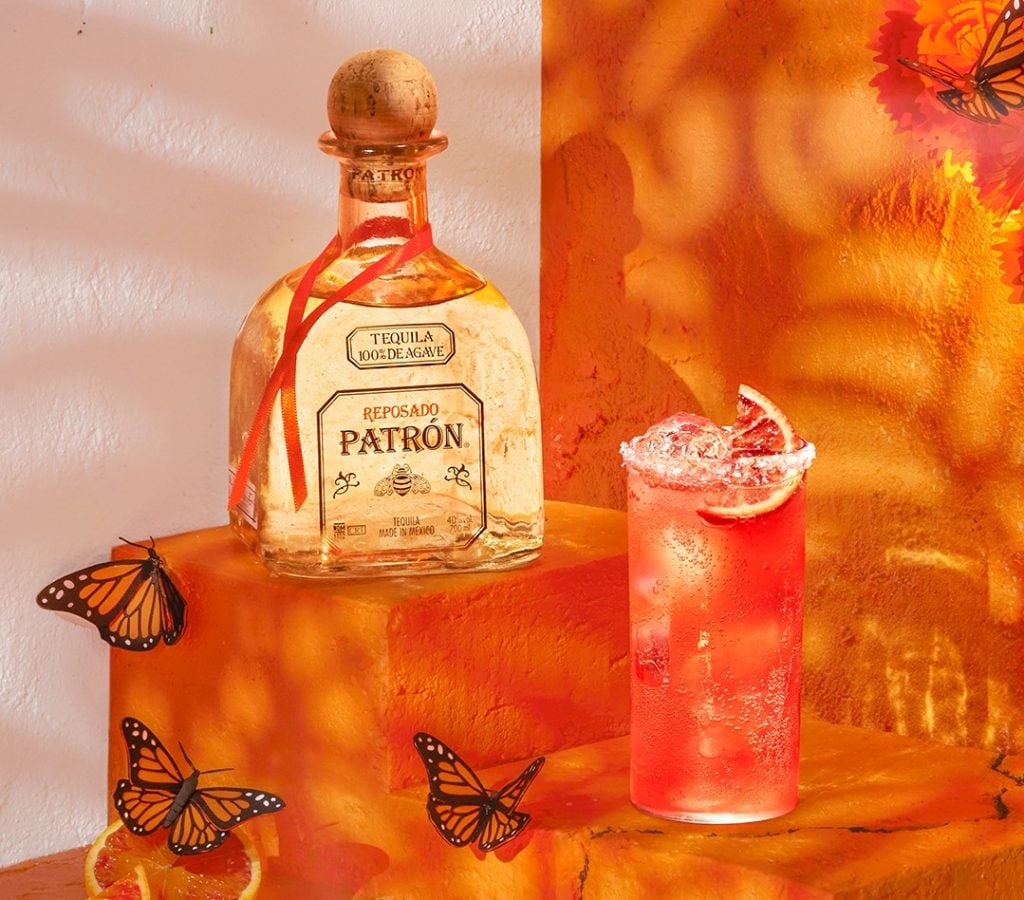 Pan de Muertos
A sour-type drink made with Patrón Reposado named after one of the traditional foodstuffs enjoyed on Día de Muertos. 
50ml Patrón Reposado
15ml orgeat syrup
20ml lime juice
25ml pineapple juice
Add all ingredients to the shaker. Shake and strain into a Highball glass with crushed ice. Garnish with caramelised orange wedge and three pineapple leaves.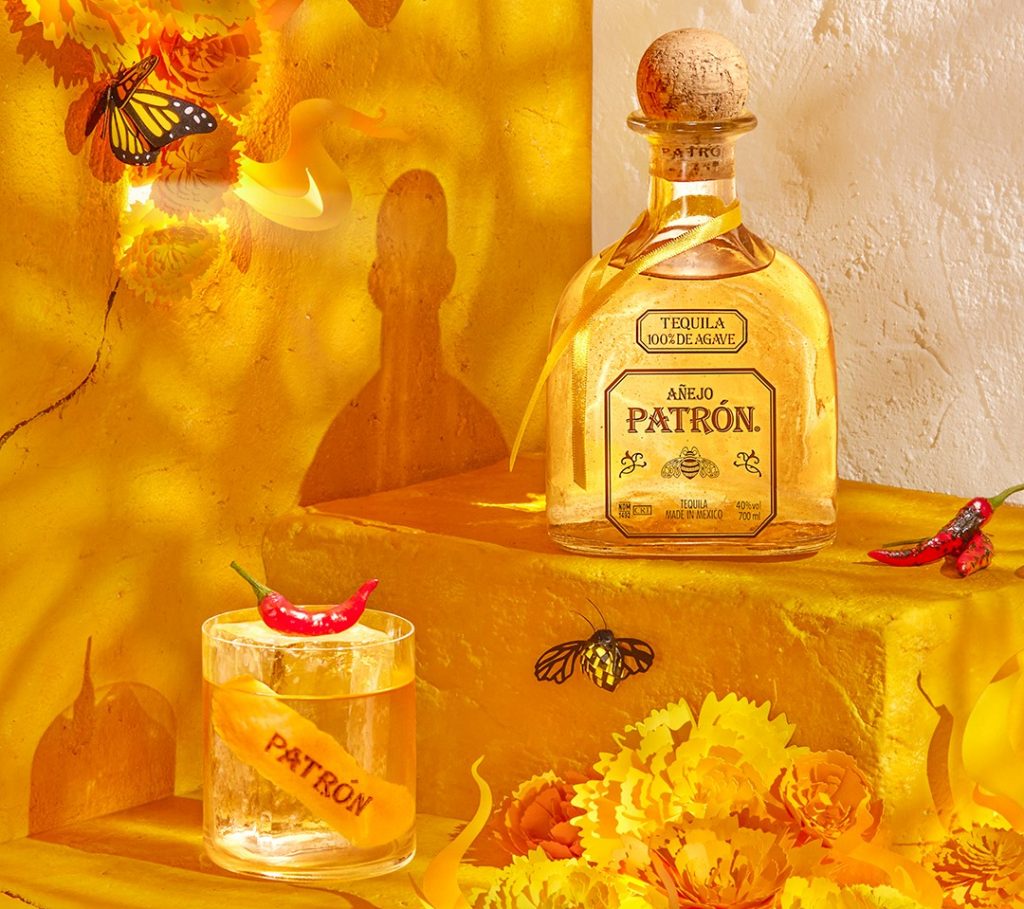 Habanero Añejo Old Fashioned
A delicious take on a classic cocktail making use of some of Mexico's greatest gifts to the world: chocolate, chillies, and agave.
50ml Patrón Añejo
5ml agave syrup
1/2 inch (1cm) strip of orange zest
2 dashes habanero bitters
2 dashes chocolate bitters
Muddle orange zest in glass and discard. Add ingredients and ice. Stir to dilute. Top with more ice and garnish with a fresh piece of orange zest, grating of dark chocolate, and a slice of chilli.