We've received an allocation of three bottles of Bowmore Mizunara Cask Finish direct from the supplier, and we're going to split the bounty between a two-bottle lottery and 30ml drams!
The exciting news that three bottles of the single malt Scotch whisky are currently in stock does come with certain realities. While all of us here at MoM Towers are thrilled the bottles are back, it does mean that, with thousands of interested customers, there will be some disappointed people whatever we do.
Acknowledging the price and availability of the product, we decided that splitting the stock up between a lottery (see timeline below) and drams was the fairest way to proceed. While there's no age-statement, the whiskies that were blended for this release were distilled in the 1990s (so they are between 15 and 25 years old) and Mizunara is a highly unusual cask finish. Individual bottles are being sold for a considerable price (£1,195.00, RRP). Given this is the case, there will be no auction.
We will approach this lottery the same as we have others before, by drawing two names from those who apply, and giving them the chance to purchase this product at RRP (£1,195.00). In line with previous form, we will also adorn the box with the message "I, [your lucky winning name], hereby swear not to sell this bottle – but to drink it with my chums. May my taste-buds and olfactory bulb shrivel and die if I should break my word."
Nobody at Master of Malt wants to limit the number of people that can taste this release, so we will also send one of the bottles to Drinks by the Dram for transformation into 30ml drams. They will become available to purchase online at Master of Malt shortly.
About Bowmore Mizunara Cask Finish: a historic single malt whisky
Bowmore Mizunara Cask Finish is, unsurprisingly, from Bowmore Distillery on Islay. It is a composition of different vintages hand-selected by distillery manager David Turner to exhibit Bowmore's signature style.
All distillation occurred in the 1990s. While a small percentage of the whiskies were aged initially in ex-Sherry casks, the majority were matured in ex-bourbon barrels. The liquid was then placed in Japanese Mizunara oak for three years for finishing. This made it the first Islay whisky to be spend time in such casks.
Mizunara casks are chosen for their ability to impart unique aromas, and have played an integral role in Japanese whisky production for some time. Prior to Bowmore Mizunara Cask Finish's initial 2015 launch, Mizunara casks had never been exported from Japan. But the distillery managed to get its hands on some because it is owned by Beam Suntory (the result of a merger between Beam, an American firm, and Suntory, a Japanese company), and that comes with rare oaky benefits.
What's Mizunara oak, you ask? Mizunara is a type of oak (obviously) that's found exclusively in northern Japan and small areas of China and Russia. This rare breed grows incredibly slowly (I feel your pain, sweet tree) and takes roughly 200 years to reach its full size. Acknowledging this, Beam Suntory only sources around 100 such casks per year. The company also runs a sustainability programme, replanting saplings for future generations.
Lottery Timeline:
All times in BST (GMT +1), with all the action taking place on the Bowmore Mizunara Cask Finish product page:
Bottle Lottery: 15:00 Tue 24 October – 15:00 Fri 27 October.
Good luck!
So, there we have it. I wish you all the best of luck in securing a bottle – which is utterly meaningless when you think about it. Regardless, congratulations to whoever does get the chance to sample the rare delights of this single malt Scotch whisky – just remember to share the love with your friends (I've always considered you, dear readers, to be very close friends, just so you know).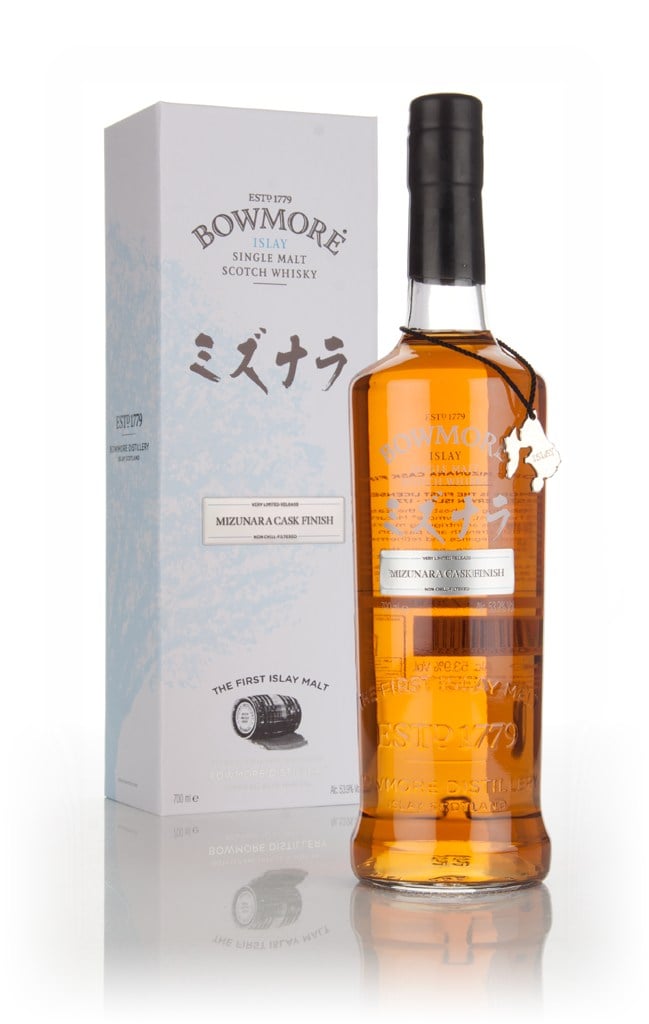 Bowmore Mizunara Cask Finish
Producer's Tasting Notes:
Nose: spicy, mellow sweetness carried on a fresh ocean breeze
Palate: sweet vanilla, cedar wood, exotic mango and honey rose blossom
Finish: floral spice and fragrant smoke
Wondering what all the allocation, auction and dramming fuss is all about? This post explains the logic behind the lotteries.