Day 21 of our 24 drams of Christmas brings us an absolute classic gin, inspired by the good ol' days when people would mix up their tipples in the 'tub. It's Bathtub Gin!
There's just two days left of work! And, let's be honest (assuming my boss isn't reading this), Friday is going to be a bit of a cop-out. While it's not actual Christmas Eve, it's Christmas Eve Eve, which still counts for something, right? I don't know about you, but I'll be making myself a tasty G&T after lunch (again, unless my boss is reading this, in which case, I've written this for editorial purposes only!).
And what will I be making that festive tipple with? Bathtub Gin, of course! If you're not familiar then you're in luck, because that's what we're plucking from Drinks by the Dram's Craft Gin Advent Calendar today. 
The Bathtub Gin story
First created in 2011, Bathtub Gin is a particularly distinctive gin, not least because of its name and packaging but because of how it's made. Rather than distilling the botanicals like a London dry, botanicals including juniper, cassia bark, orange peel, cloves, and cardamom are steeped in neutral grain spirit in a process known as cold compounding. Things have changed quite a bit now, but this is loosely how bootleg gin was made in a bath during Prohibition in America – though we can guarantee you the results were nowhere near as tasty. Do not try this at home!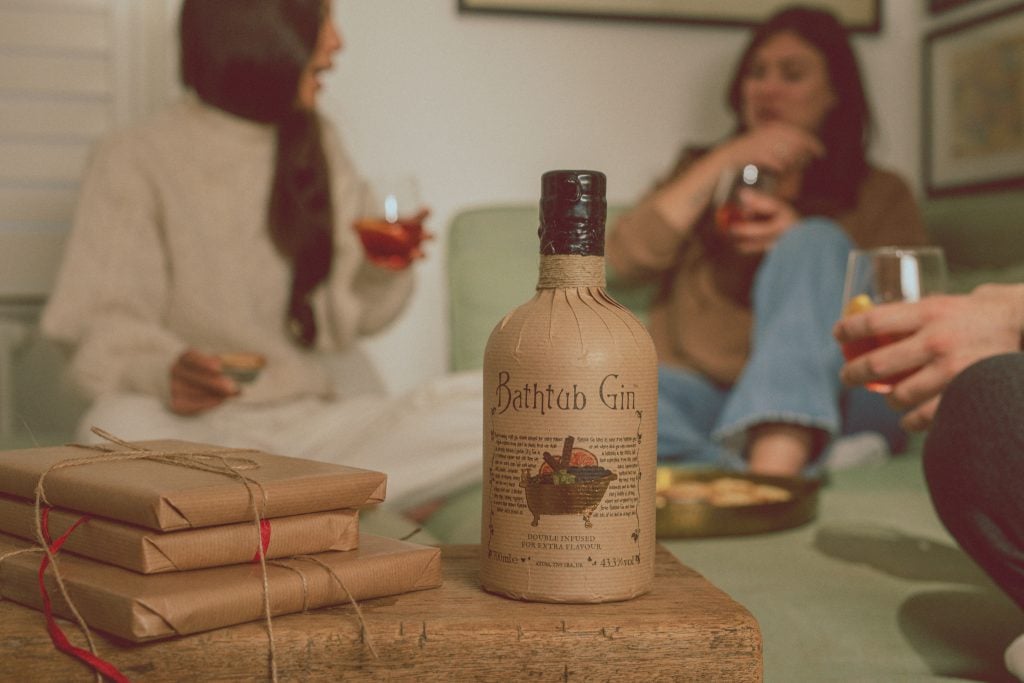 Because of this, Bathtub Gin is particularly aromatic, and sports a slightly yellow tint. The botanicals are double-infused for at least seven days, though often much longer, with periodic sampling determining the actual length. Then it's packaged up in brown paper, string, and wax (all done by hand, no less), putting us in mind of a Victorian apothecary. Pro tip: stick a candle in the bottle when it's all gone, and you'll never be in need of a candlestick again.
Bathtub Gin is as happy in a G&T as a Negroni or Dry Martini, but today we're not making any of those. We're going full festive!
Tasting note for Bathtub Gin
Nose: An initially juniper-rich bouquet is backed up with a solid backbone of rich grain spirit. Top notes of cardamom and orange blossom are evident with just a suggestion of cinnamon.
Palate: The initial focus is juniper, but the earthier botanicals make themselves known in the initial palate too. Mouthfeel is exceptionally viscous and creamy – this is good spirit, and it makes itself known.
Finish: The juniper subsides and gives way to cardamom and cinnamon, with a late resurgence from orange peel.
Overall: A most unusual, but quite entrancing gin.
How to make a Bathtub Festive Punch
The perfect punch for the holiday season with all our favourite Christmas flavours such as ginger, clementines and rosemary. Frozen grapes work a treat to chill the drink without diluting it!
Ingredients (serves 8)
250ml Bathtub Gin
750ml Prosecco
1L cloudy apple juice
50ml Campari
4 tbsp ginger preserve, loosed with hot water
1 clementine finely sliced in rounds
Bunch of red grapes (frozen)
Bunch rosemary sprigs
Add all the ingredients to a large jug and stir well to combine and chill.
We'll be back tomorrow with another Advent dram. Cheers!