Ballantine's Single Malt is officially a thing – the Chivas Brothers-owned blended Scotch (the second-largest in the the world by volume) is launching three 15 year old single malts under its own brand: Glenburgie, Miltonduff and Glentauchers.
Ballantine's shifts more than 70 million bottles a year worldwide, second only to Diageo's Johnnie Walker in the global Scotch whisky volume stakes. It's big news that the brand is to release three Ballantine's-branded Speyside single malts into the world – each with a fairly hefty age-statement at that.

Why Glenburgie, Miltonduff and Glentauchers? According to Ballantine's they all represent a significant but different part of the blend's signature style.
Glenburgie is said to form the "heart of Ballantine's whisky character", offering "fruitiness and honeyed sweetness". Team Ballantine's reckons there's red apples, blackcurrant and honeycomb on the nose, with more honey and orange on the palate. This one is travel retail only – don't shoot the messenger.
Miltonduff – the Ballantine's "foundation" – brings "warmth and power". From the description, expect peaches in syrup, soft toffee and toasted almonds on the nose, and floral notes, milk chocolate and cinnamon spice on the palate.
Rounding off the trio is the Glentauchers expression, with liquid from the distillery delivering the "smooth and delicate lingering finish of Ballantine's". The nose offers sweet citrus fruit flavours, hazelnut notes and heather, according to the brand, while on the palate look for raspberry, blackcurrant and barley sugar sweet flavours.
Both the Miltonduff and the Glentauchers should be wending their way to the UK and MoM soon.
(Aside: Back in 2013 we took a tour at Glenburgie in 2013 as part of a deconstructing of Ballantine's 12 Year Old – it's interesting to compare our notes with the trio selected here.)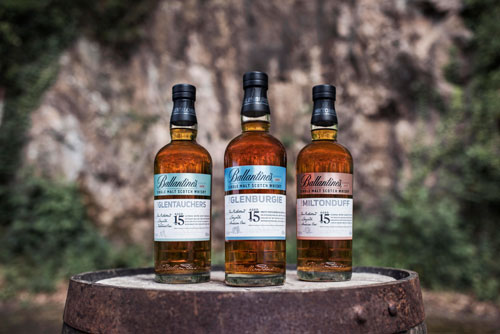 Ballantine's Single Malts? The brand explores new avenues
This is an intriguing development – while blended Scotch brands do sometimes disclose their component parts, it's rare (even unheard of? Do let us know in the comments if you can think of others) for such a well-known brand to release single malts under its headline name.
"Ballantine's has never been one to pick the obvious route – we do things differently and create our own path to success," global brand director Peter Moore acknowledged in a press release.
"As a globally known brand, we are sure that consumers will have confidence in the quality and credibility of these new single malts as they are widely recognised as the signature malts that form the heart of Ballantine's."
The Ballantine's Single Malt trio is launching in Taiwan now, with the series set to roll out in Taipei and elsewhere in Asia travel retail from October. Keep an eye out for the 40% ABV collection if you're travelling in the region.
Confused? Ballantine's is a blend. Why shake things up to this extent? With Taiwan the "most vibrant" single malt market in the world, according to Chivas Brothers, it's clearly worth a shot. And it's great that three often overlooked distilleries are getting a turn in the spotlight. Will the Ballantine's Single Malt series blur the lines between blended and single malt Scotch? Maybe. Let's hope those travel retail brand ambassadors have some clear explainers up their sleeves…