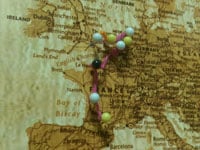 It's week 8 in our Around The World In 80 Drams tour – we're one tenth of the way through! We're making our third and final stop in France this week, sampling yet another distinctly French spirit. As I mentioned last week, we were heading to a commune which my class in school couldn't help but giggle at the name of when we were learning French geography. Yes, we're heading to Condom to taste some Armagnac! But from which distillery? One that would take me over four hours to travel to from Courvoisier – it's Janneau, of course!
Maison Janneau was founded all the way back in 1851 by Pierre Etienne Janneau – with that much experience behind them, you bet they know how to put together a fantastic Armagnac. In fact, they still use the cellars built in 1851 to age some of their Armagnac (along with some newer cellars). Imagine all of the amazing eaux-de-vie which has been aged in those walls… Sounds like a wonderland…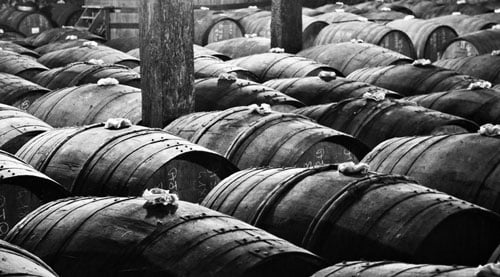 Armagnac ageing away…
Janneau have a pretty sizeable range of expressions to offer, including a range called Dragon Vintages, featuring Armagnac from vintages 1988, 1976 and 1964 – all Years of the Dragon. This awesome series was unveiled in 2012, another Year of the Dragon. Just unabashedly cool, that is.
Today we'll be tasting the Janneau VSOP, which puts the final piece of my ultimate plan for this leg of the Around The World In 80 Drams tour into place! Look back at the past two blog posts and you'll notice that those spirits were VSOP grade too!
Coincidence? Conspiracy?!
It is neither "coincidence" nor "conspiracy", merely a fun way to show off that VSOP in all three of these spirits means the same thing – that the spirit has been aged for at least 4 years! A lot of Cognac and Armagnac producers choose to use plenty of spirits older than that in their blend, of course, but it doesn't matter if it's apples (in the case of Calvados) or grapes (in the case of Cognac and Armagnac), every drop must be at least four years old to be called a VSOP.
And so, on with the tasting! Let's get stuck in to some Janneau!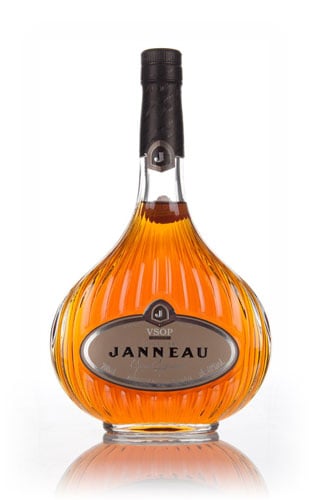 8. Condom, France – Janneau VSOP
Nose: Warming, sap-rich wok notes arrive first, followed by red-rope liquorice, white pepper and a little bit of spicy coriander. Juicy blackcurrant notes grow in intensity the longer it's in the glass.
Palate: Dark chocolate up front, complimenting its oak-y dryness. This then moves on to rather sweet pink bubblegum notes, before becoming fruitier with apple crumble and marmalade.
Finish: Hints of white peach appear on the finish, with continued herbal spiciness. Coriander lasts. Perhaps some cardamom too…
And so we leave France after three weeks of fantastic brandies and continue to head south into Spain! Now, this whole series started because I'm crap at geography, and part of that may be because I'm not very well travelled. However, I've actually been to Spain! Hark at me, Mr. Globe-Trotter!
We're not heading to mainland Spain just yet though. We're heading out to a Spanish island to get a taste of some gin! If I tell you that the gin comes with a rather useful handle, you should be able to guess who we're visiting next week. It would take me nearly 3 days to travel from Maison Janneau to this next distillery if I travelled via a team of toads. Yep. Toads. Not by Hypnotoad, though. That would be far too… ALL GLORY TO THE HYPNOTOAD.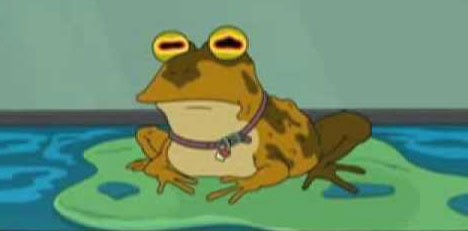 ALL GLORY TO THE HYPNOTOAD
Sam