Having brought peat back to the fore in recent years, Highland Scotch whisky distillery Knockdhu is stepping its newfound phenol obsession up a level with the launch of its smokiest expression to date.
It was in March 2014 that anCnoc kicked off its Peaty Collection, foregoing its signature gentle, non-sherried style to hark back to historic flavours, and what a rollercoaster it's been – nine single malt whiskies, all with various intensities of peatiness, all named after traditional peat cutting tools in a nod to Knockdhu's days of yore (before all those pesky technological advancements kicked in).
Following Stack, Peatlands, Tushkar, Rutter, Flaughter, Cutter and Rascan, and travel retail-exclusive releases Rudhan and Barrow; the latest – and importantly, first permanent – addition to the collection is Peatheart.
As you'll likely already know (but for the benefit of those who don't) peat smoke produces phenols, and it's by measuring the phenol content (expressed as PPM) that a given whisky's 'peatiness' can be observed. Peatiness can be controlled through various variables, chiefly the amount of peat that is burnt, the humidity of the barley, and the amount of time the barley is exposed to the peat.
The barley used to make this particular whisky has been malted to 40 PPM – for context, Highland Park's whiskies sit around 20 PPM, while Ardbeg variants hover in the 50-55 PPM range – so it's safe to say it packs a bit of a punch. The resulting new-make was then matured in ex-Bourbon barrels for more than a decade.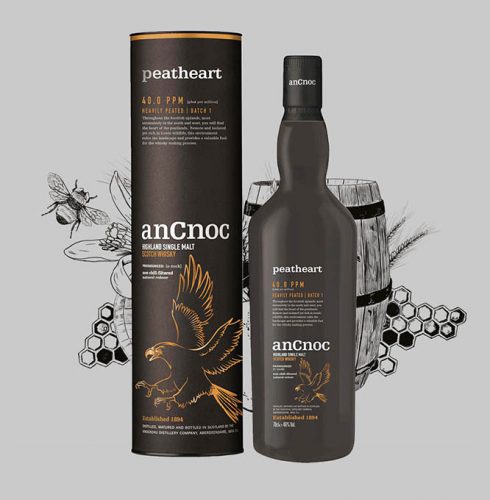 Introducing… Peatheart!
Aroma-wise, we're told it delivers "an initial smoky burst" that gives way to fruitiness: think ripe pears, apples and citrusy lime, underpinned by a hint of tobacco in the background. On the palate expect smoke (of course), leather and sweet stewed apples, followed by chocolate, vanilla and zesty lemon. The finish? "Floral smokiness".
It's bottled at 46% ABV and encased in a black and gold foil pack decorated with a golden eagle; a nod, apparently, to the birds of prey that frequently soar above the peat bogs close to the distillery.
"When we first launched the Peaty Collection we had no idea how successful it would be," Karen Walker, marketing director of anCnoc, said in a statement. "Seven awards and seven expressions later, we're excited to announce Peatheart as our latest and ongoing release."
We'll have it in stock within the coming weeks, so keep those eyes peeled.