Sam Simmons, or Dr Whisky as his enemies know him, continues our celebrations of That Boutique-y Whisky Company's 10th birthday by looking at the beginnings of the independent bottler.
At Maltstock 2012, a car full of Master of Malt folks and hangers-on descended upon Nijmegen, Netherlands. Having attended the world's most relaxed whisky festival the year before, Ben Ellefsen filled his car with his buddies, whisky, and my guitar (thank you!). Hours later they were pouring drams from bottles adorned with illustrated labels created by Emily Chappell and, lo, That Boutique-y Whisky Company was born!
"The initial idea wasn't fun," founder Ben Ellefsen tells me. He goes on to explain that the idea was (yawn…) addressing a business need. "We had no method to put out 'single malts' from named distilleries. As odd and indeed unfeasible as this sounds – it's true. We had the Master of Malt Single Cask Range, we had our Secret Bottlings Series for those secret drams where we weren't allowed to reveal the sources, but if we wanted to release a single malt in its truest and most common sense (a blend of casks from one distillery), not so much."
*Shudders awake*. "Are you done?" I ask him. "But seriously, Ben, the labels have always been fun," I posit.
For the whisky nerd
"Well, the labels as ideas started more like superhero-y, the sort of thing TWE, Ardbeg, and others have done since. As we sat and did briefs, we realised there wasn't even the need for that next-level, graphic novel superhero thing. There was always something fun or interesting that jumped into view. In fact, that made the ones that weren't exciting even more fun creatively, inspiring daft ideas (dinosaur fighting a shark?)" 
So in a way, Boutique-y was made by and for a very particular type of whisky nerd. The brand zoomed out on chemical processes, technical jibber jabber, dull historical dates, but somehow made use of all these elements of "the meat" of any given whisky distillery thanks to the great skill of illustrator Emily Chappell (more on that later this week…).
"The realisation of the labels are a huge part of it and they always have been," says Ellefsen. "Polarising for traditionalists, not modernist or fashionable, there's arguably nothing appealing about it to most whisky consumers; it's for people who are more about the enjoyment and the fun than the image or the boast or the luxury lifestyle."
Whisky to enjoy
I remember when I began at Atom I brought a few TBWC bottlings back home to Toronto to give to my brother. He was grateful but let me know, in a way only my brother can, how amateur, silly and unappealing he found it as he tucked it onto his mahogany bookshelf in the cigar room of his large North Toronto home. Months later he visited Japan with his wife and saw Boutique-y bottles at many of the destination bars and restaurants he visited. He sent me images with the simple text, "ok, I get it now."
So although the bottles were ready much earlier, of course, Ben and crew held it back so the nerds at Maltstock were the first to see them, touch them, taste them, before setting it live on MoM. Boutique-y had never been to everyone's taste. To quote my own blog post from that very same trip…
"When you look at woodcuts or old paintings of distilling in Scotland, or of crofters enjoying some clearach, it's never a portrait of someone sitting alone in a sterile makeshift home office with his nose in a glass and his Twitter feed twitting away. No, you don't see people hovering at one side of a trade display table, arms outstretched, discussing why Ardbeg 10 is inconsistent or Springbank has gone downhill or the stainless steel washbacks at Macallan have any impact on the flavour of the malt or 'gimme yer oldest.' You see human beings with other human beings in a natural environment enjoying whisky and talking about nearly anything but".
This is what Maltstock provides. And with those first bottles to the latest themed releases from the company, that's exactly what That Boutique-y Whisky Company hopes to provide.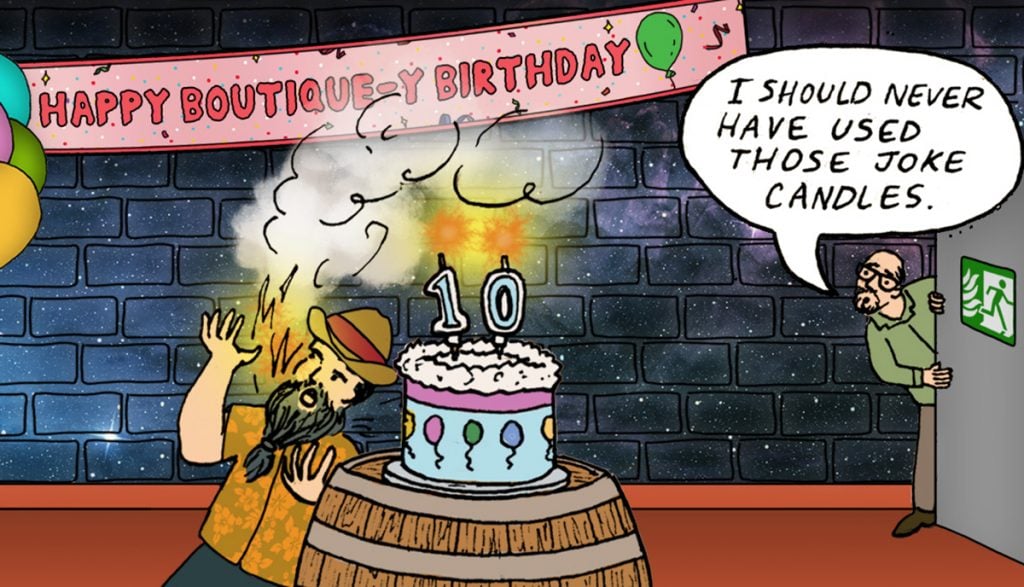 A big birthday and beyond
Yesterday we launched a pretty awesome birthday lineup, one that Ellefsen says shows the brand is moving in the right direction. "At the start, Boutique-y was by necessity a real mould-breaker. As the brand grew and supply deepened though, the pressures of 'normal' crept in (hence the introduction of age statements, etc)." he suggests.
This normalisation spawned a rebirth of sorts in 2020 with the introduction of quarterly themed releases that pushed the envelope design-wise while drawing on a wider whisky palette than ever with truly global whiskies being sourced by Felix Dear and Toby Cutler, and proudly put into bottle. Examples include the first cask distilled at The Oxford Artisan Distillery or a 25 year old Millstone from Zuidam distillers, both of which ended up on TBWC bottlings over the past year.
"I love where Boutique-y is right now," says Ellefsen. "In recent years I think we've gone back to being dangerous, not giving a fuck, and looking at world whiskies from Australia or the Nordics, and stretching what Emily can draw upon (ahem- ed) for the labels like that train series (Norwest Euro Express), Boutique-y Records, or the reimagined Scotch labels for this 10th anniversary." 
What has always spoken to me as an outside observer (and the very type of whisky nerd it seems Boutique-y was appealing to) is the fearlessness without ever needing to be intentionally provocative. Ben told me, "the entire thing started out with singularity of vision (uh yeah… cuz it was you, Ben!), something that didn't need to be safe, it could afford to be dangerous, it wasn't our core business so we could afford to push the envelope! It didn't need to succeed, but rather could sink or swim on its own merits." 
Well, it has succeeded. So Happy Birthday, Boutique-y. Have fun, be dangerous, and may your favourite whisky always be the next one.