In June 2019, the SWA issued a statement outlining changes to the Scotch whisky rules allowing, among other things, ageing in casks that previously held agave spirits. Now the first agave-aged whiskies are here (or nearly here , the UK market will have to wait a while), and Ian Buxton wants to know: what came first, the new rules or the whiskies? 
Well, that didn't take long.
Back in January 2018, you might recall excited commentary around a story that Diageo had a 'secret working party' suggesting new rules expanding the types of casks that could be used to finish Scotch whisky. The Wall Street Journal broke the story but it soon led to much speculation on social media, with some commentators having a minor fit of the vapours at a proposal considered shocking, radical or heretical (insert your adjective of choice – you get the general idea). If you believed some of the responses, the whole future of Scotch was at stake.
At the time industry leader Diageo played the predictable dead bat. Speaking quite possibly from a hidden lair in an extinct volcano while stroking a white cat, an anonymous spokesman offered these priceless words to a breathlessly waiting world:
"Scotch is the most important category for Diageo and we have an unwavering commitment to the integrity, long-term success, history and tradition of the category. As champions of Scotch, we are always looking at ways to innovate to both protect and secure the future success of the category. In doing so, we work with the Scotch Whisky Association [SWA] on a range of ideas that seek to strike a balance between tradition and innovation, in a way that ensures consumers get the great products they want. We will never compromise on the quality and integrity of Scotch."
And so matters remained until June 2019 when the SWA, previously reported to be unenthusiastic about the changes, quietly announced an amendment to the prosaically-named Scotch Whisky Technical File.  This permitted Scotch whisky to be matured in casks previously used to age agave spirits (such as Tequila and mezcal), Calvados, barrel-aged cachaça, shochu and baijiu, as well as some other fruit spirits. Discreet industry lobbying had evidently persuaded the SWA to revise its position. However, as an industry-funded body, it had little choice if larger members insisted on the change which had been duly approved by the SWA Council in the previous December.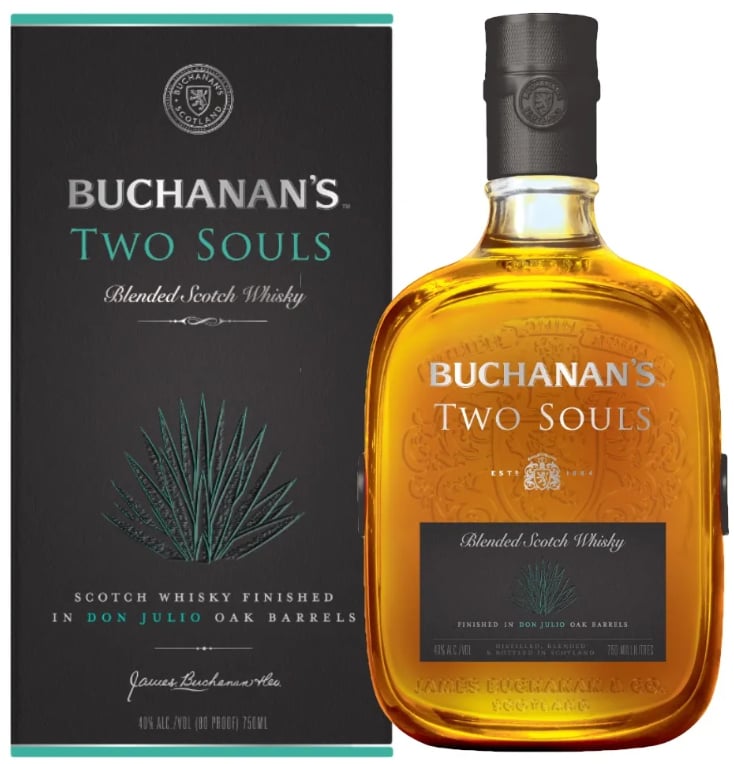 In any event, it's now clear that much surreptitious activity had been going on anyway in warehouses across Scotland.  Unsurprisingly, Diageo was very quick off the mark with the low-profile announcement of Buchanan's Two Souls in Mexico in May 2019 (before the SWA amendment). The blend is finished in Don Julio Tequila casks, a brand that Diageo owns, and which happens to sell a Tequila finished in old Lagavulin barrels.  
With this timing a pedant might consider that in its enthusiasm – how shall we put this politely – Diageo's Mexican team were sailing close to the wind in promoting a still illegal whisky. Mexican press coverage refers to a "launch" on 16 May, yet the rules did not come into force for another three weeks. On investigation though, it transpires that this was a media pre-launch briefing for influencers and Two Souls was not publicly available until 1 July.  That could have been embarrassing but we may, of course, safely assume that not a drop was served.
However, we're now seeing a number of new cask finishes joining the party. As of this month Diageo's Buchanan's offering has been matched by Chivas Extra 13 finished in Tequila casks and Dewar's Ilegal Smooth – Ilegal being a fashionable Mezcal brand in which Dewar's ultimate owner Bacardi has a share. The Chivas Extra 13 forms part of a small range, also including Oloroso Sherry, Rum and American Rye finishes.  Not to be outdone, Dewar's brought its Caribbean Smooth (it's a rum finish, as if you hadn't guessed) to North American markets in September last year though it should be noted that these other finishes had been permitted for some years prior to the new regulations.
Wondering what Diageo will do next? Predictably, they're pretty tight lipped about future plans. This is what senior global brand ambassador Ewan Gunn (above) had to say:
"Whilst we never reveal any of the hundreds of ongoing experiments our whisky makers are constantly engaged in, you can rest assured that we will continue to be at the forefront of making great whisky and pioneering new and exciting expressions. Watch this space…"
Nothing, thus far, on how Buchanan's have got on in Mexico, so it remains to be seen how markets will accept products such as Two Souls, Dewar's Ilegal Smooth and Chivas Extra. Traditionalists should hold onto their hats though as the marketing folks undoubtedly aren't done monkeying around with Scotch whisky. One thing I suppose is clear. We may not have seen cachaça, shochu or baijiu finished whisky yet (though we assuredly will) but the world hasn't ended. Scotch will survive which, given we're all likely to be in lockdown soon, is a reassuring thought.  (Note to self: better lay in a few bottles).
Though he has neither a beard nor any visible tattoos or piercings, Ian Buxton is well-placed to write about drinks. A former marketing director of one of Scotland's favourite single malts, his is a bitter-sweet love affair with Scotland's national drink – not to mention gin and rum, or whatever the nearest PR is pouring. Once, apparently without noticing, he bought a derelict distillery. Follow his passionate, authentic hand-crafted artisanal journey on the Master of Malt blog.  Or just buy his books.  It's what he really wants.