The Lakes Distillery doesn't do things by halves, as we found out when we spent a couple of days up in Cumbria with whisky maker Dhavall Gandhi. We were even allowed into the inner sanctum of the whisky studio… 
Surrounded by whisky and a field of alpacas doesn't seem like such a shabby spot for an office. At the Lakes Distillery, Dhavall Gandhi is lucky enough to call this space his whisky studio, where big decisions and tastings take place. Having spent a couple of days at the distillery with Gandhi and his team, we were lucky enough to sneak a peek into every step of the whisky making process.
Dhavall Gandhi, whisky maker 
First of all, leaving your job in corporate finance to go and work for a whisky distillery seems like a pretty rogue move, even if that distillery is Macallan. But then Gandhi decided to call it quits at Macallan when he got an offer to work at a small, unknown craft distillery in the Lake District. Gandhi also has experience in the brewing industry having worked at Heineken, which is what really sparked his interest in fermentation.
I imagine the move not just from a large, established distillery to a smaller one, but from the Scotch whisky industry to the much lesser-known English must be something of a culture shock. "The size is a big difference," Gandhi agrees. "You're working with millions of litres of alcohol a year down to 130,000 litres." 
Even so, Gandhi took what he had learnt from a large distillery and applied it on a much smaller scale to the Lakes. The best thing about coming to a brand new, unknown distillery? "The freedom and opportunity to create a house style of Lakes single malt," Gandhi tells me. That's pretty priceless for somebody with a vision. 
Whisky making 
There is something unique about each stage of the whisky making process at the Lakes, from the fermentation to the oak to the blending. To start with, most distilleries would have a different person (or team) in charge of each of these stages, Gandhi oversees the entire process from start to finish giving him complete creative control. He calls this his "holistic approach to making whisky." 
So, what is Gandhi's whisky making method? "I start at the very end," he tells me. Gandhi envisions the style of whisky he wants to create, and then works backwards. What kind of casks will help him achieve this style? Then, what new make will suit these casks best, and be robust enough to handle the cask type? How will he achieve this new make through fermentation and yeast types? Each stage is meticulously planned, and ensure that Gandhi knows exactly what he is looking for.
Fermentation
After the mashing to obtain a clear, fruity wort, it's time for fermentation. Three different styles of yeast are used, Scotch yeast, French yeast and heritage yeast, with each yeast strain giving top, base and middle notes. The wort goes through a lengthy 96 hour fermentation period. Why so long? It results in a lighter, creamier spirit. 
Gandhi talks a lot about his "three tier spirit architecture", and architecture is a good way to describe what he is doing with the whisky, building it from the ground up from his blueprints. The three tiers refers to the three different yeast strains, with different yeasts used on different days in different combinations. There's no 'one size fits all' approach here. 
Distillation
As well as a long fermentation, the spirit also goes through a slow distillation, allowing the spirit more contact with the still. Gandhi takes a very narrow cut to produce a fruity but robust new make of around 67% ABV. 
The condensers are of particular interest to whisky geeks like us. The distillery boasts both copper and stainless steel condensers, allowing Gandhi to create two different new make spirits. We'll call them type A and type B. Type A is the light to medium bodied spirit yielded from the copper condenser, while type B is heavier bodied, coming from the stainless steel condenser. Ding ding! This is yet another point in the process which allows Gandhi to tailor his spirit. We've lost count! 
Everything at the Lakes is allowed ample time including the slow reduction process at six litres of pure water a minute, where the spirit is diluted to around 58% ABV. It turns out that the spirit can go into a kind of shock if it's diluted too quickly, so this helps keep it nice and mellow. 
Maturation
The Lakes is all about the sherry influence, which may not surprise you knowing Gandhi's previous Macallan experience. So, why sherry? "Write the books you want to read," Gandhi tells me. He isn't out to create a sherry bomb, rather more of a refined, subtle sherry character. 
It would be easy to simplify the cask maturation into the types of sherry, with fino, oloroso and Pedro Ximénez. But the reality is much more complex than that. American whiskey, Port and red wine casks are also used, but sparingly, sherry casks are Gandhi's forte. He is also experimenting with amontillado, palo cortado and manzanilla, though oloroso forms the backbone of the single malts.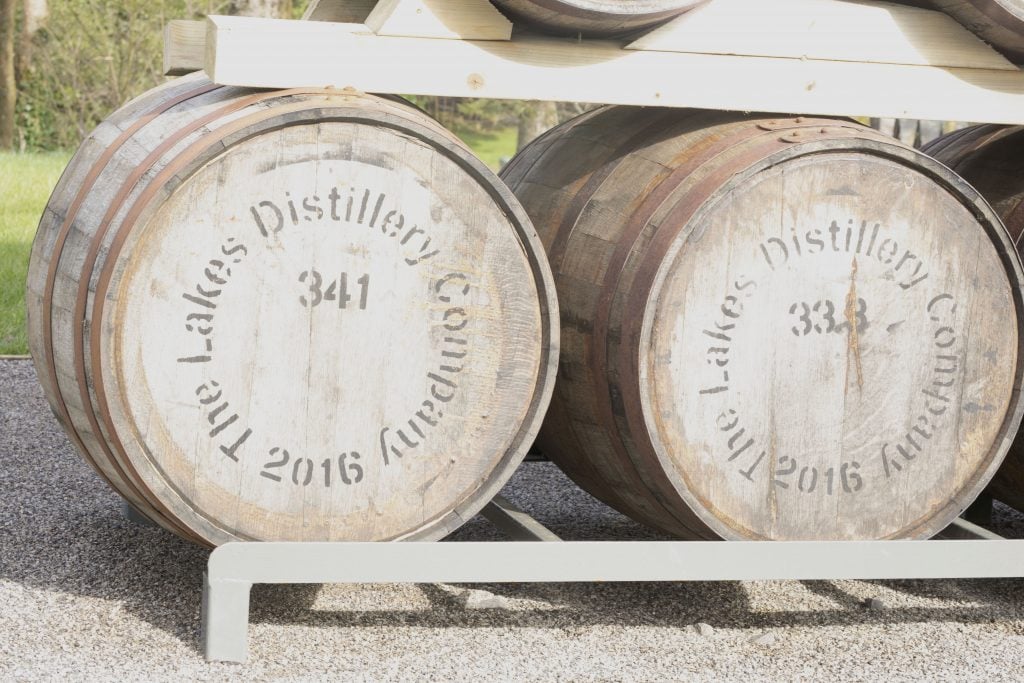 There's also the oak type to consider, with American, Spanish and French oak all used. This in itself isn't unusual, but the fact that both sherried Spanish and American oak are used is (often, European oak is reserved for sherry, while American oak is reserved for American whiskey). Then there's the size: butts are the most common (seeing as that's what sherry is usually housed in), but hogsheads, barriques and barrels are all used as well. To generalise, American oak is more creamy and tropical, full of vanillins, while European oak is often responsible for those peppery, spicy notes, so the combination results in something wonderfully complex and rounded. 
Blending
This is where Gandhi's passion truly lays. The whisky industry seems to have a problem with the word blend, and he wants to banish any inferior associations. Unless you're sipping single cask expressions chances are you'll be drinking a blend, even if it's a single malt, seeing as different malts from the same distillery are blended together to create different expressions. But people rarely associate the word 'blend' with single malts.
We enter the whisky studio, and it's like a whisky lover's dream come true, with sample upon sample prepared in the futuristic, glistening space. Gandhi noses and tastes 125 samples in front of us in minutes, quickly deciding on which can stay and which don't make the cut. Sounds like a lot, right? He tells me that he can regularly nose and taste around 300 samples in a session!
Sitting on the fence isn't something that Gandhi does, and snap decisions define this part of the whisky making process. Crafting a whisky can take anything from hours to months, he tells me, and gut feelings are crucial. 
Cask Influence 
Gandhi picks out random samples and dissects them for us. He pulls up a rather light sample, and at first guess I would have thought it was aged in a refill cask. He tells me that it's actually drawn from an oloroso American oak butt. He pulls up a much darker bottling, what most people probably expect a sherried whisky to look like, and reveals that this is drawn from an oloroso Spanish oak hogshead. Simply saying knowing something was matured in an oloroso cask reveals little about it, and hammers home the notion that colour can often tell us very little.
What really stuck with me was Gandhi's metaphor of whisky as a painting. The new make spirit acts as the canvas (hence why Gandhi wants it to be as clean as possible), while casks and flavours are the colours, and blending is the act of painting. Delving deeper into the metaphor, Gandhi notes that each cask is like a shade of colour. Just like you have lime, forest or emerald rather than just green, you don't just have an oloroso cask. "For me, whisky making is all about creative expression," says Gandhi. "A whisky, when you drink it, needs to stir emotion in you. If that happens, my job is done."
New releases
When we visit, two exciting new whiskies are in the pipeline; Whiskymaker's Reserve No.3 and The One Orange Wine Cask Finish. Well, reader, in the time it took to get these words down, the releases are now ready. 
But we're shining a spotlight on The Whiskymaker's Reserve No.3. As the name of the series suggests, these releases are Gandhi's chance to really show his artistic exploration of oak and blending. The trio of single malts in the series all have the same DNA, though each expression is unique in its own way with different nuances. For No.3, a combination of oloroso, cream and Pedro Ximénez sherry casks work alongside a small number of red wine casks.
Gandhi described Whiskymaker's Reserve No.1 as more "intense and bold" with more sherry character. Whiskymaker's Reserve No.3 on the other hand, is a bit more "seductive", with more of that incense and chocolate character thanks to the French and Spanish oak influence.
If all this talk of whisky has got you thirsty by now, then you should try Whiskymaker's Reserve No.3 yourself. Now that you know the labour and love that goes into it, we're sure it'll taste just that much sweeter.