Last week we met with Mark Reynier from Waterford and tried the latest release. Called Waterford Cuvée, it's the 'big whisky' from this innovative distillery, and it might just change how we look at premium whisky forever. 
Two of the most-read things on the blog this year were the post on changes to Japanese whisky regulations, and an article on research sponsored by Waterford in Ireland into terroir in whisky.
At first the two don't seem to have that much in common but they both beg the same question: what makes a particular country's whisky unique? If whisky can be made in Scotland but for years lauded as Japanese then what is Japanese whisky? Or indeed what is Scotch? 
The expanding world of whisky
The whisky world is rapidly expanding, thanks in a large part to itinerant Scots like the late Jim Swan. Around the world, there are Scotch-style whisky distilleries right down to the stills made by Forsyths of Rothes. They might well be using Scottish malt. At the moment the Chinese are buying Macallan by the boatload – but what happens when they develop their own luxury whisky brands as they surely will? See this article by Ian Buxton on the subject. 
Scotch has something of a problem among luxury products in that the raw materials are the same for the cheapest single malt to the most expensive. It's all barley that could come from Scotland, England, Canada or Ukraine. Sure, there's expensive sherry casks and all that time, skill and rarity. But compare with wine, Cognac or Cuban cigars which are rooted firmly in a specific place, and you'll see that the legacy whisky countries in particular have a problem.
The Waterford story
Which brings us neatly on to Waterford in Ireland which is just about to launch its Cuvée whisky, a blend of various sites. I met with Mark Reynier and agronomist Grace O'Reilly (don't call her the barley queen, she warned) for lunch at Berry Bros & Rudd in London. An apt venue for a whisky inspired by wine.
You can read a full article on the distillery but first a brief recap. It was founded by Mark Reynier and some of the team behind the revived Bruichladdich with a mission to show that terroir in whisky exists as it does for wine and Cognac.
He was told that the "best barley in the world comes from Ireland," so with his backers he acquired a state-of-the art former Guinness brewery in Waterford and equipped it with stills from-now closed Lowland Scotch distillery, Inverleven. Reynier described it as "the facilitator". It's a purely functional building, "I don't love it like I do Bruichladdich," he said.
Each batch of barley is malted, fermented, distilled and aged separately. The local farmers are paid extra for their grain. Waterford gives them the "confidence to grow barley so it's not just a commodity," Reynier said. Last year we finally got to try the fruits of all that work. Both the new makes we tried and the two Waterford Single Farm Origins do taste highly different. And though everything is not done exactly the same for each whisky regarding malting, fermentation times and oak, it is a pretty convincing demonstration of how different sites affect flavour. They are also superb whiskies, justifying their high prices, in my opinion for such young spirits, by the quality and sheer amount of work that goes into each of them. 
Grand vin de Waterford
The point of the Cuvée is to do something different. Reynier quoted the winemaker at Krug who said that for the vintage wines, it's God's work, but for the multi-vintage Grand Cuvée, "I am God!" With the Cuvée, Reynier gets to play God, a role he clearly relishes.
The other inspiration is Bordeaux. To make the Cuvée, "we don't just stick all the barley in at once", O'Reilly explained. Instead just as Latour takes lots of vineyards and grape varieties, and blends them into a Grand Vin, distiller Ned Gahan blended 25 separate single farm origins, which remember, have been malted, fermented, distilled and aged separately, into the Cuvée. Reynier described it as "the essence of the Waterford project."
It's the barley, stupid
For Reynier, distillation and ageing are the least interesting parts of the process. "It's the barley, stupid," he said, and the fermentation, "that's where the flavour comes from." I mentioned to Reynier that a very well-known blender had told me that 80% of whisky's flavour comes from casks. "That's bullshit". Reynier went on to tell me that this very blender's famous Highland malt got its rich flavour from gallons of molasses. He was also bracingly frank about the classic job of Scotch whisky blender: "they're all finished" he said, mentioning some of the biggest names in the industry. 
Of course, wood is still important. Waterford uses a mixture of first-fill bourbon, new American oak, first-fill French wine and fortified wine casks. They play a supporting role to the barley, however, the team are not looking to get as much cask flavour as possible into the young spirit. In the small dining room at Berry Bros, the air positively hummed with the smell of barley. There's fruit and flowers and spice and stuff – full tasting note below – but what stands out is the sheer cereal flavour, and the length and texture in the mouth. It's bottled at 50% ABV with no chill-filtering or additions. The complexity is astonishing for such a young, around four years old, whisky. It's exciting to think what subsequent releases will be like.
Not everyone is convinced, however. Some, such as Andrew Jefford, have expressed their scepticism about whether whisky can have terroir in the same way as wine. But whether you accept all of Reynier's claims, there's no doubt that Waterford is creating a new model for premium whisky, or rather, reviving an old one. It's not based on sherry casks, or esoteric stills shapes, or lyne arms, or the time Captain so-and-so founded an illegal distillery in 1797. It's based on high quality produce from a specific place. That's something that can't be imitated. 
Waterford Cuvée will be landing at Master of Malt soon, RRP £70. See the range Single Farm Origin whiskies here.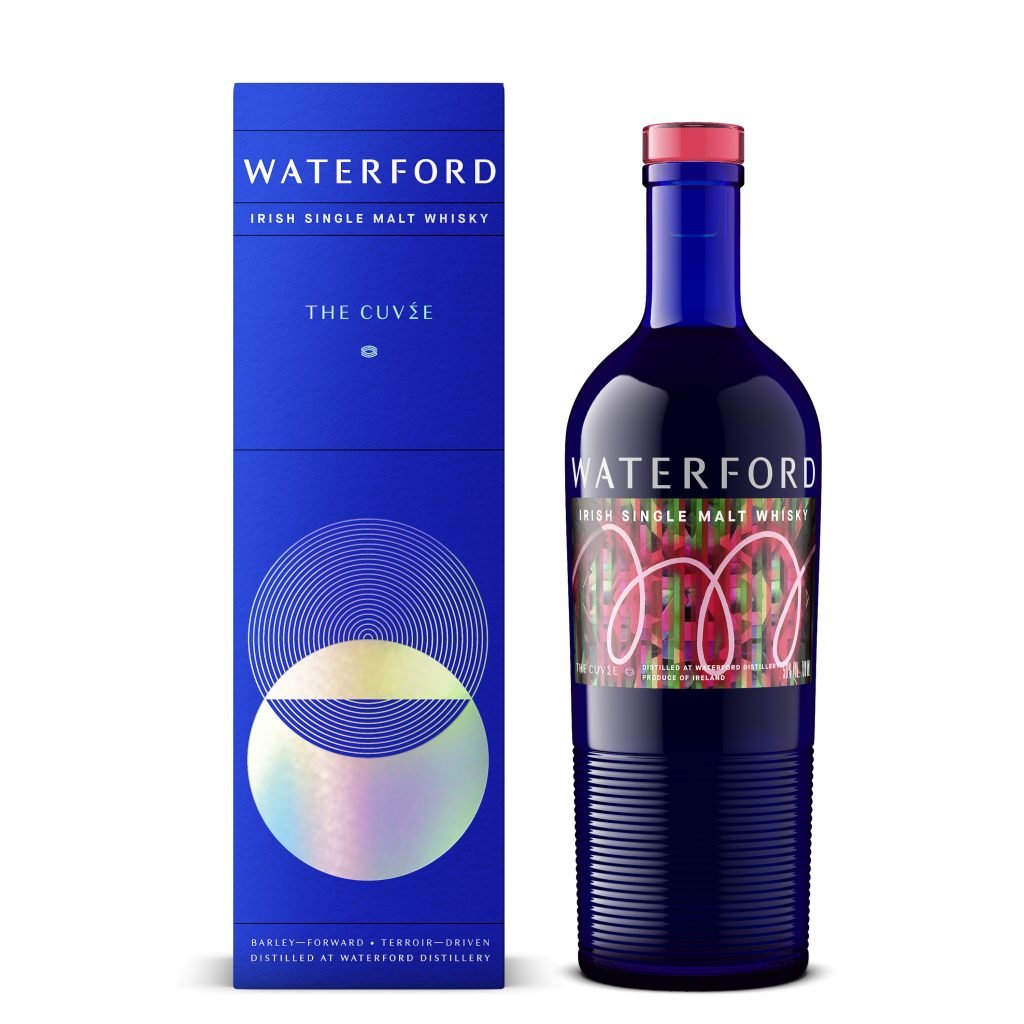 Waterford Cuvée tasting note
Nose: Barley all the way, strong, creamy cereal note. It's malty with floral honey, gingerbread and fresh apple. Just deliciously fresh. 
Palate: Super creamy. It's all about feeling that texture in the mouth. Then there's cloves, cinnamon and custard, with peach and apple. Beautifully balanced.
Finish: It's that cereal note going on and on and on.