Desserts are delicious. Drinks are delicious. What do you get when you combine the two? Double deliciousness. Here's a tiramisu, cranachan, and cheesecake recipe, all featuring booze.  
It's been an indulgent season and people are tightening their belts and wallets typically right about now. But that doesn't mean you have to forgo any joy, life is for living after all. Plus, while Christmas pudding and Christmas cake are classic festive desserts, they're not all year-round choices to finish the feast for a reason. It's time for desserts you'll actually love, and here we have three cracking ones that are not difficult to make.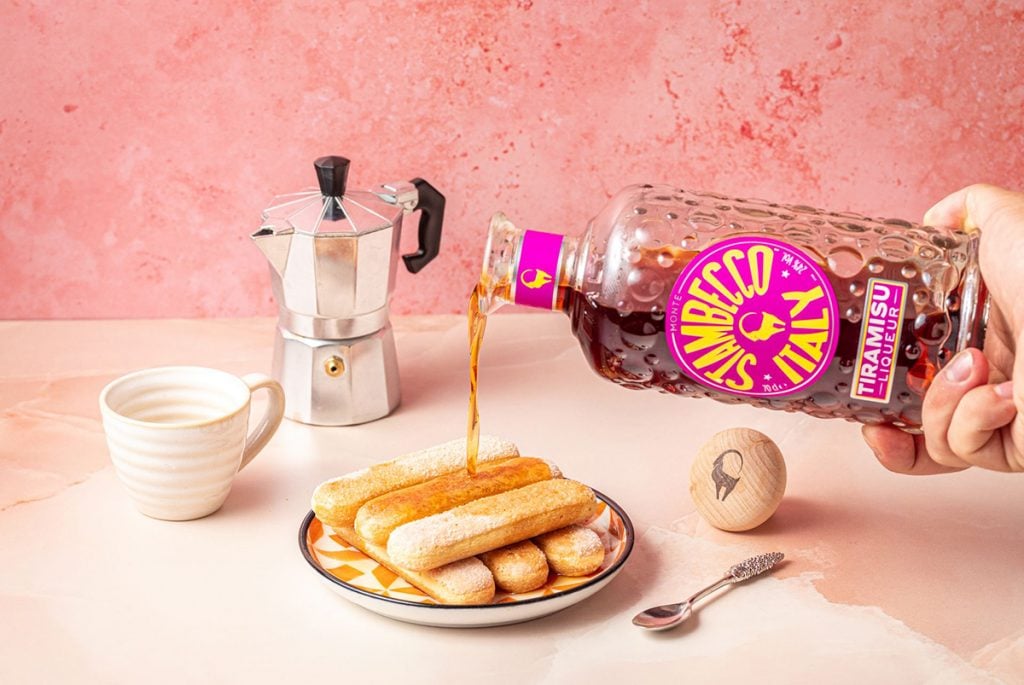 Stambecco Tiramisu
When making tiramisu, you can't really go wrong with a Tiramisu liqueur made especially to honour the dessert. With flavours of cocoa, coffee, mascarpone, and amaretti biscuits, master distillers, Beppe Ronco and Denis Muni created this liqueur with 100% natural ingredients including espresso coffee extracts from local suppliers in the Torino area, which is known as the capital of Italian coffee. You can enjoy it over the rocks as a digestif, in an Espresso Martini, or with the recipe below, which serves eight to ten people.
Ingredients:
5 tbsp Stambecco Tiramisu Liqueur
4 large free-range eggs
50g golden caster sugar
500g mascarpone
125ml sweet masala
1/4 tsp vanilla bean paste
250ml espresso, cooled 
200g pack savoiardi biscuits
50g good quality dark chocolate (60-65% cocoa) finely chopped, plus extra to serve
Cocoa powder to dust
Method:
Separate the eggs, setting the whites aside. Put the yolks in a large mixing bowl with the sugar and whisk with an electric mixer until pale and thick. Whisk in the mascarpone, marsala, and vanilla until well combined.
Whisk the egg whites until stiff. Gently fold the whites into the mascarpone mixture, adding just 1 tbsp at first to loosen, then adding the rest in two batches. Chill for 25 minutes.
Stir the Stambecco Tiramisu into the espresso in a shallow bowl. Soak one side of the savoiardi biscuits in the mixture for a couple of seconds before turning them over and repeating.
Arrange half the soaked savoiardi biscuits in a single layer in the base of a large rectangular dish. Top with half the mascarpone mixture, followed by half the chopped chocolate. Repeat with the remaining biscuits, mascarpone mix and chocolate. Cover the tiramisu(s) with cling film and chill for at least 8 hours, preferably overnight.
Take it out of the fridge around 20 minutes before you want to eat it. Dust with cocoa powder, sprinkle with more chopped chocolate, then serve.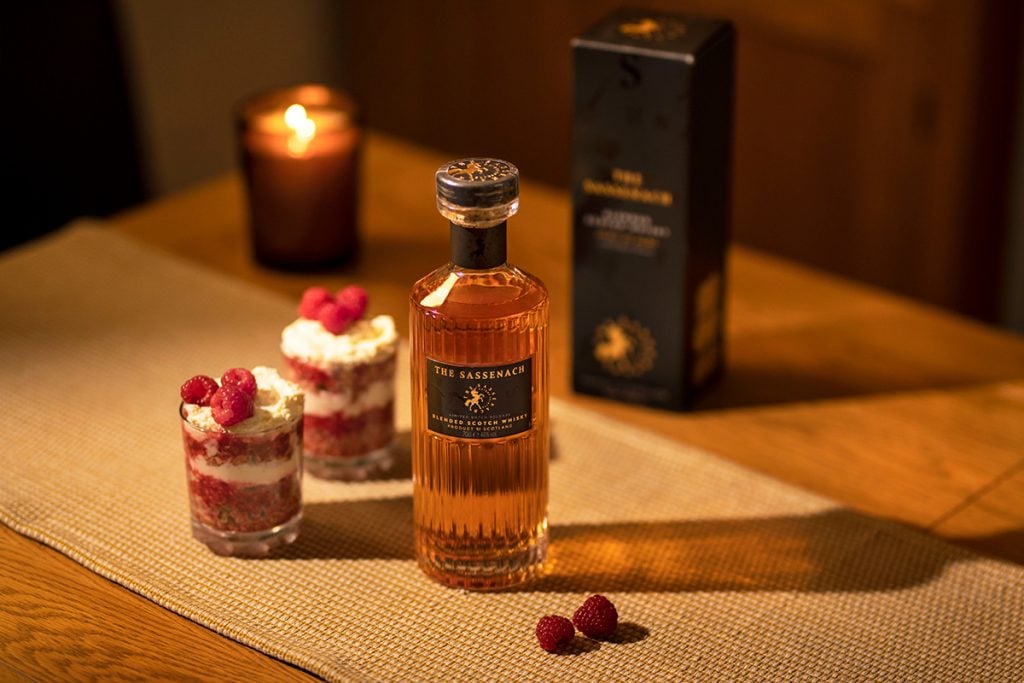 Sassenach Crannachan 
Sassenach Scotch whisky creator and star of Outlander Sam Heughan actually showed off how to create this traditional Scottish dessert himself using his own whisky on his social media. It's so easy and yet such a winning recipe, one that you can have lots of fun with the presentation of. Make sure you have a dram with your dessert too.
Ingredients:
5 tbsp The Sassenach Blended Scotch Whisky
100g oatmeal
300g raspberries
1 tsp caster sugar
300ml double cream
2 tbsp honey
Method:
Lightly toast the oats in a pan, being careful not to let them burn, then allow them to cool. Soak the oats in 2 tbsp of Sassenach while you prepare the other ingredients. 
Keep some raspberries to the side to garnish. Crush the remaining raspberries in a bowl and add the caster sugar, 1 tbsp of honey, and 1 tbsp of Sassenach.
Whip the cream in a bowl until it begins to thicken, then add the remaining 1 tbsp honey and 2 tbsp Sassenach. Continue to whip untll stiff peaks form.
We opted for a layered approach to look like Sam Heughan's — a layer of oats, then the raspberries, then the cream. Repeat and garnish with the raspberries we set aside earlier.
Baileys Irish Cheesecake
Baileys cheesecake was something my mum used to make a lot, but in classic Irish mammy fashion, she doesn't actually have a recipe to share as she basically wings it every time, so we've gone to the brand itself for this one.
Ingredients:
75ml Baileys Irish Cream
A 20cm sponge
500g mascarpone
340g Philadelphia cream cheese
60g caster sugar
175ml double cream
Caramel sauce
Popcorn and salted pretzels to garnish
Method:
Trim the top off a sponge and put it into a clean 20cm cake tin.
Beat the mascarpone, cream cheese, sugar, and Baileys with an electric or balloon whisk until smooth. Spread over the cake and chill for at least 2 hours. Spend at least some of this time licking the spoon.
Whip the cream, dollop on top of the cake, and then spread it around.
Drizzle over the caramel sauce, then decorate with pretzels and popcorn (remember, there's no such thing as 'too much').