It's mid-December, so we're pretty much halfway to Christmas Day – isn't that a reality check and a half? If you, like us, have failed to buy any presents for your nearest and dearest thus far, there's no need to panic. We've thrown together this essential Christmas gift guide to make the whole experience hassle-free…
Picture the scene: It's Christmas morning. You're about to exchange gifts with your beloved spouse/stepfather/possum. They hand you a delicately wrapped parcel. It's the exact weight and shape of [insert desired Christmas present here].
You eye your gift. Why did you play it safe with velvet pyjamas? You're not buying for Michael Douglas. You regret everything. Your spouse/stepfather/possum opens the parcel. "Thanks," they whisper politely. A single tear runs down their face. You've ruined Christmas.
A tragic thought, but it doesn't have to be this way. Not now that we've created this smashing gift guide, anyway. From personalised whisky to barrel-aged cocktail kits, we've covered all angles, no matter who you're buying for*.
So tuck into that office box of Celebrations on your lunch break (seriously, is there an office that doesn't have boxes of these in abundance right now? Mars must be laughing all the way to the bank) and scroll through this post for some serious gifting inspo. You might even find a pressie or two for your own wish list, n'all.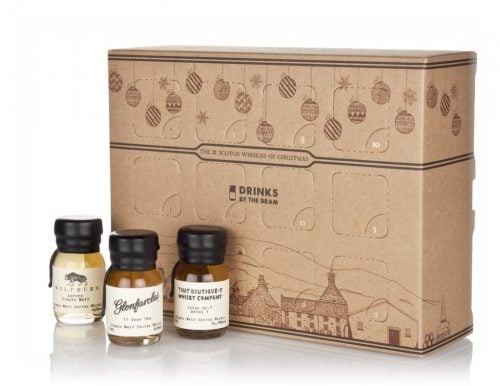 12 Scotch Whiskies of Christmas. Better than 12 drummers drumming
12 Scotch Whiskies of Christmas
On the 12th day of Christmas, my true love gave to me… 12 drams of Scotch whisky! Yep, those thoughtful folks at Drinks by the Dram (the very same people behind those boozy Advent calendars) have created this fabulous set so the Scotch enthusiast in your life can mark 25 December to 5 January with a dram in-hand. Click here to view the full set, which includes single malts, single grains, blended malts and more, with some bottlings worth more than £100. A nifty little fact worth boasting about on the gift tag.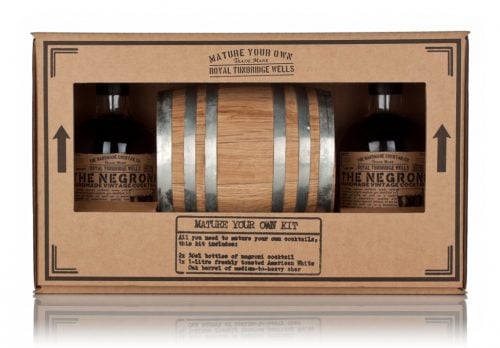 The Mature Your Own Cocktail Kit
Mature Your Own Cocktail Kit – Negroni
Pop quiz: What's better than a Negroni? A barrel-aged Negroni, of course! And all the better when you've got an (almost) untapped supply of it in your actual house. The genius Mature Your Own Cocktail Kit comes with everything your loved one needs to make their very own batch: we're talking a one-ish litre freshly-toasted American oak barrel and two bottles of the Handmade Cocktail Company's Negroni Cocktail to kick proceedings off. They'll get around three goes before the barrel influence begins to wane, so encourage your giftee to get their creative cap on. We once thoroughly enjoyed a Negroni aged with Stilton…

Personalise a bottle, like this one here
Personalised whisky
Not to toot our own horn too much (toot!) but this personalised whisky bottle is guaranteed to impress. The hardest bit will be choosing a bottle, because there's a huge selection to pick from – Port Charlotte, Aultmore, Paul John, not to mention the various whisky liqueurs. Once you've decided, just add a message of your choice to the label and you're hot to trot. If you're feeling super-generous, you can add a few extras at the checkout, from a presentation box to a whisky tasting glass.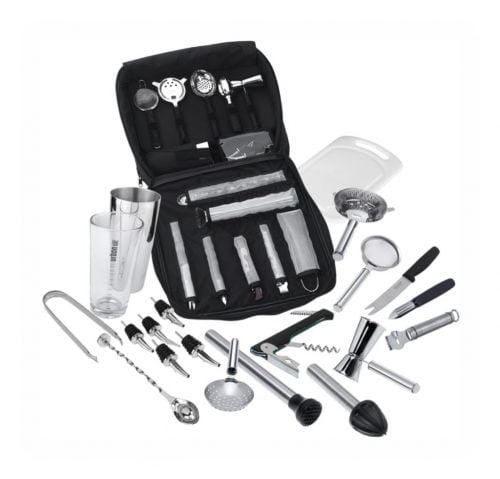 Kit them out with a Complete Cocktail Bag
Complete Cocktail Bag
Whether they're an aspiring bartender or full-time shaker-and-stirrer, this comprehensive kit will make sure they're well-equipped to craft all manner of cocktails. Aptly named Complete Cocktail Bag, the set contains strainers and pourers, a muddler, a jigger, a bar spoon, a Boston cocktail shaker and more besides – so no matter whether they're into classics or contemporary drinks are more their style, they'll have no problem finessing that serve. We reckon they'll love it so much, they might even you whip up a tasty tipple to say thanks.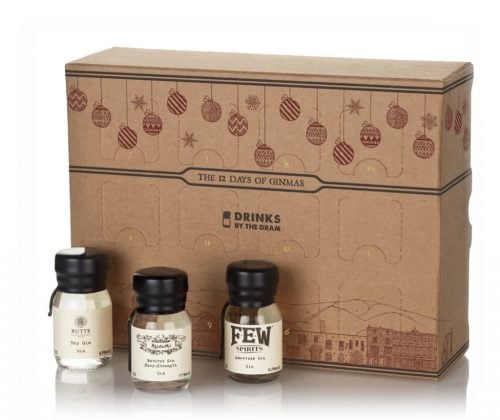 The 12 Days of Ginmas
12 Days of Ginmas
Like the concept behind the 12 Scotch Whiskies of Christmas, but gin is more their 'thing'? You're going to love the 12 Days of Ginmas set, then. From iconic classics to fanciful new favourites, these junipery drams are guaranteed to bring a bit of oomph into those dreary days between Christmas and New Year. With liquid from FEW Spirits, That Boutique-y Gin Company and Hernö; it truly is the gift that keeps on giving.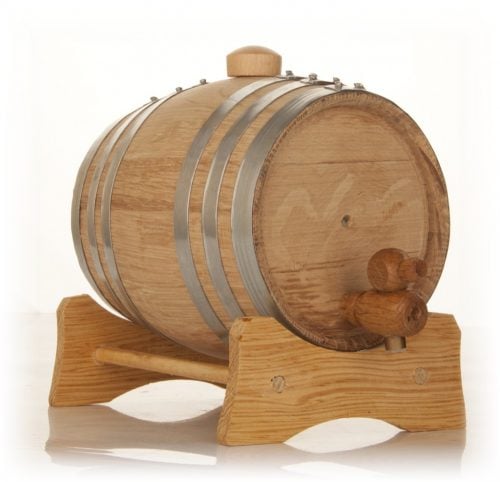 Treat them to their own oak barrel
Their own oak barrel
The dream for many spirit lovers, short of owning their own distillery – yep, buy them their own oak barrel. All of the barrel-ageing fun, but without the cooper qualifications. These casks are made from 100% fresh Kentucky oak, toasted to a medium level, and are available in a variety of sizes – from a teeny one-litre barrel up to a sizeable 50-litre beast. There's a bung to keep a check on the deliciousness within, and a tap from which to release the contents from its woody womb when the time comes. Just don't ask us how you're going to wrap it. That's your issue, my friend.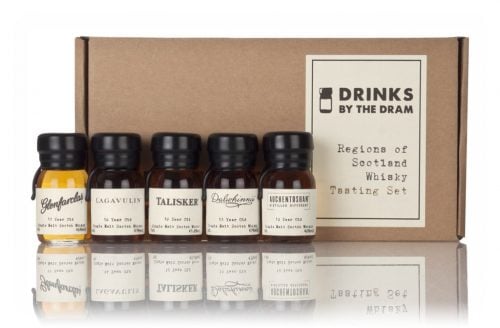 The Regions of Scotland Whisky Tasting Set
Regions of Scotland Whisky Tasting Set
If you've considered taking your beloved on a once-in-a-lifetime road trip around Scotland but the prospect of torrential sleet, irksome bagpipes and occasional whiff of sheep poop has put you off, we have got the perfect solution: a tasting set of 30ml samples that showcase the huge range of whisky styles produced across the country. They can explore peaty Islay, the fruity Highlands, the floral Lowlands, and sweet, vanillic Speyside from the comfort of their own home. Genius.
Classic island dram Talisker 10
Talisker 10 Year Old
We know what you're thinking. "You're just trying to flog us some whisky! This isn't a gift guide at all!" etc, etc. But wait, you've got it all wrong. While, yes, this is a phenomenal deal, it also has the potential to become a super gift. How so? Well, if you buy a bottle of Talisker 10 Year Old (currently reduced from £39.95 to £29.95) between now and the end of Christmas Eve, you'll be automatically entered into a competition to win a two-night adventure to Skye for you and a plus-one, aka, your giftee. You'll enjoy a tour of the iconic distillery and action-packed activities, with lunch, dinners, two nights B&B on Skye and all UK transport thrown in. We're not sure how you'd ever top this, but you don't need to worry about that just yet. And if you don't win, they'll still enjoy a cracking dram, and you'll have saved a tenner. A result all-round.
See, that wasn't so bad, was it? Pressie-buying can be a walk in the park if you know how. Leaving you more time to watch videos of, say, a hedgehog stuck in a croissant.
*Please don't buy any of these gifts for your possum. It won't end well.