With World Whisky Day around the corner, The Macallan have announced their latest collaboration with Oblix bar and restaurant on the 32nd floor of The Shard in London.

Walking through the dark corridors of Oblix, having just been through The Shard's airport-style security and then thrown up 32 floors in 15 seconds, is like being inside a Goa'uld mothership from Stargate. Once you turn the corner to enter the bar, however, everything opens up and panoramic views of London are revealed. On a bright day the effect as you emerge must be fantastic, but even on a particularly grey Thursday afternoon there's reassurance that you're still on earth and haven't actually been kidnapped by symbiotic ancient aliens. Enough nonsense from me though – on to the whisky!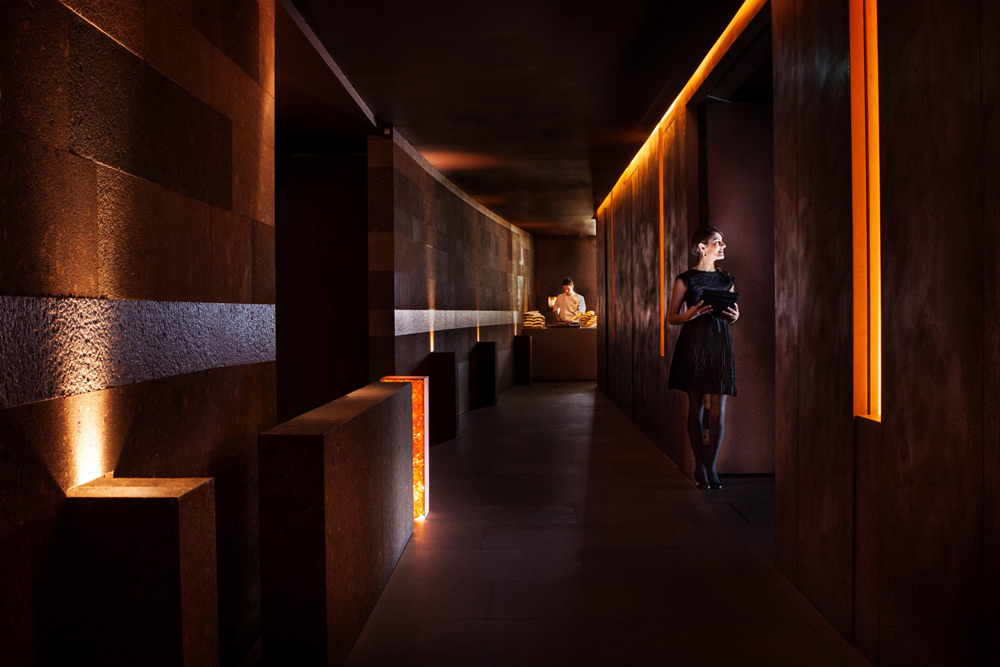 "Hello, I'm here to see Apophis. Kree!"
The Macallan have revealed their new bespoke whisky trolley, which has taken up permanent residence at Oblix. Suitably, for this rich Speysider, the trolley itself is made out of a single Sherry butt. Drinks trolleys are nothing new, of course, and the most famous ones such as Alessandro Palazzi's Martini trolley at Duke's Bar have become institutions in their own right. Over the last few years more and more of them have been popping up all over London though: cocktail trolleys, Champagne trolleys, even a beer trolley! Trolleys, it seems, have become 'a thing'. So Macallan obviously thought, "Why not a whisky trolley?!"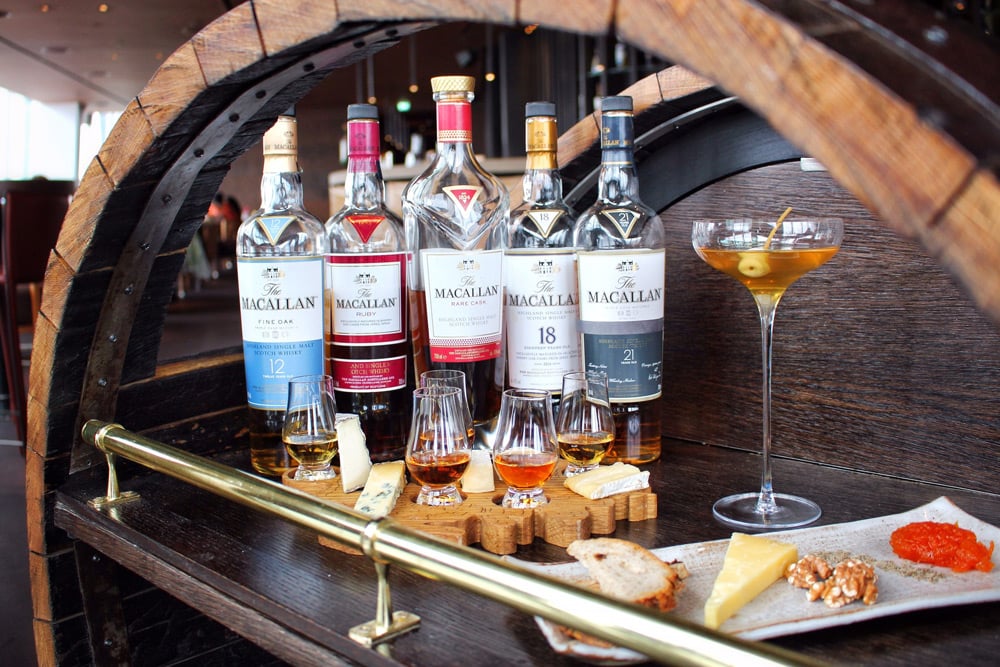 The Macallan Whisky Trolley
Oblix bar manager Aaron Masonde has also been developing a whisky and cheese pairing to go along with the trolley. Available from June, you'll get 4x Macallan whiskies (from 12yo-21yo, so some pretty good stuff in there) plus a Macallan cocktail – each paired with a different cheese – for £40. If you're feeling flush a more expensive version will soon be available, or if you feel like branching out from The Macallan at all, there will also be a version with whiskies from across Scotland including Laphroaig, Highland Park and Auchentoshan.
Although we understand that the final pairings may all use Scottish cheeses, Aaron appeared to have tasted every cheese in Neal's Yard in preparation for our preview (it's a tough job, but somebody had to it).

Mac 'n' Cheese Cocktail & Hafad (Welsh Cheddar)
The cocktail was made with The Macallan 12 Year Old Sherry Oak, dry vermouth infused with onion and Bénédictine, with a cocktail onion for garnish (served in some very tall stemware as you can see in the pic above). Fruity, with the perfect amount of pickled onion edge (great for fans of a Gibson or a pickleback or two), but the clever thing here was how it worked with the cheddar, which had enough bite to create the perfect Cheese and Onion combination.

This pairing played on the more honeyed notes of the Fine Oak, which uses some bourbon casks (like Highland Park, which we covered last week, Macallan is obviously best known for Sherry casks, but the "Fine Oak" ones also use ex-bourbon casks*). The goats' cheese was young and fresh with some acidity, pairing extremely well in a Greek yoghurt and honey fashion.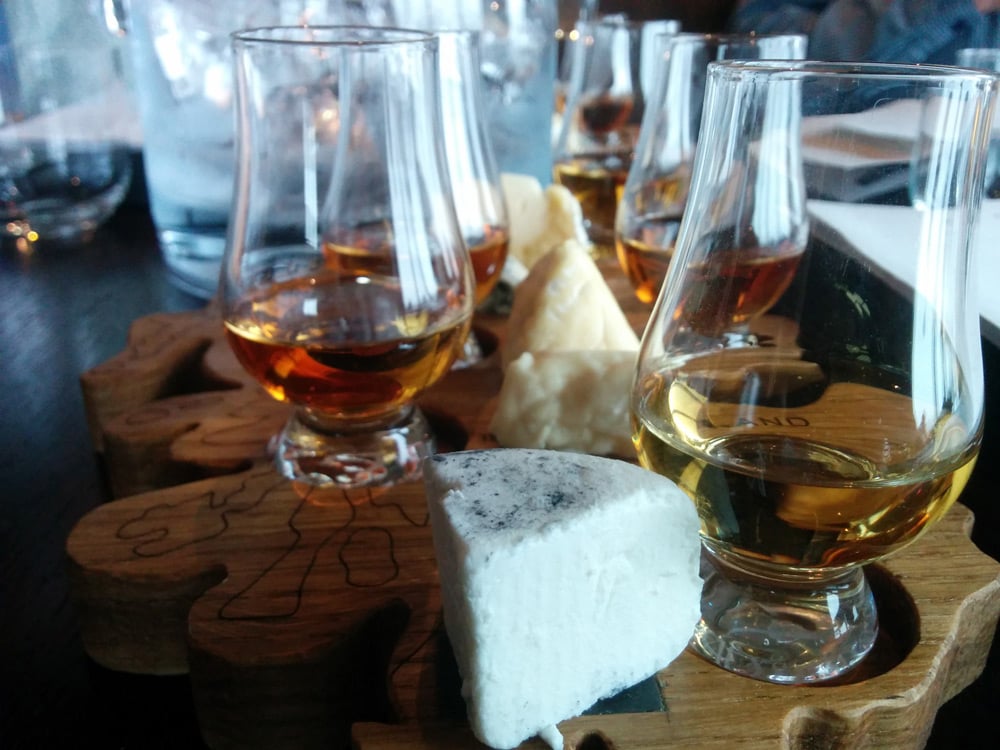 Mac 'n' Cheese, geddit?
Another young, light goats' cheese (almost brie-like), which nonetheless stood up well to the Rare Cask, a no age statement whisky from the 1824 range that's made with whiskies up to 24 years old and features wood spice notes from some of American oak Sherry casks used. Going forward, it's going to be bottled in annual batches that will carry bottling years. The magic here, we found, was to put some of the cheese in your mouth and to chew it, then to take a sip of whisky whilst the cheese is still in your mouth. (It's a technique that works especially well with Lagavulin and blue cheese, if you're playing along at home.) In this case, everything came together to become particularly chocolatey! Yum!

The first thing to say here is that Macallan Ruby has being discontinued. Apparently Macallan simply don't have the stock of available first fill Oloroso Sherry casks to continue this particular hue. As such, it won't be part of the pairings that launch in June (hence 4x Macallans mentioned above, not 5x). Full of rich European oak goodness, here it was paired with a soft cheese that had a nutty (think actual peanuts) rind.

We're really into juicy Corinth raisin and plum territory now with the 18 year old, full and rich Sherried whisky that can stand up to a blue cheese, in this case a complex Nottinghamshire blue that had both meaty and caramel notes.

The Baron Bigod (great name) was a raw cow's milk cheese with a bit of bitter tang and notes of dried apricot that paired well with the Fine Oak 21yo's own dried apricot, passion fruit and tropical fruit notes.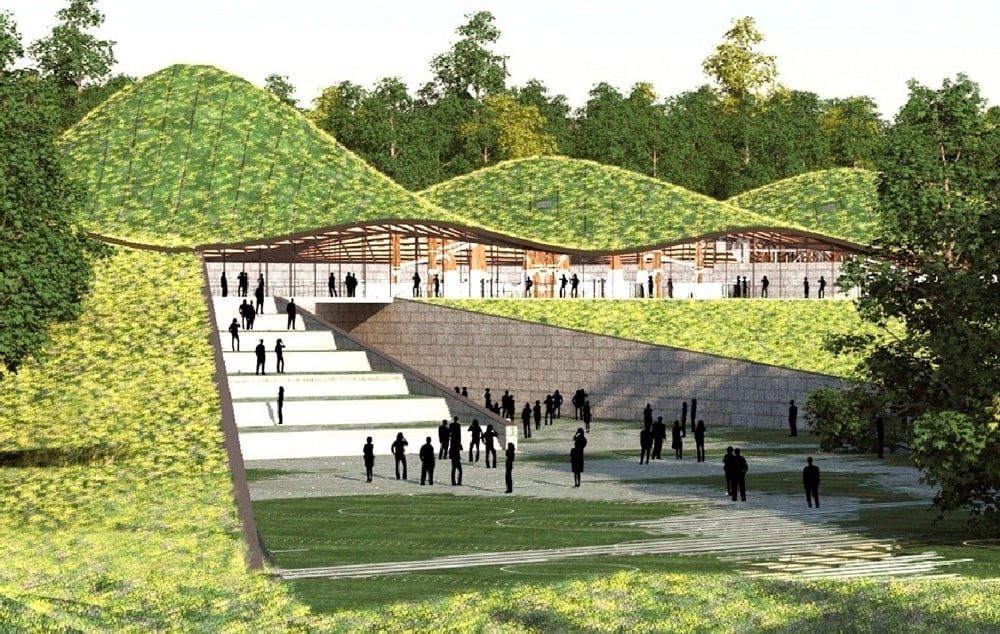 Macallan's planned new lair
Whilst we're on The Macallan, the latest on their rather awesome new Bond lair/Tellytubbies distillery, visitor centre and bar is that they're now not due to come on steam/open until late 2018. We're told that the long term plan, with the greater capacity, is to reintroduce more age statement whisky…


Jake


*Sherry Oak = European oak Sherry casks and some American oak Sherry casks
Double Oak = European and American oak Sherry casks with a much higher proportion of American oak than the "Sherry Oak" range uses
Fine Oak = European and American oak Sherry casks and American oak bourbon casks