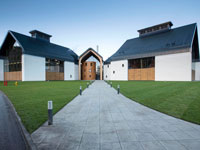 If you've long been wondering about what Chivas Brothers will be doing with the site of the Imperial distillery, which was mothballed in 1998, you can wonder no longer. Today, the 22nd of June 2015, the Dalmunach distillery will be officially opened by the First Minister of Scotland, Nicola Sturgeon.
Plans were put in place to construct the Dalmunach distillery back in 2012, and the stills were ready to be fired up in October of last year. With the capability of producing 10 million litres of spirit each year, Dalmunach will be supporting the continued growth of Chivas Brothers well known blends, like Chivas Regal, Royal Salute and Ballantine's.
A very stylish distillery, this Dalmunach. Its shape was inspired by the shape of a sheaf of barley – because, y'know, barley and whisky and all that. It houses 8 copper pot stills – the wash stills use a tulip shape, while the spirits still use an onion shape, said to replicate those that produced whisky at the Imperial distillery. These 8 still have been arranged in a circular design as an aesthetic choice. Dalmunach is also equipped with 16 new stainless steel washbacks, a 9.5m mashtun and a hexagonal spirit safe comprised of four safes and a waterfall feature.
Also, it's very pretty at night. See.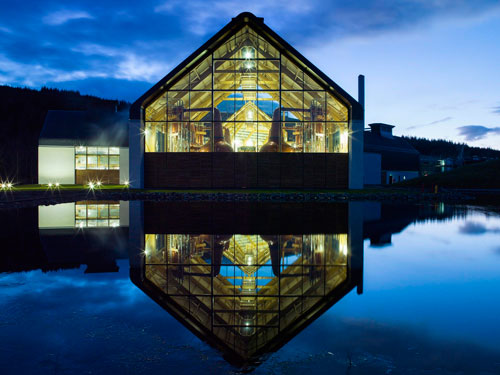 Oooh. Shiny shiny.
The chap you have to thank for overseeing the design and construction of the new Dalmunach distillery is Douglas Cruickshank, who was previously Chivas' Production Director. He actually worked at the Imperial distillery when he was 15, and he now retires after finishing the completion of a new distillery on its former site. Just like the layout of Dalmunach's stills, everything is cyclical.
So with that, the Speyside region gets a little bigger once again. We look forward to seeing what Dalmunach brings to the table over the years. Perhaps one day we'll even see some of its single malt released as part of the Chivas Brothers Cask Strength Edition range…?
Sam.