Yep.
Seven.
Like a striding colossus of the whisky industry powered by pure inspiration, awesomeness and zeitgeist*, That Boutique-y Whisky Company have brought you not one, but seven brand new releases, as well as a second batch of Aberlour.
Without any further ado:
First up, we have a stonker of an Auchentoshan:
Auchentoshan – Batch 1  (That Boutique-y Whisky Company) £63.95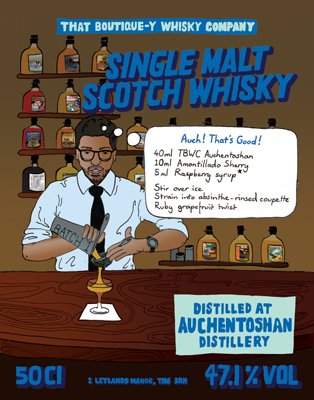 154 bottles, 47.1%.
Pictured on this label is cocktail supremo, Ryan Chetiyawardana formely of Bramble, Purl, and the Worship Street Whistling Shop. What Ryan doesn't know about whisk(e)y cocktails ain't worth knowing.
As if lending us his lovely little face wasn't enough – he's even gone as far as to construct a cocktail recipe specifically tailored to the Auchentoshan's Flavour profile. You'll find this recipe on the front (continued on the back) of the label.
Look hard enough at the label, and you'll see some of the previous Boutique-y releases on the shelf behind Ryan, and you may even be able to see some clues as to some future releases on the Right of the label…
Tasting Note by The Chaps at Master of Malt
Nose: Lovely parma violets on the nose, followed by sherry with hints of pipe tobacco and spice. A touch of kirsch and acacia blossom.
Palate: Creamy, sweet palate entry – marmalade on top of soft malt and orange blossom honey. Hints of lavender and wood shavings. A little candied peel develops.
Finish: Long, spicy finish. Apple peel, a soupcon of almond and prune juice on the tail.
Overall: Fantastic – a wonderful interplay between the floral Auchentoshan and the richness from the sherry cask.
Next up – a single malt from Deanston distillery:
Deanston – Batch 1 (That Boutique-y Whisky Company) £46.95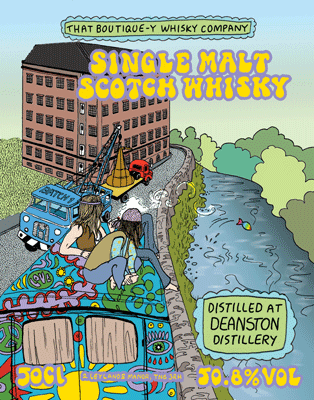 218 bottles, 50.8%
Deanston is a comparative newcomer to the world of Single Malt Whisky – the stills were installed in 1966. Hippies were also about in 1966. Hence the label. Deanston's not very exciting. Sorry. The whisky's pretty awesome though:
Tasting Note by The Chaps at Master of Malt
Nose: Hints of fresh mint and roasting coffee beans. Dark chocolate and a little caramel too. Toasted oak.
Palate: Baking spices meld with fresh peppermint leaves and creamy custard. A hint of butterscotch and cooked fruit too. Greengages appear late-palate.
Finish: Tangy fruit on the finish. Cinnamon and just a touch of old leather.
Next, a supremely Vanilla-rich dram from Braes o' Glenlivet:
Braes o' Glenlivet – Batch 1 (That Boutique-y Whisky Company) £51.95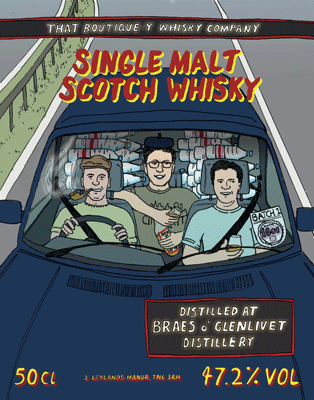 210 bottles 47.2%
This label features a handsome man, and Justin and Tom (Them there other directors from off of Master of Malt).
The realisation that there's more to whisky than the cheap blends available in the local pub has happened to us all at some point (or it's likely that you probably wouldn't be reading this right now). It's fair to say that there was one particular whisky that started the three of us out on the path that ultimately led to the Master of Malt you all know and love today. It was a Braes o' Glenlivet from sometime in the late '80s, or early '90s (a MoM bottling, of course). This label depicts the very moment when we first tasted it, 10 or so years ago on a trip up the M1. For the (unnecessary) avoidance of doubt, Tom had some when we got there, not whilst he was driving.
Why is the back of the car completely full up of bloody empty bloody Evian bloody water bottles? Many of us have asked ourselves that question over the years.
Tasting Note by The Chaps at Master of Malt
Nose: Brandy butter and vanilla. Hints of tropical fruit, manuka honey and soft spices.
Palate: Cinnamon and orange blossom honey. A hint of parma violets, lemon curd and tarte tatin. Beautifully creamy vanilla custard.
Finish: Massively long finish with notes of salted butter and allspice.
Overall: Rich, buttery and creamy – delicious!
Next up, an absolute belter from Cult distillery; Clynelish:
Clynelish – Batch 1 (That Boutique-y Whisky Company) £54.95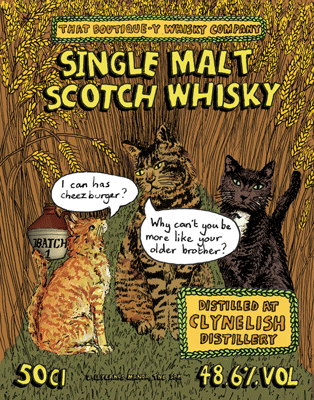 197 bottles 48.6%
The label features three cats huddled in a field of barley, two of which are siblings. Look at an official label for either of these whiskies closely, and you'll see some slightly less handsomely-rendered versions of these cats.
The smaller, grammatically-challenged Ginger cat (let's call him 'Clynelish') is being denigrated by its parent for not living up to the example set by the larger, black, slightly smoky-looking cat, who, as a placeholder, we'll refer to as 'Brora'.
It's certainly the case that closed distilleries seem to garner a lot or retrospective respect (respectrospective? Retrespect?). Whether this is well-placed or not is a hot topic… and one we're not likely to settle today. What we can agree on however is that firstly this whisky is awesome, and secondly we should crack on and find some Brora for a future Boutique-y release.
Tasting Note by The Chaps at Master of Malt
Nose: Ginger and hints of sea salt. A little overripe grape, orange peel and spice. Dried apricots.
Palate: Coastal, oily mouth-feel with notes of fruit to the fore, particularly cantaloupe melon. A touch of apricot, with a development of sherry, figs and spice.
Finish: Spiced finish. Very fruity now, with gorgeously intense spice notes.
Overall: A fruity, coastal whisky from Clynelish with a lovely sherry flavour.
One conundrum touched on, and immediately we find ourselves in another. What on earth could this whisky be about?
Blended Malt Number One – Batch 1 (That Boutique-y Whisky Company) £49.95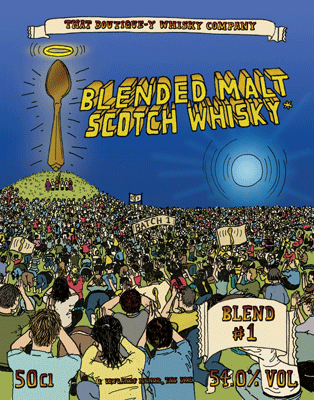 210 bottles 54.0%
Well… Well well…. Wellitty wellitty wellitty…
There are a select few distilleries (Balvenie is one, I'm sure there are others) who only release blending stock from their distillery once a teaspoon of another whisky has been added in order to make it impossible to sell single malt from that distillery as anything other than an official bottling. That's why you'll never see any independent bottlings of (for example) Balvenie.
It's worth noting that the teaspoon added to each cask is equivalent to approximately 1 drop (0.05ml) per bottle. Completely imperceptible.
In this label, we find a throng of savvy whisky connoisseurs openly worshipping the almighty teaspoon that has the power to bring them what is, not to put too fine a point on it, an unbelievably well-aged whisky from one of the world's premier distilleries at a frankly insane price.
Tasting Note by The Chaps at Master of Malt
Nose: Rich, creamy malt notes on the nose, with a touch of cooked fruit and blossom. Very thick and inviting. A little apricot and perhaps even the faintest hint of wood smoke.
Palate: Barley malt to the core, with notes of cocoa butter and manuka honey. Baked pears with allspice, hints of sweetened latte and toasted oak develop. Some toffee too.
Finish: Oaky, toasted finish. Salt caramel and butter, sweet, milky coffee.
Overall: A beautifully malty, rich blended malt whisky with all the hallmarks of one of Speyside's best-loved distilleries…
For our penultimate release from this round, we're off to Bunnahabhain:
Bunnahabhain – Batch 1 (That Boutique-y Whisky Company) £51.95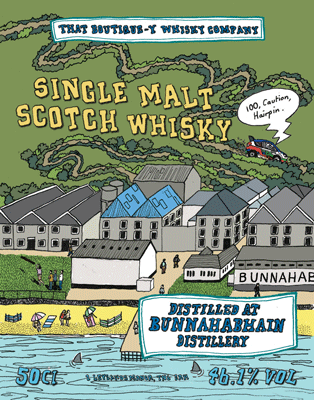 233 bottles 46.1%
It's fair to say that there's a bit going on in this label.
Some highlights – the world champion caber-tosser** fuzzing a massive caber in the field at the front of the distillery during Feis Ile 2012, some people relaxing on the pier, and a mental rally-driver type tackling the (frankly insane) single-track road that leads down to the distillery. There's something for everyone.
Tasting Note by The Chaps at Master of Malt
Nose: A little seaweed on the nose, melded with sweet caramel and heather honey. There is a faint hint of peat smoke coming through, with notes of fresh fruit.
Palate: Deep malt and heather, with overripe grape, calves leather and vanilla. The peat smoke notes develop late palate, with hints of cracked black pepper.
Finish: Peppery, slightly smoky finish. Very coastal now.
Overall: A classic Bunnahabhain!
Finally – we're off to a secret distillery for a single malt that definitely wasn't robbed by a strawberry-blond, slightly queasy-looking man.
Secret Distillery Number One – Batch 1 (That Boutique-y Whisky Company) £41.95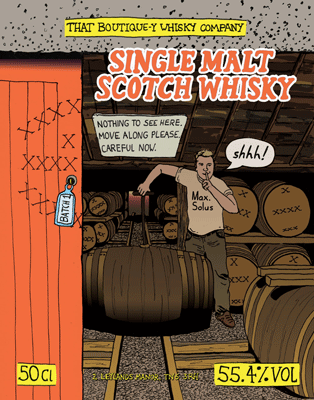 486 bottles 55.4%
That's right – it's our very own Tom, and he's entreating you not to tell anyone about his miscreancy, whilst pinching himself a dram from a cask with a Valinch.
The more astute amongst you might be able to piece together which distillery this is from by virtue of the famous red door, the position of the sign in the warehouse, and the fact that it's really, really obvious.
Tasting Note by The Chaps at Master of Malt
Nose: Big, creaking oak and sherry on the nose. Hints of soft smoke, black coffee and dates. Very inviting!
Palate: Rich palate entry. Notes of peppery oak and ground almond. Hints of pralines, dark chocolate and brandy butter. Very intense sherry notes. Spices develop.
Finish: Peppery, nutty finish. Spiced.
Overall: A hugely sherried, intense whisky – delicious.
Finally, the second batch of the Aberlour has now been released. Slightly more expensive than the first, but as always, price follows cost – so expect a more highly aged whisky in this batch.
*Something like that. That or Red Bull. Definitely not 'sleep', though.
**Maybe omit 'caber'?