Fans of sherried whisky will enjoy this week's VR distillery tour as we peek behind the curtain at GlenDronach.
Just because you're self-isolating or on lockdown, it doesn't mean you can't enjoy a good distillery tour. How is this possible? Thanks to the power of VR, of course. In this series we're going to take you around some of the finest distilleries across England, Wales and Scotland from the comfort of your own home. This week we visit an innovative Highland distillery that creates some truly smashing whiskies. Enjoy!
Ever since GlenDronach Distillery was founded by James Allardice in 1826 it has been maturing whisky in Pedro Ximénez and oloroso sherry casks. This profile was maintained even though the distillery changed hands multiple times, with the likes of Walter Scott of Teaninich, William Grant's son Charles Grant, William Teacher and Pernod Ricard all acquiring the distillery over the last two centuries. For much of this time, GlenDronach's whisky was mainly used in blends such as Teachers and Chivas Regal. In 1968, GlenDronach was released as a single malt brand for the first time. The GlenDronach distillery was purchased by BenRiach's owners in 2008 for £15 million, who invested £7 million, relaunched its core range and opened a new visitors centre in 2010 before selling to Brown-Forman for £285 million in 2016. The distillery features a traditional rake and plough mash tun as well as wooden washbacks, while its four stills which were coal-fired until 2005, making it the last in Scotland to be heated in this way. The wash stills are an interesting shape and the plain sides of the spirit still cut back on reflux, helping to build a heavy and robust spirit ensures that GlenDronach distillery character still shines even after lengthy maturation in sherry casks.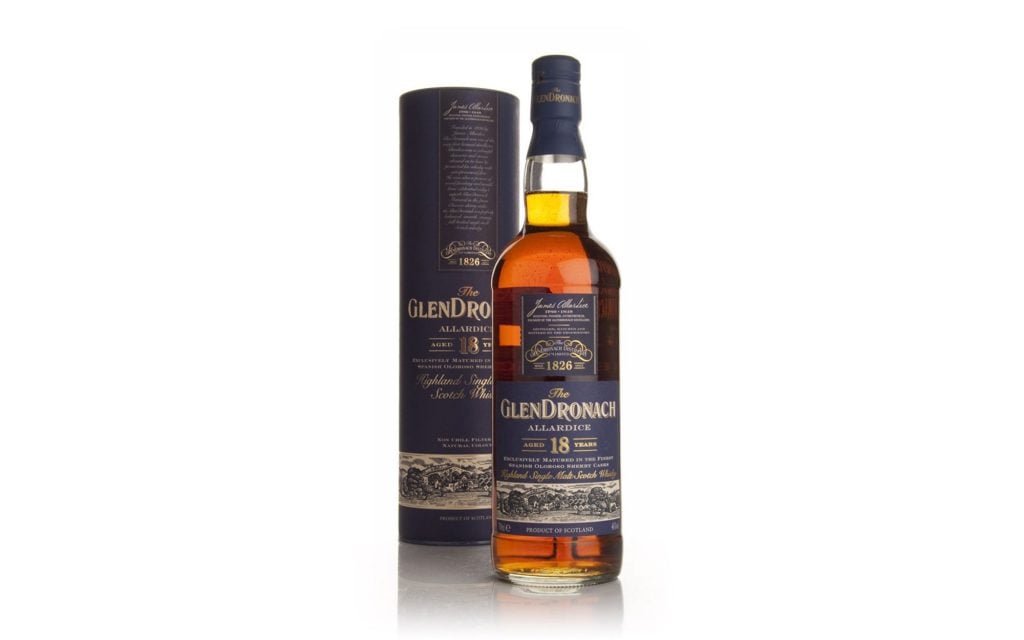 If you've enjoyed the look of Glendronach, then you're probably intrigued about how its whisky tastes. We'd suggest you give The GlenDronach 18 Year Old Allardice a try. Named after the distillery's founder, it matured completely in oloroso sherry casks and is an exceptionally fruity and complex single malt. 
The GlenDronach 18 Year Old Allardice tasting note:
Nose: Sherry notes so thick you need a knife to cut them! There's a hint of old rum in there too, with pineapple and brown sugar in tow.
Palate: Christmas cake, rum again, chocolate-coated hazelnut, runny honey and a hint of Sauternes.
Finish: Fresh blackcurrant, blueberry pancakes with a generous helping of maple syrup.