See how BenRiach makes its delicious Speyside whisky thanks to this virtual reality tour of the distillery.
Just because you're self-isolating or on lockdown, it doesn't mean you can't enjoy a good distillery tour. How is this possible? Thanks to the power of VR, of course. In this series we're going to take you around some of the finest distilleries across England, Wales and Scotland from the comfort of your own home. This week we take a look around a distillery that was closed for over 60 years but thankfully survived. Enjoy!
If you know a little of the history of BenRiach, then you'll know we're lucky that it still exists. Because of the Pattison crash  which wrecked the Scotch whisky industry, it was mothballed just two years after being built by John Duff in 1898 (though the floor malting remained operational).  It remained closed for over six decades. Most distilleries closed for that long don't survive. Thankfully, in 1965 Glenlivet Distillers Ltd reopened and subsequently rebuilt the distillery. By 1972 it even began the production of peated malt. Seagrams then purchased the distillery in 1978 and added two more stills and in 1994 released BenRiach as a single malt brand in its own right. BenRiach then encountered another turbulent period, beginning with the closure of its floor maltings in 1999 after 101 years of uninterrupted operation. In 2001, Pernod Ricard took over BenRiach, Allt A'Bhainne, Braeval and Caperdonich but all four distilleries were subsequently mothballed a year later. Just when it seemed poor BenRiach couldn't catch a break, an independent consortium led by Billy Walker acquired the distillery in 2004. They launched a new range, restored the malting floor in 2012 and sold the distillery to Brown-Forman in 2016. BenRiach is now in rude health and makes plenty of excellent sweet, nutty and fruity whisky to enjoy.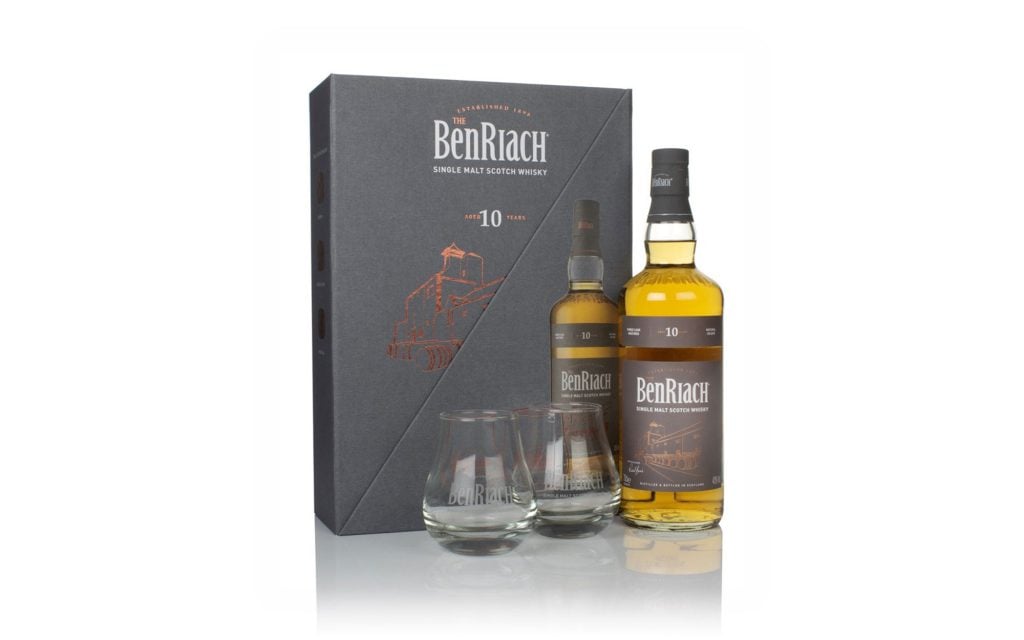 One of the best core expressions in the business, BenRiach 10 Year Old is the perfect way to introduce yourself to the distillery. But we're not recommending you indulge yourself with a bottle of BenRiach 10 Year Old. We're going one better. We suggest the BenRiach 10 Year Old Gift Pack with 2x Glasses, because it's a hell of a steal and you can never have enough branded tasting glasses.
BenRiach 10 Year Old tasting note:
Nose: Citrus-forward, with gingerbread and cinnamon in support.
Palate: Fried banana, brown sugar, powerful barley notes driving it all along.
Finish: Lasting hints of peppery malt and vanilla custard