Join us at Aberfeldy Distillery with another swanky VR tour!
Just because you're self-isolating or on lockdown, it doesn't mean you can't enjoy a good distillery tour. How is this possible? Thanks to the power of VR, of course. In this series we're going to take you around some of the finest distilleries across England, Wales and Scotland from the comfort of your own home. This week we head to Aberfeldy Distillery to find out why it's referred to as 'The Golden Dram'. Enjoy!
Aberfeldy Distillery is the only Scotch whisky distillery built by the Dewar family, one of the great family-owned blending firms that were founded in the 19th century. The architect was the renowned Charles Doig, who designed the signature pagoda roof that still dominates the distillery's skyline. Aberfeldy Distillery, along with Aultmore, Craigellachie and Royal Brackla, was bought for £1.1bn by Bacardi back in 1998, who remain the owners to this day. It was built beside the freshwater stream Pitilie Burn, which is still panned for gold and is the only distillery in Scotland to use these waters. The long fermentation in larch washbacks and slow distillation process in tall pot stills is the key to Aberfeldy's profile. The characteristic sweet and light spirit makes its whiskies perfect for blends and mixing, although they are very tasty neat, too.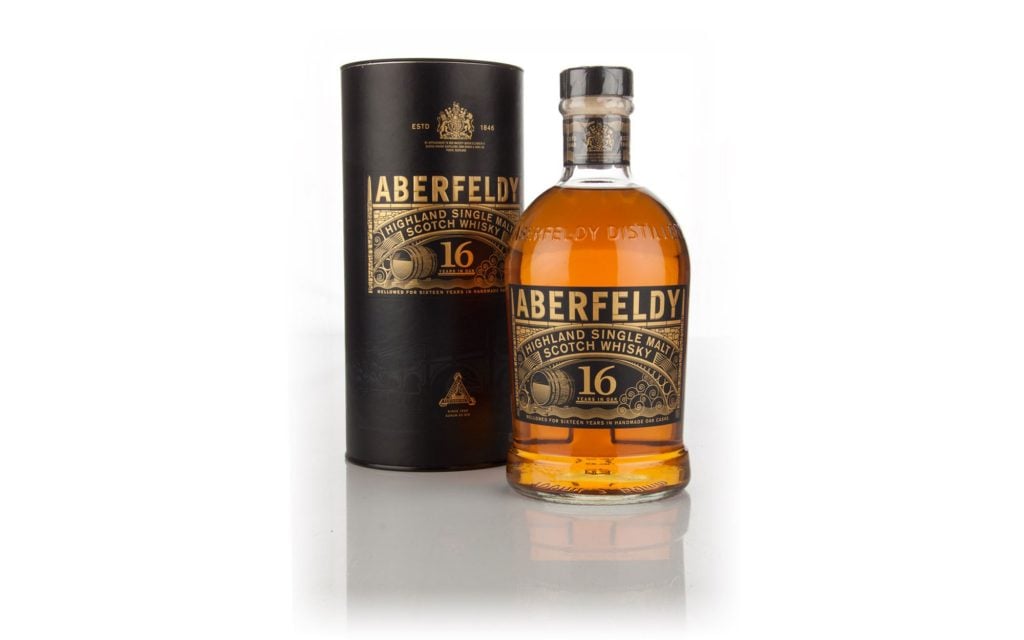 If your interest in Aberfeldy has been piqued, then perhaps you'd enjoy a bottle or dram of its fine whisky. Fortunately, we can deliver these delights straight to your door so there's need to worry about self-isolation and lockdown. I'd suggest you try Aberfeldy 16 Year Old. It's delicious, outstanding value and has been recognised with various awards and accolades.
Aberfeldy 16 Year Old tasting note:
Nose: Raisins and cinnamon at first, before moving onto butterscotch, caramel and apple slices. A touch of floral malt, too.
Palate: Well rounded and mellow, but not lazy at all. More apples at first, soon joined by clementine segments and honey on toast. A spark of ginger.
Finish: Waxy peels and oak.