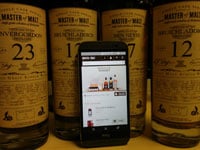 Mobile phones – marvellous devices, we're sure you'll agree. Aside from the obvious ('the obvious' depending massively on your relative dirtiness of mind), you can use them to buy everything from plimsolls to posters of famous Hollywood stars.
Somewhere within this range lies whisky and other spirits, and that's where we come in. Our website has been mobile-compatible for a good long while but, honestly, our mobile-game was starting to look relatively weak – so we've totally rebuilt it from the ground up.
You will now find it much easier to navigate on all screen sizes. That's because the website is now what the technorati call 'responsive'. In basic terms the website transforms itself, Decepticon style, to adjust its layout to be suitable for the screen size on which it's being viewed.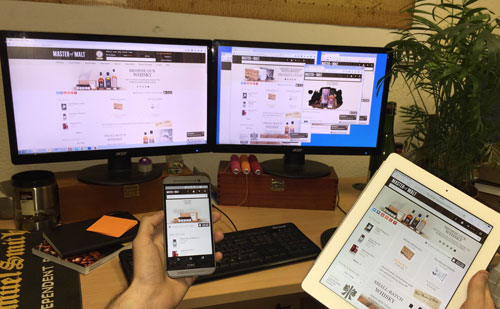 We're enjoying our new responsive website. A lot.
If you open it up in a full-sized browser on a PC and resize it slowly from fullscreen to teeny-tiny, you can see this magic happening right before your very eyes. Fun, no?
The advantage of Master of Malt having been built from scratch (as opposed to using a 'skinned' off-the-shelf ecommerce platform) is that we can add features like this to the existing site rather than having to move the entire site onto a new platform, so it will look and feel like the MoM you've come to know and love, only better. We prefer to evolve rather than, erm, revolve.
So – enjoy, and please let us know (however you like: twitter, email, comments below, etc…) if there's anything about the new design that you find less than helpful.
#GoodEnoughIsnt
The Chaps at Master of Malt