Thanks to the rise in hyper-local gins and imbibers' burgeoning fervour for bitter flavours – Negroni, anyone? – savoury gins are having something of a moment. From lemon verbena to loveage, sage to sorrel, we cast our eyes over the herbal delights that bring drinkers a taste of the countryside…
Gone are the days when cocktails were solely saccharine-sweet – in 2018, menus are peppered with all kinds of complex, herbal, bittersweet drinks, made with barks, roots, herbs and spices. Many, you'll notice, are gin-based. So, what's driving the trend for these vegetal tipples?
This surge in savoury stems from a desire to stand out from the crowd, reckons Nick Williamson, marketing director at Campari UK. The company, known for aperitivo essentials Campari and Aperol, aims to transport drinkers to the Italian Riviera with its new gin: O'ndina.
"As a forward-thinking company we are always looking to launch products to market that challenge category conventions," he says. "Our aim with O'ndina was to carve out a space in a crowded market by appealing to sophisticated foodies and travel-dreamers."
O'ndina's botanicals read like the recipe for a traditional Italian dish. Strong juniper notes are followed by "basil from Liguria and a 'maquis' of native Italian herbs: sage, marjoram, thyme and fennel", Williamson explains.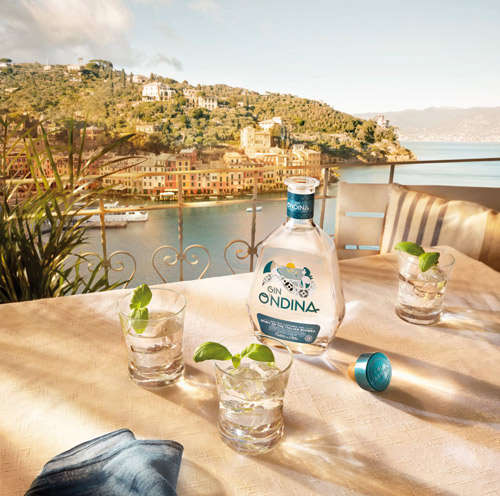 O'ndina – available on masterofmalt.com (lovely view not included)
"The addition of three types of citrus from Southern Italy – lemon peel plus sweet and bitter orange peel – provide refreshing citrus notes to the spice that is smoothed by the creamy, fresh basil."
Good enough to eat. Indeed, distillers are increasingly taking herbs off our plates and into our glasses – expanding gin's flavour spectrum to include familiar earthy, herbal, and even spicy flavours.
Sarah MacLellan, distiller and head of research and development at the Cotswolds Distillery, recently developed a distillery-exclusive Herb Garden Gin made with juniper, angelica, coriander seed, rosemary, thyme, fresh lemon peel, liquorice and dried chilli.
"We use a lot of herbs in cooking in this country," she says. "Those fantastic woody herbs that we're so familiar with from roasting meats and stuffing are a relatively untapped source of flavours and botanicals in gin-making."
David Wilkinson, head distiller at Edinburgh Gin, has also taken inspiration from his distillery's natural larder. His savoury variant, Edinburgh Gin 1670, is made with botanicals freshly picked from the nearby Royal Botanic Garden Edinburgh (RGBE).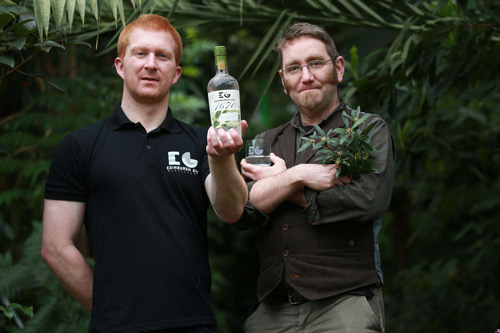 Edinburgh Gin head distiller David Wilkinson and botanist Dr Greg Kenicer!
"Gin is very international – and involves sourcing botanicals from all over the world," he says. "The local trend is interesting because it often forces distillers to move away from the obvious botanicals.
"When you source locally you'll be limited by what grows in the local climate – so for example, you'd be unlikely to make a citrus heavy gin if you're only using botanicals from Scotland!"
Some of the botanicals in the recipe, which was made in collaboration with botanist Greg Kenicer, were present in the original 1670 'physic garden' in Edinburgh – where plants were grown for medicinal purposes.
Doctors no longer prescribe a tot of gin as a cure-all elixir, which is a blessing in disguise if some of the older recipes are anything to go by. But retaining these traditional savoury elements while making the gin approachable is no mean feat.
​"With such diverse botanicals in the gin, it was very important to get the balance right," Wilkinson explains. "Medicinal notes can be off-putting, so I balanced that with sweeter notes from the sweet cicely. Tasmanian mountain pepper, despite being predominantly spicy, also contains some sweet flavours."
Drinking green
How to use savoury gins in a drink? Given the depth of flavour in savoury gins, they tend to lend themselves well to those cocktails in which the base spirit plays an important role, advises Williamson.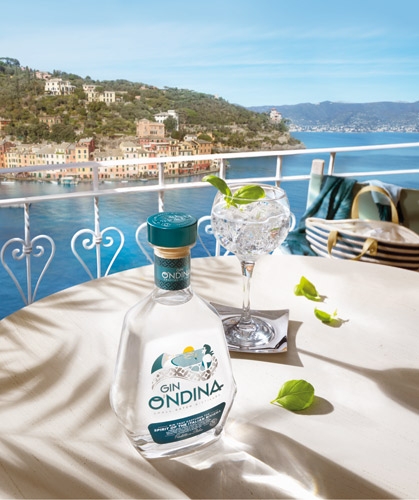 The O'ndina Gin & Tonic
"Start simple – garnishes in gin are so important and with savoury gins you can often find excellent additions to your gin and tonic by matching the flavour of the gin," he says.
"The O'ndina Gin & Tonic is simple, yet sophisticated; a complex, refreshing and refined twist on the original provides an elevated G&T experience – garnished with a few fresh basil leaves.
"Alternatively, you could create the perfect Italian Negroni at home quite easily. This refreshingly bitter favourite is a classic Italian aperitif cocktail. Mix O'ndina with Campari and Vermouth Rosso in a tumbler glass over cubed ice or a single large ice ball. Stir until cold and garnish with fresh basil leaves and orange peel.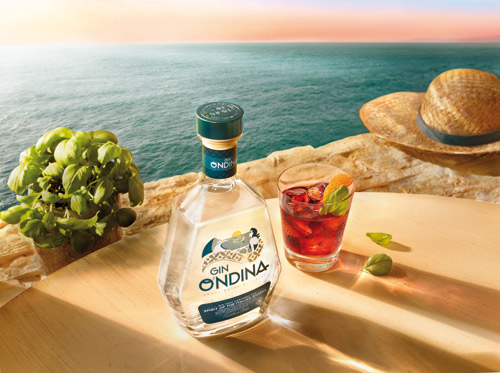 The O'ndina Negroni
"Both of these cocktails will bring out the natural, subtle flavours of fresh basil from Liguria found in the gin itself and create the perfect savoury gin cocktail. Other savoury gins might benefit from garnishes like rosemary, lemon thyme, lavender, mint and also the classic citrus fruits."