Has the year of rum finally happened? Ian Buxton returns to look at the causes behind the increasingly glorious rum revolution occurring in spirits right now.
A few years ago I wrote a book about rum. And so did, curiously at very much the same time, Dave Broom, Tristan Stephenson, Dominic Roskrow, and a few others.
However none I believe it safe to say troubled the compilers of any bestsellers list. But there had been little of note published in the years prior, so why the sudden rush to print? Well, all those authors and their publishers, me included, had listened to the growing murmur of ever more excited chatter from the licensed trade and concluded, as we were meant to, that rum was the next big thing.
In the event, looking back, gin continued its apparently inexorable rise and the rum revolution petered out…until now, because there's increasingly solid evidence that the thunder in the dunder (rum joke for you there) really does mark rum's promised second coming. 
Incidentally, rum enthusiasts can now relax because I'm not going to discuss spiced rums but instead concentrate on the more interesting premium styles where there is much excitement to report.
The belief in rum
Take for example, the recently released Angostura Zenith from Trinidad & Tobago. This limited-edition bottle (195 bottles only, UK RRP £2,500) is a blend of extra-aged rums, the core of which was drawn from the last stocks of the now defunct Caroni Distillery. A £2,500 rum? Unthinkable until very recently.
Yet, as master distiller John Georges told me, "Rum producers have found some self-belief and are spending on education and sampling… refining their craft so that the high quality of their products is undeniable. Some producers know that the liquids in their ageing warehouses are comparable to liquids in any Scottish or Cognac warehouse and they are letting the world know. The latest figures show that the value of rum sales have risen significantly."
He's right. Michael Monte, spirits buyer for Master of Malt, observed that "there is an appetite for collectible rums, [with] limited editions such as single casks from producers such as Plantation, Hampden, and Foursquare as well as closed distilleries such as Caroni becoming very popular with our customers." He adds that there is also "certainly an interest for whisky investors to start investing in rums".
Rum by numbers
To put some figures on the trend I turned to Havana Club's global marketing director Anne Martin who told me that "We are currently witnessing a true surge in the demand for premium rum in our key markets – such as the UK, France, Germany, Italy, and Spain – and we're not expecting this to slow down any time soon. When it comes to the UK, premium rum sales increased by an impressive 18% in 2021 alone, and we've seen this trend mirror across other European markets."
It's part of a broader trend. Industry gurus IWSR forecast that premium spirit sales will grow by more than 20% in Europe, 40% in Africa and the Middle East, almost 20% in Asia Pacific, and 50% in the Americas by 2026. Not surprisingly, says Martin "we're expecting rum to play a vital role in that growth." Diageo now reports that Premium-plus brands contributed 57% of their net sales with their Zacapa brand, an ultra-premium rum from Guatemala, growing in all regions where it's distributed, particularly in Europe.
Chris Dennis, Appleton rum ambassador confirmed this trend noting that "currently, the UK is the third largest rum market in the world. Thanks to the number of industrious educators over the last few decades, consumer knowledge of rum has steadily increased and is heading to a level where we look at rum from a provenance and production perspective, rather than just as a colour or simple flavour. We can ride this wave of understanding and enthusiasm with premium rums that cater to today's inquisitive consumers" adding, by way of demonstrating his point that recently "we've seen rum overtake whiskey's market share of spirits in the on trade."
Premiumisation: here to stay
For Diageo's Zacapa, global senior brand manager Ana Mohzo emphasizes rum's on-trade performance, claiming that premiumisation as a trend does not appear to be slowing down.  She explains that "50% of bartenders globally [are] reporting that their customers are drinking more premium drinks. This represents an evolution in bar-goers behaviour since the start of the pandemic. This is especially true with the rise in the cost of living, we're much more considered in where we spend our money".
As to what's driving this growth, rum's versatility plays a key part. "Rum has established itself as a fashionable and credible alternative to high-end classics such as Scotch and Cognac," maintains Martin. "It can be enjoyed neat, on the rocks, with a premium mixer or in a refined cocktail". She goes on to note that "rum has all the necessary credentials to establish a stronger foothold in the premium spirits market, with diversity, craftsmanship, provenance and heritage key in driving this forward." 
Such factors always struck me as important when writing about rum category's efforts to engage with drinkers of luxury spirits, especially premium Scotch but rum has two further advantages: thanks to its associations with nightlife and island culture it conveys fun and informality (often lacking in the more dour end of single malt) and by comparison with high-end Cognacs and whiskeys it often represents great value.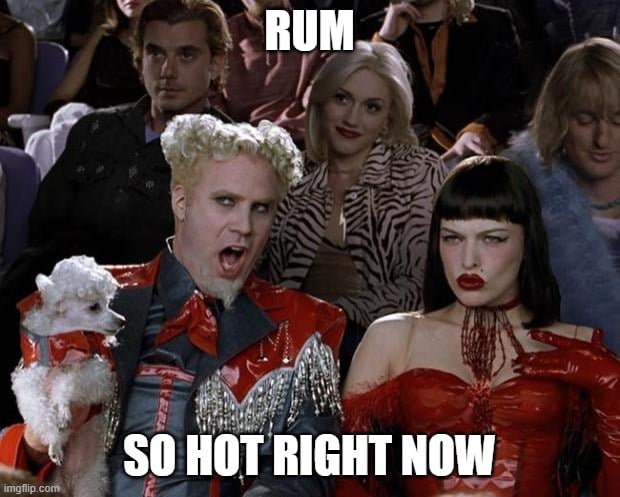 The rum revival is here
So there's much to enjoy and look out for. Due soon from Zacapa, Ana Mohzo admits to "an exciting, limited edition launch [coming] next month in selected markets in Europe". For Havana Club fans, the next expression in the luxury Tributo collection will be released next spring and Anne Martin also hints that "another exciting ultra-premium expression in the pipeline will be launching soon in very limited quantities, targeted to rum connoisseurs."
So watch out – the rum revival is here. Perhaps it's time for another book….