Discover who has come out on top in Whisky Mag's second Battle of the Blends in association with Master of Malt: is it Neil 'General Mashtun' Ridley or George 'Aegir' Keeble…?

Back in January we told you all about Battle of the Blends Challenge No. 2, another battle for the ages that you could help settle in the most delicious way possible!
The fates of reigning champion Neil 'General Mashtun' Ridley and Soho Whisky Club's George 'Aegir' Keeble were in your hands and now it's time to find out who has claimed all glory…
Many of you joined in at home with our 1p Judging Sets!
First though, let's see what some of the great and good – also on this illustrious judging panel – thought of these blended creations.
Each of the tasting notes included below also indicate which blend that particular judge favoured themselves. We can also tell you that writers and journalists Joe Bates, Rob Allanson and Laura Foster favoured Blend A, for example.
Tasting Notes for Blend A
"Superb, rich and interesting, with a veritable cornucopia of complex flavours and aromas. Lovely notes of pear, cinnamon and banana."
– Bill Lumsden, The Glenmorangie Co. Director of Distilling, Whisky Creation & Whisky Stocks
"Wood varnish on the nose to begin, then opens into apricot and cedar. Sawn oak quickly becomes floral in a lovely way. Spicy finish."
– Ryan Chetiyawardana, Mr Lyan, White Lyan & Dandelyan mixologist extraordinaire
"Closer than last year, but a better nose, mouthfeel and palate than its rival."
– Jonny McCormick, whisky writer & photographer
"I found this to be quite intriguing. Lots of sage and a hint of dry smoke – quite green and youthful with a nice smack of sweetness on the palate. Parts reminded me of Talisker actually, less the barrage of pepper. It has a nice salted caramel feel which I enjoyed."
– Daryl Haldane, The Macallan Head of Education
Blend B meanwhile, was favoured by such luminaries as Compass Box's John Glaser, writers Ian Buxton and Ian Wisniewski and those whose notes you'll find below…
Tasting Notes for Blend B
"Malty, intense. Butterscotch, honey, a distant floral note. Touch of cider cellar.
Smooth and velvety. Very pleasant texture. Sweet honeyed pears. Pear drop. Baked apples. More toffee. Speyside character.
Lingering finish, drying on spices.
The nose is a bit dour at start then opens up on sweet fruity notes. Some complexity. Good balance."
– Martine Nouet, food & whisky writer
"Sweet again, but deeper, rounder, smoother – and with a faint but distinct flavour of marzipan!"
– Ted Bruning, wisky & beer writer
"N. Very light, a high grain influence, lots of bourbon notes, vanilla essence and vanilla angel delight, touches of summer hay bales,
T. Soft sweet, easy going and with a lot of creamy coconut and gentle oriental cooking spices, more vanilla angel delight and a hint of cask char.
F. Nice long finish, chicken korma spices, malty
O. Nice, easy drinker, not in your face, takes work"
– Tom Thomson, Tom's Whisky Reviews
"Nose: Lighter on the sherry [than Blend A] with bruised, baked fruit, barley, cocoa and hints of smoke. Pleasantly balanced with developing tart citrus and a light coastal freshness.
Palate: Crisper and cleaner. Opens with soft Bourbony oak and barley. Gently sherried and smoked on the middle with the coffee notes developing as the sherry cask asserts itself. The grain is fairly buried but shows a pleasant sweetness.
Finish. Lightly citric with drying wood notes and grainy dried fruit.
Conclusion: It shows a better balance of malt, wood and grain [than Blend A] Score: 8.8"
– Chris Goodrum, Whisky Mag reviewer & The Good Dram Show
When asked the question "Which blend most deserves to win the Battle of the Blends Challenge No. 2?", here's how the judges were split: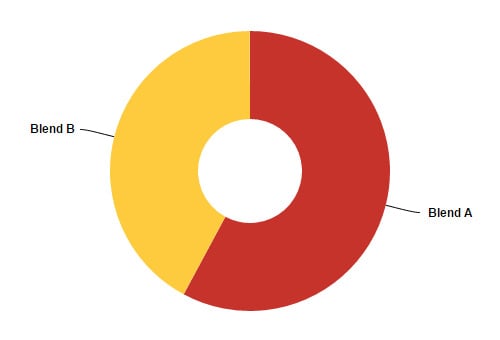 58% of the judges favoured Blend A
But pray tell, who crafted this delectable blend?
…

…

…

…

…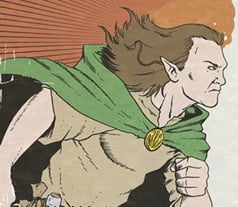 It's George Keeble!
A new champ is crowned! Keep your eyes peeled for a return of Battle of the Blends and a new challenger in the coming months…

The Mountain