While maturing Scotch whisky seems straightforward – new make goes in, cask stays put, deliciousness comes out – the process of monitoring, sampling, and subsequently bottling our favourite drams requires incredible expertise. We delve into the intricate cask-to-bottle process with Chivas Brothers blenders Kevin Balmforth and Calum Fraser.
Developing and trialling new expressions, maintaining consistency across existing bottlings identifying cask irregularities, honing tasting notes: it's all in a day's work for a Scotch whisky blender. Times that by more than 50 brands produced across 14 whisky distilleries, and you'll appreciate why it takes a certain kind of nose to become a blender at Chivas Brothers. Here, Kevin Balmforth and Calum Fraser discuss professional whisky sampling, developing a sensory memory, and what they personally look for in a dram…
MoM: Could you tell us how you came to work as a blender?
Kevin Balmforth: I joined Chivas Brothers not long after leaving university back in 1999. I was interviewed by Colin Scott, our custodian master blender. I realised I was a natural noser, and I've stayed in blending ever since. I started on the shop floor in the sample room learning the absolute basics. After five years I moved up a level to sample room technician, after another five years I became an assistant blender, and then it took another five years before I then became a blender.
Calum Fraser: My background is quite science-based. My degree and PhD was centred around organic chemistry, which, at the time, was with a view to working in the pharmaceutical industry. I had a passion for Scotch whisky and fortunately I was able to get a job in the industry about seven years ago. I managed the largest Scotch whisky maturation site, where about four million malts mature in casks, to supply blended Scotch whisky and single malt Scotch whisky for various products. About two years ago I was approached by Chivas about joining their newly restructured blending team, and I joined in April 2016.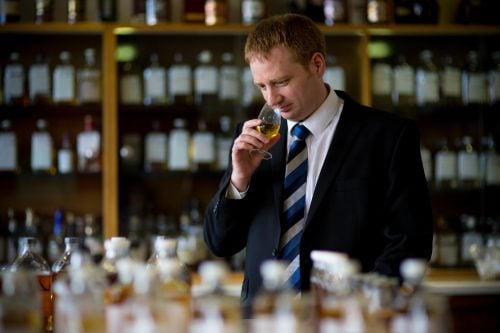 Chivas blender Kevin Balmforth
What does an average day look like for you?
Balmforth: We're a very traditional, hands-on blending department. We have a lot of samples coming into the sample room every day, and we also do a lot of travelling to the different sites, so we'll go down to where they empty the casks and nose a lot of them there. We're nosing in excess of – on a busy day – one thousand samples a day. We rarely taste them; only if we're asked to do tasting notes for an approved whisky. If you were tasting a thousand samples, I don't think you would last very long in the day. And I don't think the police would like it when I'm driving home either! The real reason is the nose is the most sensitive instrument we have, so we'll pick up a lot more flavour by nose than by taste. So by nose we'll know whether we've got an excellent whisky or we've got a whisky that we've got an issue with or if we're getting the right flavour. If it's a new blend of Chivas Regal 12, we want to make sure that that batch is the same as the last one, and if we get everything by nose we know it's going to be ok.
Do you water the samples down or test them at cask strength?
Fraser: We'll reduce them down. It depends on the age but generally cask strength [whiskies] are 55-60% [abv] and you get a significant alcohol burn, so it can obscure the other flavours. We reduce it to about 20% alcohol, which takes away that prickly sensation and releases all the flavours. It also allows us to nose many different samples – up to the thousand that Kevin just mentioned – it allows us to do that level of nosing as well.
Balmforth: I think 20% alcohol is the optimum level to discern as many flavours as possible in a controlled way. However if we're enjoying a whisky, I would add about half as much water, so if you had 50ml of spirit, I'd add about 25ml of water. That would bring it down to about 30% alcohol, and for me that's quite a comfortable drinking strength. You don't come into this world able to drink 40% alcohol. All the work we've put into creating these incredible blends, and you can't appreciate the flavours if the heat from the alcohol is too strong. You don't want to add too much, because you want that warming effect when you drink it; that's part of the experience of drinking whisky. But you need to add a little bit if that heat is too much.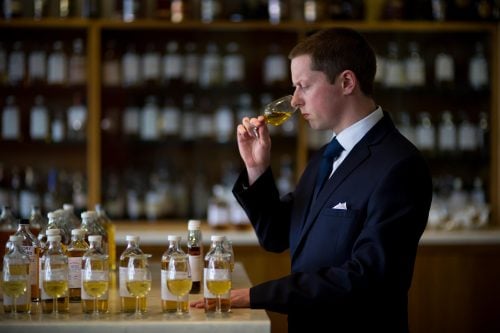 Chivas blender Calum Fraser
How many brands do you work on?
Fraser: Basically, every single whisky under the Chivas Brothers banner will come through us. We work on blends that everyone knows across the world, like Ballantine's and Chivas Regal, but also others that are maybe not as well known in the UK, but are well known in different areas of the world, like Clan Campbell, Passport, and 100 Pipers. It's not just blends – all the single malts, be it large volume or single cask, will come through us. Glenlivet is a big single malt, you've also got Aberlour, which is well known across the world but particularly in France. Scapa, too. We've also started [working on] smaller volume distilleries such as Glentauchers, Miltonduff, and Glenburgie. So there's a never-ending number of expressions that we're asked to look at across blends and single malts.
Balmforth: When it comes to single malts, people think we empty the cask and that's it done, but we still have to create a blend, so to speak, of a single malt. It's still made up of different cask types, different ages, different fills. So there's still quite a complicated formula, which requires a blender to bring together all these different flavours even from the one distillery.
Do you ever think, 'I'm not sure where to go with this', or does the blending process come naturally to you?
Balmforth: I think a lot of it is experience, you really learn on the job. It's all about consistency, that's the key – building that vocabulary. If you consistently describe a flavour from a particular cask the same way, you can build that into your sensory memory, and then you can build on that. What I always tell people is that it doesn't matter so much how you describe things as long as you consistently describe it the same way. That's how you become a better blender.
Have you got any tips or tricks that you use to kind of broaden your flavour vocabulary?
Balmforth: Whenever we're assessing a sample, we'll nose a standard which we know is ok, and then we'll nose the one we're assessing. It gives you a base to be able to appreciate flavours more easily. You may want to try reducing it down to 20% alcohol, like we said before. We use demineralised water, which has absolutely no odour at all, so you're just concentrating on the whisky. I would always suggest to nose it straight away, because it throws off quite a lot of flavour as soon as you cut it [with water]. Then leave it for 20 minutes and nose and taste it again. I also wouldn't go by the first taste; normally you'd taste it a couple of times and then even once you've swallowed, you want to wait and pause for quite a long time before you taste it again because you get quite a lot of flavours up to two or three minutes after you've swallowed.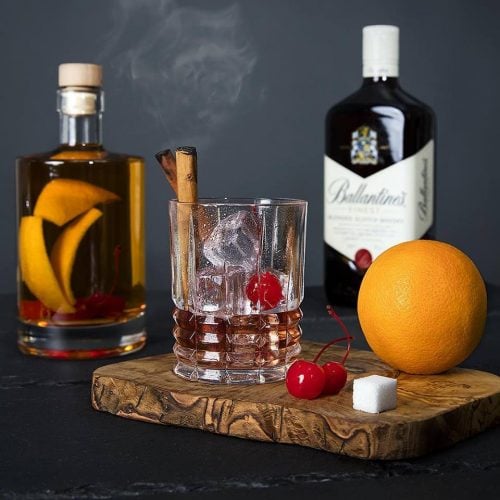 Blended Scotch whisky brand Ballantine's
Do you ever use a flavour wheel?
Balmforth: We have flavour wheels but I generally don't have one to hand when I'm doing the tasting notes. A lot of your vocabulary is based on your own experiences and everyone has had different experiences, different childhoods. When you start using someone else's vocabulary, that's when you start being inconsistent. And it's difficult to build your sensory memory if you start using words that you're not familiar with.
Fraser: Everyone can nose, everyone can taste, it's about growing your confidence in describing a whisky. The big thing is practice makes perfect. We wouldn't encourage people to drink to excess, but try and experience different styles, get used to nosing and tasting, and you will build your experience and you'll be able to compare and contrast different whiskies. The part of the beauty of Scottish whisky; the variety and the flavours across different expressions.
Is there a training process for becoming a blender?
Fraser: My interview with Sandy [Hyslop; director of blending] was very stringent, with loads of different samples to nose and compare against a control. Looking for the description of flavours, picking out taints in samples that, as a blender, you're expected to pick out. Sometimes you have the odd cask that has an overtly 'not nice' flavour. Part of the role is not only picking out the good, exceptional flavour, sometimes it's picking out things that are untoward that could impact the overall blend. We also have to undergo an annual review to check that our nose is still up to scratch. But a lot of it is down to experience, every day is literally a school day. You're continually learning and gaining experience with regards to understanding flavour and where flavours come from.
Which whiskies do you spend the most time working with?
Balmforth: We spend a lot of time on all the brands. Some of the high-age brands take longer to produce, like Chivas Regal 25 Year Old [and] Ballantine's 30 Year Old. We put a lot of time and effort into creating them. Also the stock is more limited at that age, it's very rare. When we're making these sorts of blends, we sample hundreds of casks and we put a lot of effort into creating pilot blends. Matching the previous version is more of a challenge than say an 18 or 12 year old [whisky]. Even though Chivas Regal 25 and Ballantine's 30 are established brands, we're looking at about two months to pull a product like that together. That's quite a significant amount of time. Even when we've done all the due diligence, we've pilot blended it and we're absolutely confident, we still nose every single cask before it's emptied. We leave no stone unturned.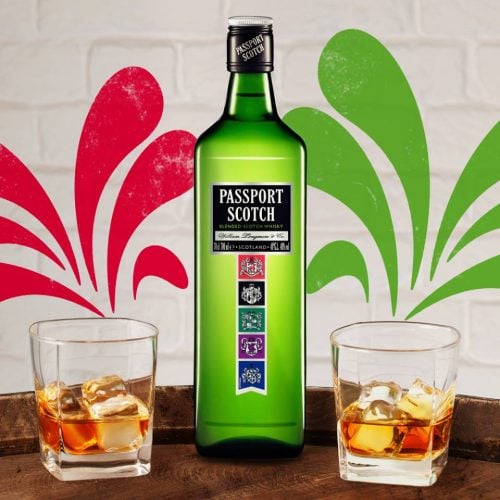 Blended Scotch whisky brand Passport
How often is each cask checked?
Fraser: Regardless of whether a bottle of whisky is going to sell for £10 or £25,000, we [create] every single vatting and we nose every single subsequent bottling from the vat. Quality control is big for us, regardless of the price point of the whisky is going to be, because it's all relative to people; a £20 bottle of whisky could be just as special to someone as a £25,000 bottle of whisky. So we give every whisky that we send out the door the utmost respect.
Balmforth: Every single time the whisky is moved we check it. From distillation to maturation in the cask, to when it's emptied into vats, [as well as] if it's moved from vat to vat, if it's moved into a tanker, and when it goes to bottling. We might sample a cask multiple times during its life if it was a trial cask or an experiment – we have a myriad of different types of cask, for different reasons, within our inventory – so it would really depend on what that cask was going to get used for, and how many times we move it.
How many casks do you oversee?
Balmforth: It's in excess of six million casks. I like to give a kind of equation to people to try put across the myriad of flavours we have. So we pour multiple different products into those casks every single day and then within those single products they're filled into different cask types; into barrels, into hogsheads into butts. And they give you different flavours. And then within those cask types there are different numbers of fills: there's first fills, that will give you a particular flavour, a second fill will give you a particular flavour, a third fill will give you another flavour. And then on top of that you've got special casks, you've got finishes. If you multiply the entire thing, every facet by age, you've got an absolute endless supply of different flavours.
Do you suggest ideas for new products or are you given a brief?
Fraser: It kind of works both ways. Our marketing colleagues are paid very well to come up with ideas! They're at the coalface of what's trendy, or what our markets across the world are interested in, so sometimes they'll come to us with ideas. We know intimately what we have within our stocks, so sometimes we offer up little pockets of stock that we feel that whisky drinkers across the world might find rather interesting.
Balmforth: Invariably marketing will come to us with a concept and our remit will be trying to match the flavour profile that they're looking for. Obviously they're not restricted by reality, so sometimes they challenge us to come up with flavour ideas that we would have thought might not be possible. But when you start to look at it and think, 'maybe we could do this, maybe we could do that', we can often match what they're looking for. [Or] we might go back and say, 'that's not possible, but maybe we can do this'. So it's a two-way process.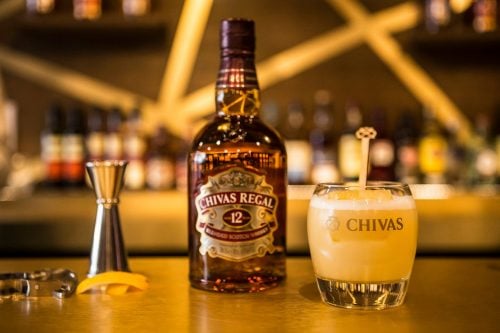 Chivas Regal 12 Year Old
What's the best thing about being a whisky blender?
Fraser: As a Scotsman, I don't think there's any better industry to work in than Scotch whisky. It's an industry that has a global reach, and the passion that people have for it is amazing. It gives you a real feel-good factor that you're very much at the centre of it. Chivas Regal 12 Year Old has been out in the marketplace since 1938, so to continue that legacy is a real honour and privilege – but also to be able to almost create your own legacy with new expressions as well is incredible. No two days are the same, believe me, there are different challenges every single day. It certainly keeps you on your toes, and gives you great job satisfaction and diversity.
Balmforth: I think we both feel that the best job in the world is being a blender. You feel quite privileged, quite lucky, to have the job that we have. I really enjoy the creation process – creating new products, bringing all these flavours together and trying to match flavour profiles. And then you get to travel to the markets and take your creations. To see people taste them and hear the feedback is a reward for all the hard work that we put into creating those products.
Are you able to tell me about any projects you're working on at the moment, or any recent whiskies you've particularly enjoyed creating?
Balmforth: Our new product development at the moment is huge. We're working on over 40 different projects at the moment, and within those projects we have different expressions. We're working on in excess of a hundred different whisky expressions right now. Not all of those are going to make it to market, but that's how many we're working on.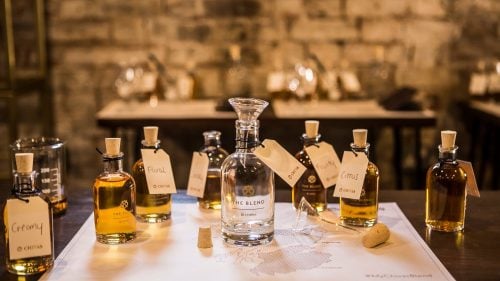 Chivas Regal pop-up whisky blending workshop, Chivas The Blend
Fraser: There's one or two things you can do to a Scottish whisky to make it a wee bit different. Maturation is one area we've focused on, looking at different oak species, different conditioning of the cask before filling it with whisky. So, for example, recently Kevin worked on the Chivas Regal 18 Ultimate Cask Collection First Fill French Oak finish, which gave a totally new dimension to the Chivas Regal style, with extra spicy woody notes coming through. Without giving too much away, we're going to look for another installment in the Ultimate Cask Collection rather soon. Recently I worked on a rum cask conditioning programme, where we looked at various different rums to condition casks with. We found one particular rum from the Caribbean had this really beautiful, exotic, fruity note, and we ended up using it to finish whiskies. We conditioned the cask with this rum, emptied it out and then filled it with whisky. It made up part of Clan Campbell Dark. It's something you don't really get to do very often – select a specific rum to condition your own casks, which then you fill whisky into to finish. To see it as part of a final product was pretty cool.
What do you personally look for in a whisky?
Balmforth: I look for a real rich fruity character, Speyside-orientated blends. But what you want is complexity and balance. The skill is to balance those flavours, so that one doesn't overshadow the next. I'm quite partial to quite a citrus note. Tormore, for example, is quite a citrusy single malt, it's one of the key malts in Chivas Regal Ultis. So if I was going to say a single malt I would say Tormore sums it up as one of my favourites.
Fraser: You want a complete flavour experience. So what we look for is layer upon layer of flavour. I've had amazing experiences where you're picking up flavours from all different parts of the process; distillation, maturation and the blending – all the combinations of flavours there. That's what I look for in a whisky.
Reckon you could give the big guns a run for their money? Keep an eye out for Chivas The Blend, a touring pop-up (currently in Manchester!) hosted by the Chivas Regal UK team that invites budding blenders (i.e. you) to combine four single malt whiskies and one single grain and craft their own creation.
If you'd rather have a crack at it from the comfort of your own home, why not give our Home Blending Kit a go? As for us – we'll give Balmforth's water:whisky ratio a trial run and attempt to work our way up to blender-level status from there…