Member or not, you'd be hard-pushed to find a whisky fan that hasn't eyed the Scotch Malt Whisky Society's tongue-in-cheek tasting notes and glittering green bottles at one point or another. We hotfooted it to Kaleidoscope London to demystify the independent bottlers' range…
The Scotch Malt Whisky Society was established in Edinburgh, Scotland in the early eighties with just one Speyside malt whisky cask, and has since become somewhat of a household name for whisky lovers across the globe. Now – some 34 years on – it has bottled liquid from more than 134 distilleries, and all without naming a single one in the process.
The idea is to take each Scotch whisky "on its own merit", explains Mike Cook, manager at Kaleidoscope London: a Society venue that welcomes members and non-members alike. "People drink core expressions; the whiskies that the producers are tied into producing," so there are flavour expectations before it's even been poured. With the distillery name kept under wraps, any preconceptions are stripped out: it's you vs. the dram.
The Society releases a batch of around 20 cask-strength whiskies (each yielding between 175 and 200 bottles) each month, chosen blind by a expert tasting panel – so no age, origin or cask info supplied during the assessment process to ensure they're bottled when they're good and ready. Each variant is named according to flavour and aroma, and catalogued in an (initially baffling) chronological numerical system.
"The first part of the number is the number of the distillery and then the second one is the cask number," explains Cook. "There's no sequence to the distillery number; it's the order we worked with them. So you might find an Islay malt next to a Lowland, for example." Despite the Society's efforts, "the system is no secret," Cook admits, "there are lists on Google". But why ruin the fun, eh?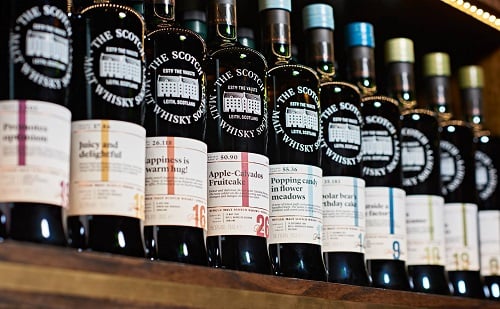 Oooh, lovely
Codes aside, each whisky is also sorted into one of 12 flavour profiles – Oily & Coastal, Light & Delicate, Young & Spritely and so forth – indicated on the bottle label with a corresponding colour. "The idea is that people who aren't familiar with the Society can come in and say, 'I had a blue one in here and I absolutely loved it, you've got another one over there, I might like that'," explains Cook. "It's a path for people to find their own way."
Core single cask whiskies aside, the Society boasts a selection of Single Cask Spirits spanning Cognac, rum, Indian whisky, and gin. It also recently unveiled The Vaults Collection, which contains the most expensive whiskies it has ever released (but more on that later!).
A vast selection of the range is available to sample at its Kaleidoscope bar concept. An accessible addition to its flagship member-only venues in London, Edinburgh and Leith, the venue is filled to the brim with all manner of Society bottlings as well as beer, wine, and cocktails. Yep, cocktails.
"While we respect the liquid, we're not so precious over it to think that you can't use it in a cocktail," asserts Cook. "We work with flavour, we're not tied to specific expressions. As long as the person making the drink is sympathetic to the qualities of the liquid then it should be a brilliant drink. Why not make something delicious even more delicious?"
He's completely right, of course. But it was time to stop nattering and sample some Society treats. Behold!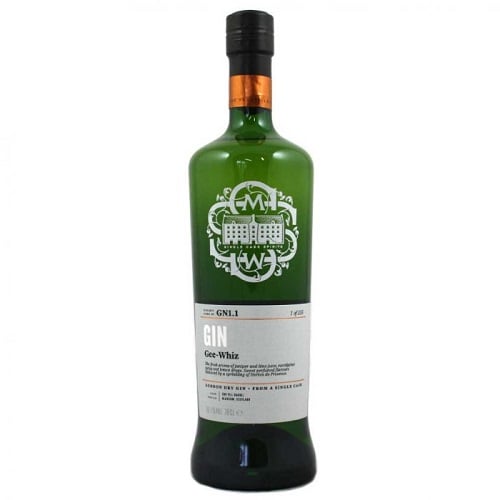 Gee-Whiz (Gin)
Bottling and Tasting Note for Dram #1: Gee-Whiz (Gin)
We began with a liquid from the recently released Single Cask Spirit range; a bottling that may surprise purists: the Society's first gin. From a distillery in Glasgow, Gee-Whiz has been matured in second-fill Bourbon cask for six months, giving it a pale straw colour and adding an extra layer of depth to its flavour profile. "This flew out unbelievably quickly," Cook tells us – and we believe him.
Nose: Aromas of shaved lime rind and sherbert lemons fizz through bright juniper, with fresh dill and peppermint leaves layered on top.
Palate: Full and oily, fragrant jasmine and chalky parma violets give a complex depth to the classic mix of candied citrus fruits and a cardamom and coriander melange.
Finish: Juicier than the palate, the menthol tinge builds heat to keep things interesting.
Bottling Note for Dram #2: Contrapuntal harmony & Dram #3: Apples and pears on the bough
We then taste two bottlings from one producer – both have been matured for 16 years, but have completely different characters. This is a great way to demonstrate Society style, explains Cook. "Really we should be the Scotch Wood Society, because it's all about the interaction with the oak," he jokes. "They all start off with barley, it's just how they're finished really".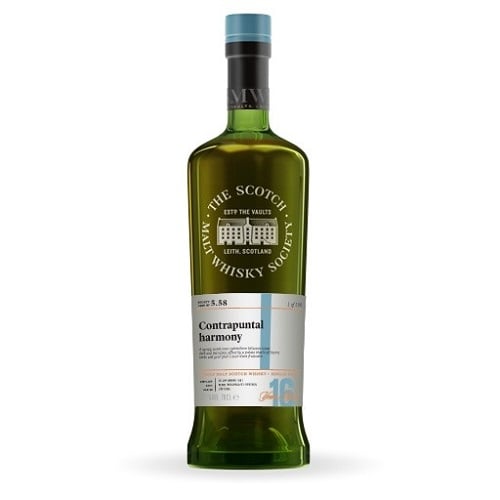 Contrapuntal harmony
Tasting Note for Dram #2: Contrapuntal harmony
Nose: A musty quality, like the kind you'd find on a old, leather belt and a dusty ester rise amongst aromatic cumin and turmeric, before black cherry compote and chewy oak arrive.
Palate: Through acidic tannins bursts a thick cherry reduction, softening nectaries, shredded beef stroganoff and floral barley, with undertones of liquorice allsorts and vanilla.
Finish: Spiced, thick oak and rolling tobacco accompany a medium-length finish.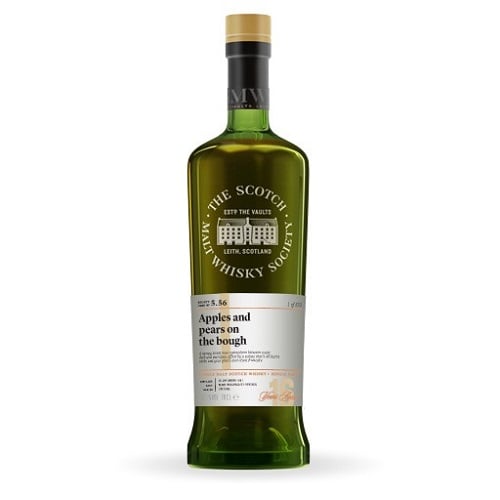 Apples and pears on the bough
Tasting Note for Dram #3: Apples and pears on the bough
Nose: Aromas include fleshy, bruised pears, premium cloudy apple juice and Sour Patch Kids. Some rose water and suggestions of aniseed and eucalyptus oil provide a depth of presence, as does a light woodiness.
Palate: Almost a mastic quality, the dominant note is of apples stewed with brown sugar and butter. There's also a hint of bergamot orange throughout thick honey and black peppercorn. Dry tobacco and a touch of sawdust linger.
Finish: The finish dries gradually over smashed apple pie.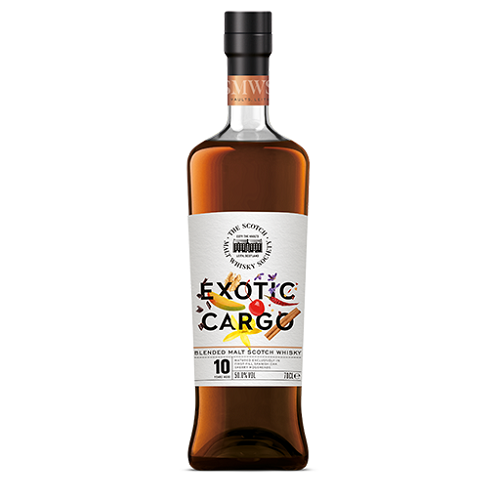 Exotic Cargo
Bottling and Tasting Note for Dram #4: Exotic Cargo
Each vatting of four first fill ex-sherry hogshead casks (Spanish oak) produced around 500 bottles of Exotic Cargo – 1937 bottles in total – and after tasting the liquid it's no surprise to hear they sold out quick-sharp. This blended Scotch was the first release they Society has brought down to a set ABV (in this case 50%), most likely totemper the heavy sherry influence.
Nose: A delicate, rounded nose that slowly builds spice. Soft oak and fresh soil are first, before ranging notes suggest bay leaves, candied orange, and dusty nutmeg.
Palate: The palate becomes heavier than the nose, dark-chocolate-covered coffee beans and hazelnuts lead, with Sherry-soaked plums and mulberry berries. Some orange rind and a touch of damask rose round it off.
Finish: Very short, some oak spice and a whisper of lavender linger.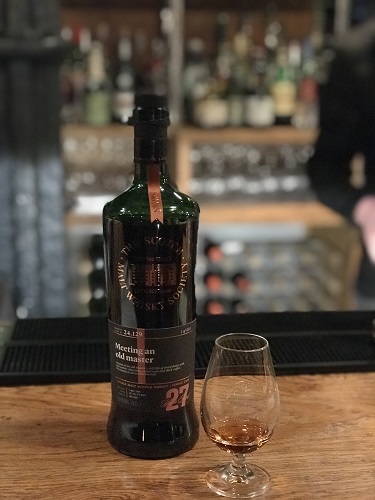 Meeting an old master
Bottling and Tasting Note for Dram #5: Meeting an old master
Our final dram, and he'd saved the best till last – a bottle he'd pointed to a number of times as an example of the Society's prowess. With assurance, Cook sets down 'Meeting an old master' in front of us. It's from the recently-launched Vaults Collection, which contains the most expensive whiskies it has ever released at £980 per bottle.
For a 27 year old single malt matured in an ex-Oloroso sherry cask before further aging in a first-fill Pedro Ximenez sherry butt, this not an unreasonable price point, especially given that it ranks at a cask strength 53.6% ABV. It was distilled on 7 May 1990. With a limited outturn of 414 bottles, we're well aware that we have a real treat here. It's as good as it sounds, and a perfect way to conclude the evening.
Nose: Christmas cake is the first impression, but the nose builds and diversifies immensely quickly. Crisp rhubarb, raspberry torte, venison steak, melting liquorice, nutmeg and leather-bound books all emerge through patient appreciation.
Palate: Not your classic Sherry opening, there's notes of Parkin and earl grey tea to begin, before rum and raisin ice-cream perks up. Candy floss and toffee apple bring a fairground-playfulness to proceedings, before pomegranate molasses, thick apricot jam, stewed raisins and mulled wine slowly build for a more typical profile. The woodiness comes from a surprisingly light and bouncy toasted oak.
Finish: Refined and dry, with some oak char and sticky caramel.
If your mouth is sufficiently watered and you'd like to join the club, membership starts at £61.50 for the year – visit the Society's website for full details.