It's World Whisky Week so from Edinburgh to Aberlour, Millie Milliken gives you her choice of the best places in Scotland to enjoy a wee dram. Here are (some of) the best whisky bars in Scotland. 
We're pretty certain that taking a trip to Scotland and not stopping for a dram in a whisky bar is a criminal offence. From five-star hotels to neighbourhood pubs and whisky-specific watering holes, the Scots know that locals and tourists alike have a thirst for usquebaugh – and it needs to be quenched. To narrow the scores of excellent bars out there down to the definitive 'best list' is no mean feat, so I've picked out some of my favourites from across the country. Spoiler alert: your favourites might not be in here – so we'd love to hear about them in the comments. And if you're in London, here are some great places to enjoy a whisky. 
The best whisky bars in Scotland
You'll usually be alerted to The Black Cat's presence on Edinburgh's Rose Street by the sound of a folk band playing in the pub's front window. Then you'll be hit by the sight of its whisky-laden bar. The Black Cat does a good job of mixing the classics with new and limited bottlings. It recently became a Kilchoman comraich (sanctuary) stocking a huge range of the Islay brand, sitting alongside the likes of Ardbeg Fermutation and the first release from the new Lochlea distillery. The staff are laid back and knowledgeable and cracking at giving you recommendations too. It also serves regularly changing local beers if you fancy a change of pace or a mid-flight refresher, but we love its 50/50 pairings – a dram paired with a baby serve of a complementary beer. This is the spot for unpretentious whisky drinking.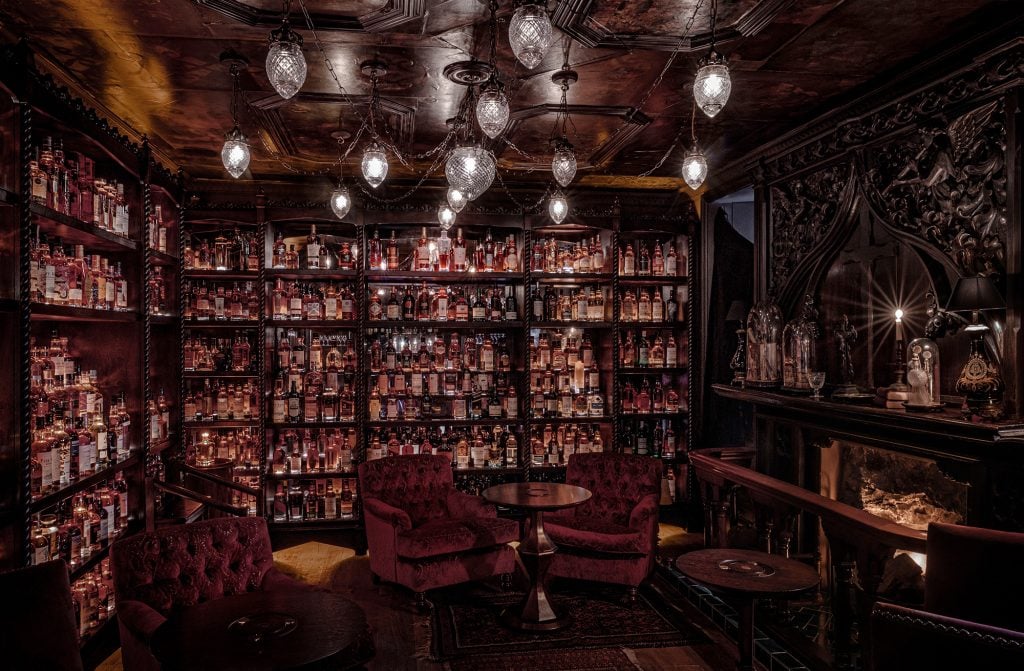 The newest bar on this list, Bertie's Bar at The Fife Arms opened in October 2021. It was inspired by Queen Victoria's eldest son, King Edward VII, who was also known as Bertie and to be a bit of a bon viveur. Even calling it a bar is a misnomer because there isn't actually a bar. Instead 365 whiskies line the walls of this seriously plush space (velvet seating, dramatic lighting and dark wood) giving off the vibe of being a library of booze. We particularly like this bar because of the way the whiskies are arranged – not by brand, age or price but instead by their flavour profiles (fragrance, fruity, richness and smoky), making what could be an overwhelming whisky-choosing experience much more approachable, especially with help from the experienced team. It's not just Scotch either – bottles from Canada, France, the Netherlands and Japan, well, anywhere that makes whisky, are in there too. Pure whisky immersion.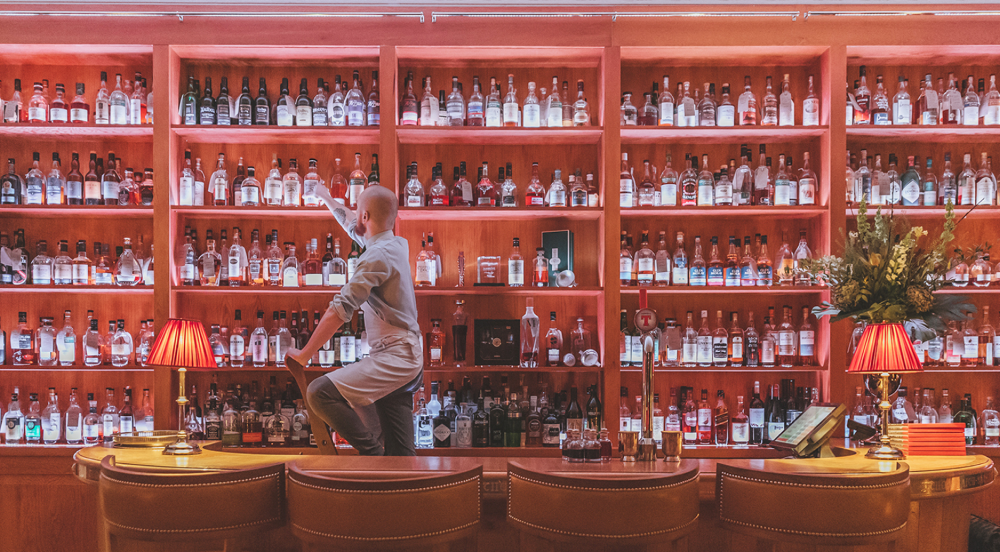 The Quaich Bar, Craigellachie Hotel, Craigellachie
Topping the list in terms of its range, The Quaich Bar at the Craigellachie Hotel has a whopping 1,000 bottles of whisky to choose from and specialises in global single malts. The bar itself here is absolutely beautiful: handcrafted wood is lined with a silver band made by the Queen's silversmith, while the walls are lined with bottles. The team here is also one of the best in the business and service is refreshingly relaxed for a bar of this calibre. They also serve some rather excellent cocktails if sipping neat whisky isn't your jam. This is one you want to have on your Instagram feed.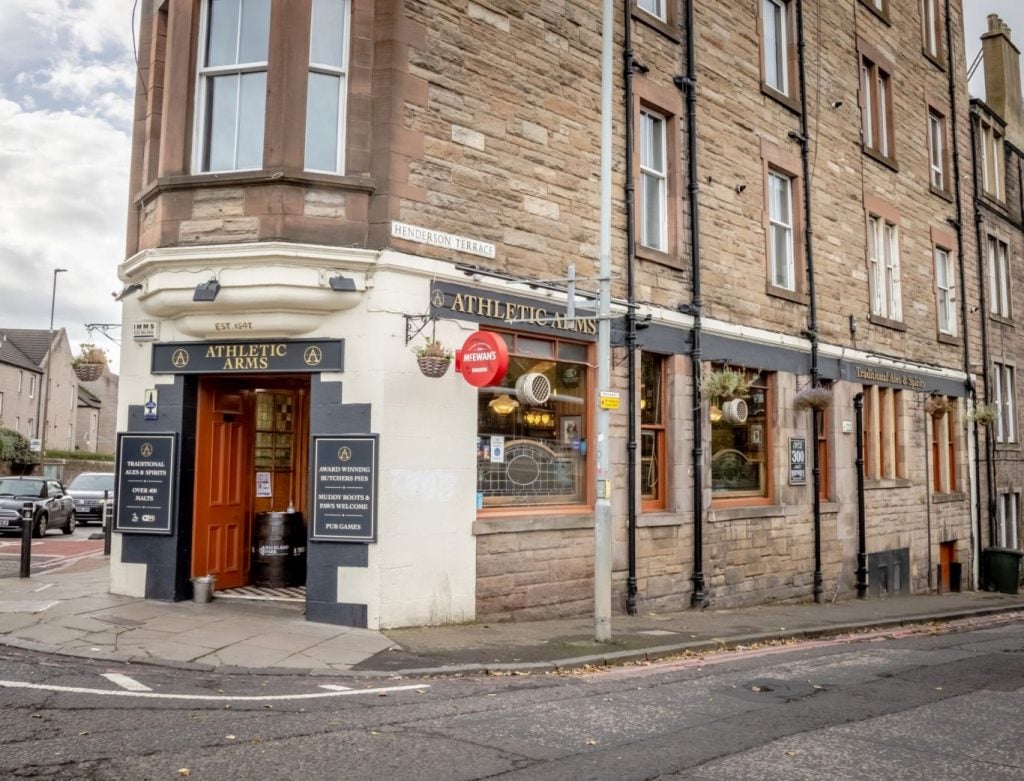 Most people in Edinburgh know the legendary Athletic Arms as 'Diggers'. Why? Well, sat between two graveyards it was regularly frequented by the gravediggers after a hard day burying bodies. These days, it's a nutty little pub with a beautifully balanced mix of old-pub-meets-modern-drinkers vibe. Most importantly though, it has over 500 whiskies behind the bar, with eight flighting options to choose from too. There aren't many surprises on this heavily Scotch-based list but this is the place to go to get the classics and explore ranges from single distilleries. Our favourite portion of the list however is the Silent Distilleries section featuring whiskies from closed whisky houses, from the likes of Port Ellen 1979 24yo Signatory to Dallas Dhu 10yo – and all reasonably priced at that. We suggest soaking up your drams with one of its award-winning pies too.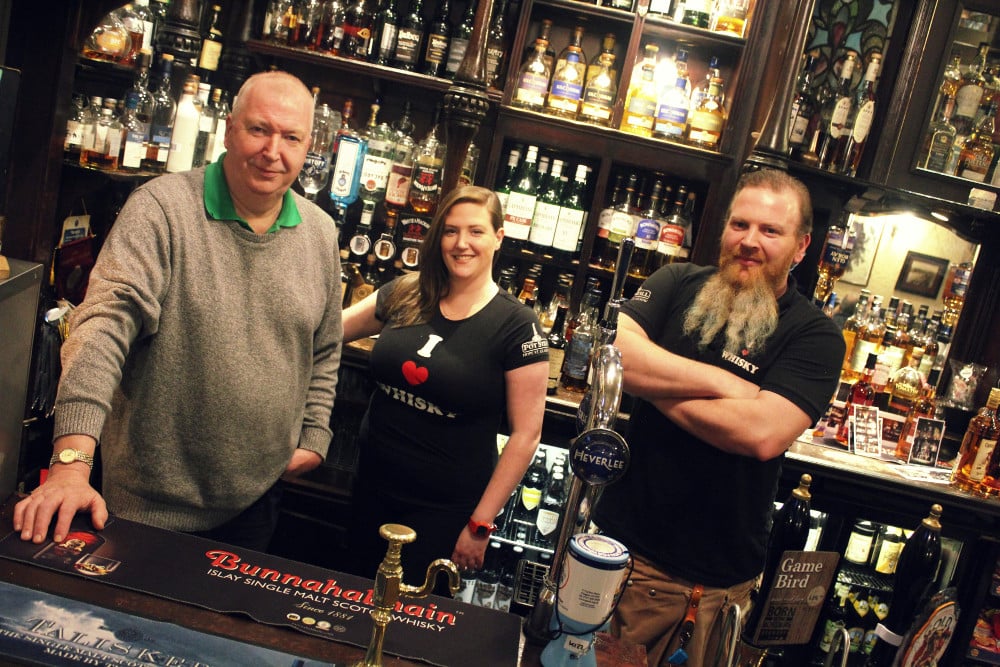 From the outside, The Pot Still on Glasgow's Hope Street is an unassuming proposition. Head inside though and you'll be met with over 800 whiskies from around the world. The bar dates back to 1867 but it wasn't until 1981 when the Waterstone family took over McCalls bar, as it was previously known, that it gained its whisky-related moniker and became a whisky bar with 300 bottles introduced behind the bar. Now the Murphy family own the whisky institution and they've created an easy-going establishment that feels much more like your local boozer than a specialist whisky bar – and it's all the better for it. Once you're in The Pot Still it's tricky to leave – go for the whisky, stay for the homely atmosphere.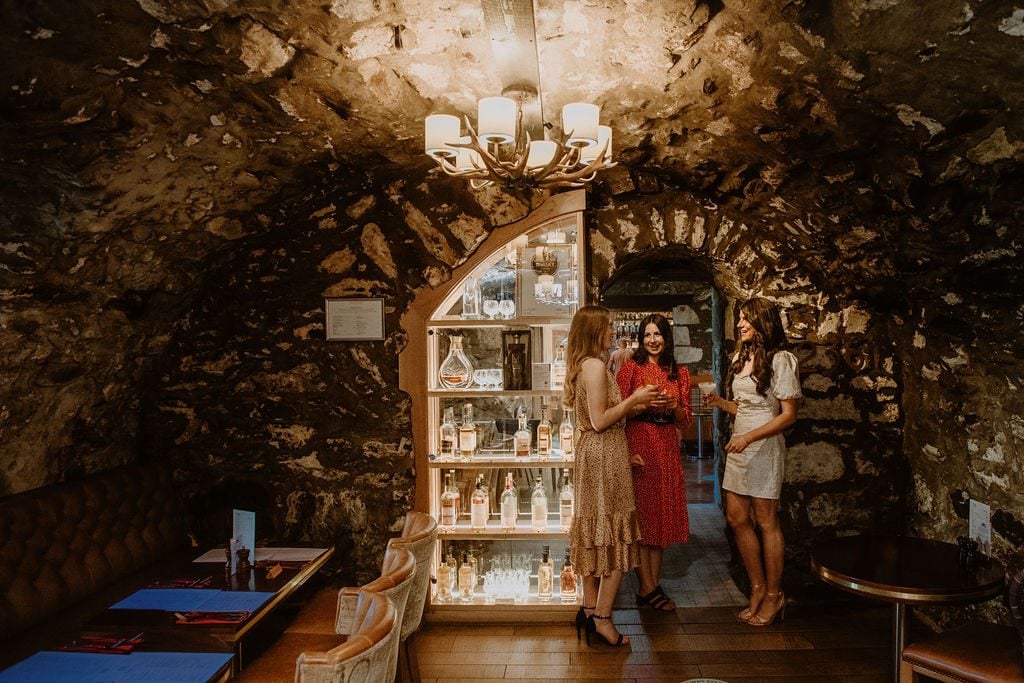 At nearly 800 years old, the Cave Bar at Meldrum House Country Hotel & Golf Course is one of the oldest in Scotland and sits in the building's original larder (the Whisky Club is where meat and fish would have been hung). As the name suggests, it's a cavernous, cosy space with original stone walls and displays of some of the 120 whiskies to choose from – including the biggest range of Glen Garioch in the world (the distillery is just down the road and a must-visit for whisky nerds). My favourite spot in the bar are the two seats in a hidden alcove where certain regular guests keep their own bottles.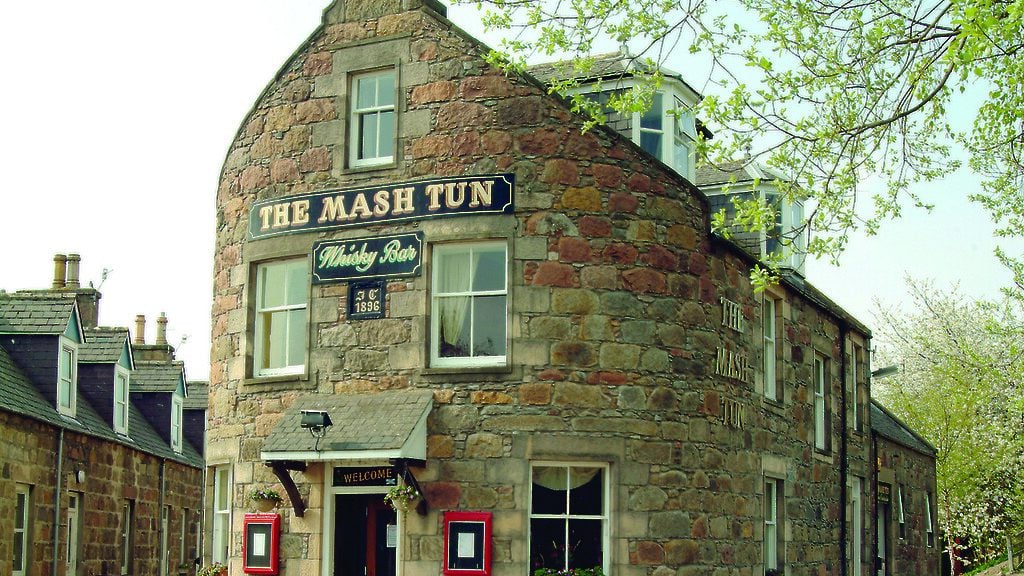 Just set back from the River Spey, The Mash Tun is the mothership of whisky bars in Aberlour. Quite literally: it was constructed by a sea captain, James Campbell, in 1896 who instructed a marine architect to design it in the shape of a ship. After a stroll along the river this is the spot for a hearty lunch and a dram (and an overnight stay in one of its five rooms named after famous whiskies like The Glenlivet and Macallan). Most of the whiskies you'll find are from Speyside but the main reason to go is for the Glenfarclas Family Cask Collection. It spans 52 single cask whiskies from every year from 1952 to 2003 – the only one of its kind in the world. Who doesn't want to drink rarer whisky in a bar shaped like a ship?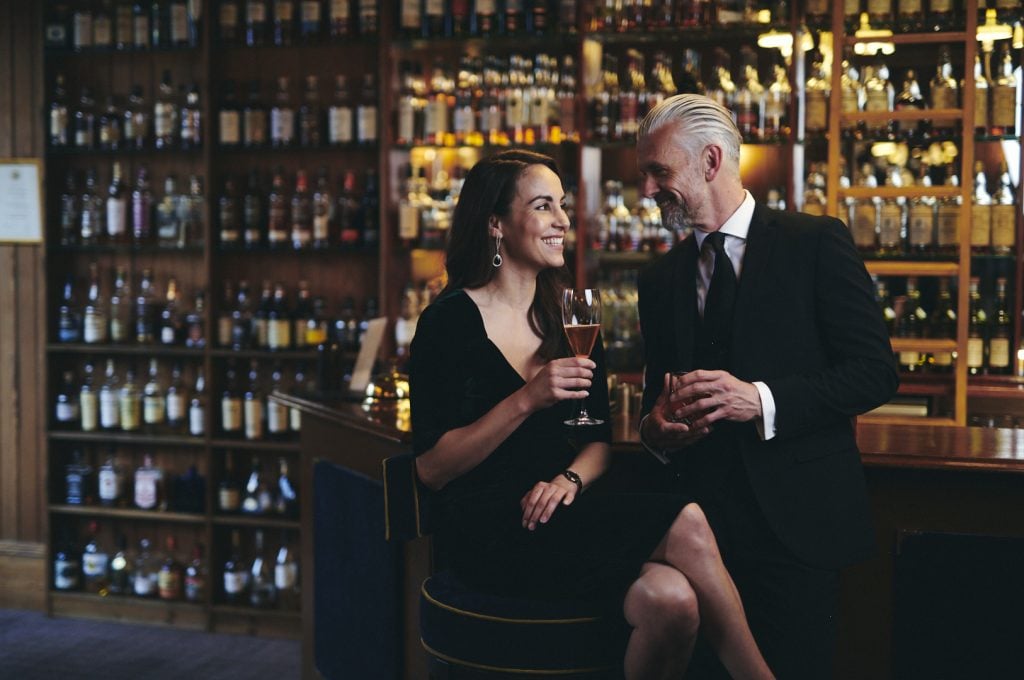 One of the Highlands' most beautiful hotels, The Torridon is also home to a top class and rather special whisky bar. Its Scotch whiskies sit on one of the most striking back bars of this list (and even comes with a rolling library ladder for the bartenders to reach all 350 bottles that adorn it). The best way to spend a rainy afternoon is to book its whisky tasting experience from 3pm-4pm and be taken through a selection by one of the bar team's knowledgeable bartenders. Failing that and taking a pew at the bar is the next best thing with the bar team happy to chat whisky while they work. If whisky isn't your thing, there are 120 gins to try too.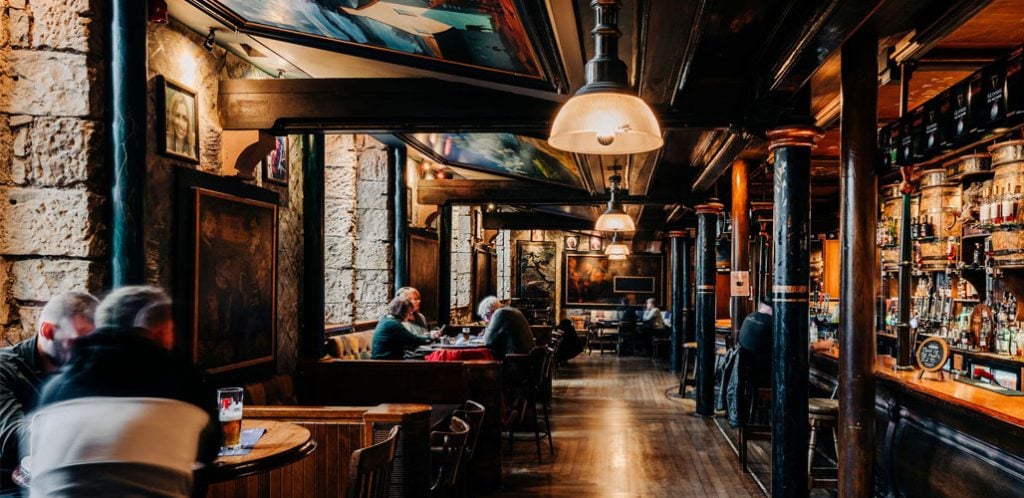 For some, drinking whisky is a religion so it's fitting that the Oran Mor in Glasgow's West End is inside a former parish church. As well as being an arts and entertainment venue it also houses a characterful whisky bar. Of all the bars on this list, this one is the most charming in terms of visuals with its stone walls, barrel-adorned bar and stained glass windows offset by 10 huge canvases depicting Robert Burns' epic poem – it's quite a spot. The whisky collection isn't too shabby either (300 in total) and every month the team selects a standout malt.