After laying silent for over two decades, the stills at Glenglassaugh Distillery fired back up in 2008. Since its revival, plenty of new spirit has been running off the stills and 2023 sees the long-awaited launch of its new era of coastal single malts, and a brand new flagship expression. 
We took a trip up to north Aberdeenshire to soak up the Glenglassaugh way of life. The coastal landscape and local food set the perfect scene for an introduction to three brand new single malt whiskies, including a brand new flagship expression.
Before looking forward, a look back…
Before tasting the new range, we had the chance to try something very special from the Glenglassaugh distillery archives: a rare single malt distilled in 1965. This dates back to an optimistic time for Scotch whisky. After a long period closed, in 1960 owners Highland Distillers had reopened the distillery following a complete refurbishment because of demand for fillings to supply blends like Cutty Sark for the US market. But the boom wasn't to last and in 1986 the distillery once again fell silent. Only to be revived again in 2008 when Glenglassaugh distillery was bought by a Dutch-based company and the stills began to run again in 2009. 
The malt we tried came from a single hogshead and was bottled in 2016 under the watchful eye of former master distiller, Billy Walker during the period that the distillery was owned by the Benriach Whisky Company between 2013 and 2016 (it's now part of the Brown-Forman empire). It's a clever nod to Glenglassaugh's past, and an impressive start to our visit. 50 years took this whisky to the brink, and it was bottled just in time at 40.1% ABV. Hugely characterful, with old fruit cake, dates, and leathery oak. "Vintage dryness", as Glenglassaugh brand ambassador Stewart Buchanan put it. A well-chosen reminder of the quality of spirit to run off those stills, and how well it ages in Glenglassaugh's coastal warehouses.
What makes Glenglassaugh a coastal whisky?
The distillery and its warehouses sit tucked at the end of Sandend Bay, a beautifully quiet, sandy crescent beach, popular with surfers. Buchanan and master blender Rachel Barrie share a strong feeling that the landscape and the whisky interconnect, through both the geographical location of the distillery, and the people who make it. Buchanan insists that even if it can't be measured, he's sure of the elemental influence of coastal, on-site maturation and believes that it adds an important aspect to the house style. 
We took a morning stroll down to the bay, where the most relaxing introduction to a whisky tasting that I've ever experienced awaited, in the form of a guided meditation and sound bath! Crashing waves, sea birds, and the calming sounds of tuned bowls prepared us to awaken our senses with our first sampling of the day. Yes, the Glenglassaugh team were really hitting the coastal theme. With the distillery behind us and the sea in front, it was the perfect place to try a brand new release, appropriately named Sandend!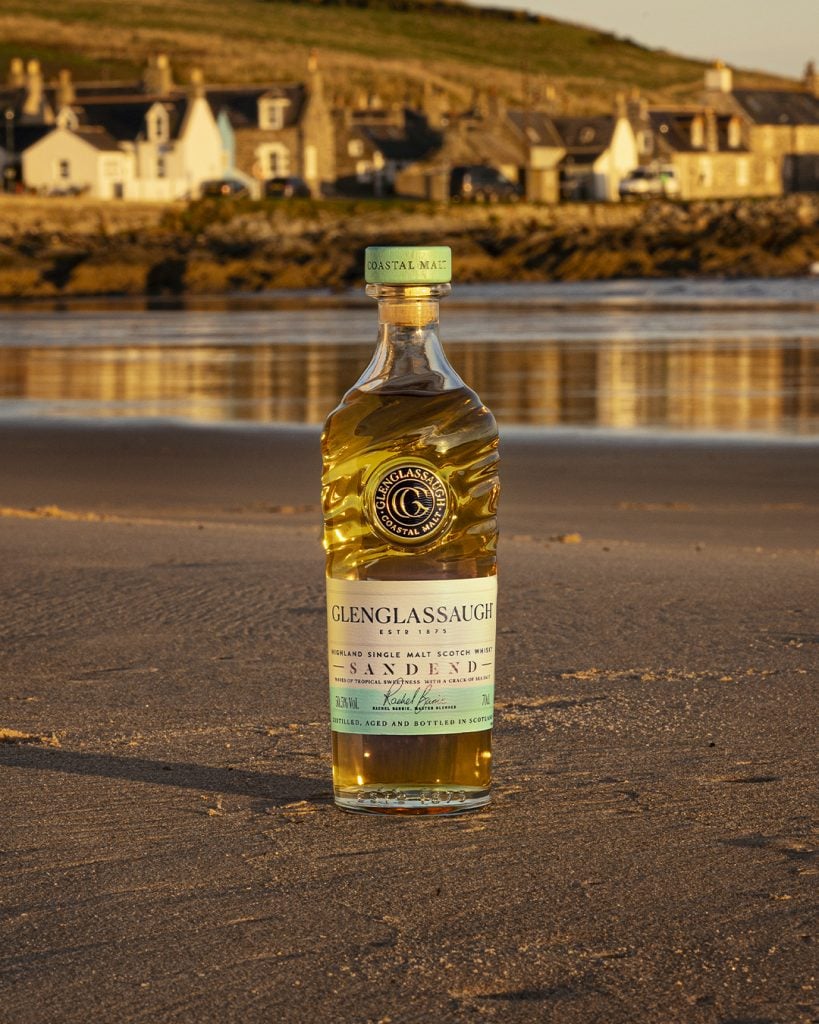 This is an unpeated single malt matured in a combo of bourbon, sherry, and manzanilla casks, and bottled at 50.5% ABV
Nose: We're met with delightful notes of buttery fudge, vanilla ice cream, candied mango, and salted papaya. 
Palate: Tablet, mango, and toasted vanilla trickle throughout, backed by boiled pineapple sweeties and creamy barley. 
Finish: Grapefruit and juicy berries, more vanilla and butterscotch, and a distant coastal breeze. 
Rachel guided us through a tasting, thrilled at how well that manzanilla influence shines in the spirit. She packs a bottle of Sandend whenever she's travelling. Her personal mission is to raise a glass of it on every beach she visits around the world! It also stood out in a zesty cocktail made with Stewart's own homemade foraged gorse flower syrup. Yes, gorse is prickly. Stewart confirmed that collecting the several handfuls of flowers required was tedious work. Well, I can confirm that it was appreciated by all.
I found Sandend immensely enjoyable, it's an easy sipper with impressive balance and a silky, delicate texture, while still boasting plenty of complexity to explore. The sweet, tropical notes really stand out, and it has a vibrancy that I think will resonate with regular whisky drinkers, while it would also make a welcoming introduction for anyone new to the category. 
Next stop, Portsoy, the distillery's neighbouring harbour village, and namesake of its second new single malt! Aboard a boat made the perfect setting for our next tasting.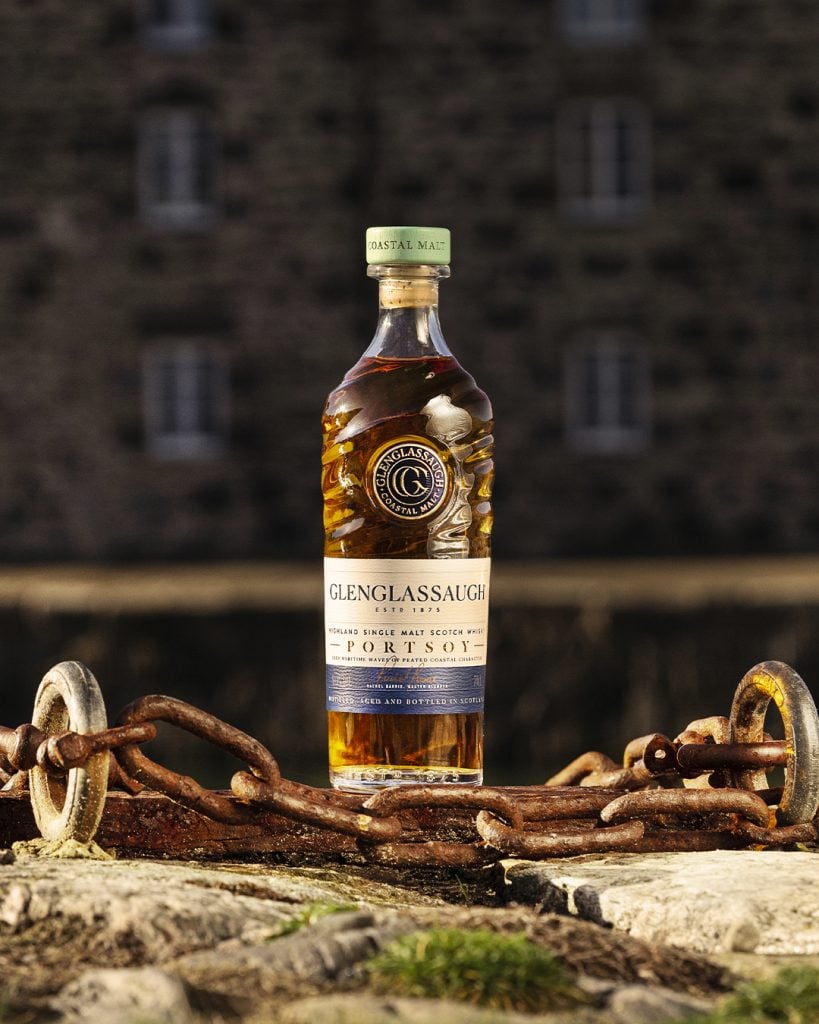 This is a richly peated single malt, brimming with smoky maritime coastal character. Matured in a selection of sherry, bourbon, and Port casks, and bottled at 49.1% ABV
Nose: Waves of coastal character with sweet layers of tropical fruit and herbaceous peat, toffee, milk chocolate, and sweet soy sauce. 
Palate: Chocolatey malt supports grilled pineapple and treacle toffee, while that sticky soy and smoky peat tangle beneath. 
Finish: Maritime peat smoke drifts softly alongside peppery oak, stewed berries, charred tropical fruits, and rich oak. Seaweed, salted liquorice, and dark chocolate-coated salted almonds linger.
The whisky and the ocean spray certainly set the scene as we sailed past the distillery on the shore to reach local landmark Bow Fiddle Rock. Back on dry land for a coastal lunch, and our chance to sample the Portsoy in a cracking twist on a Bloody Mary. Complete with crispy bacon garnish, the salty, peaty whisky really worked and made the perfect accompaniment to shellfish. 
I enjoyed the Portsoy as much as I did the Sandend, and for times that I'm after a bit of peat, this offers it in the right kind of dose. Bold and rich yet not overpowering, there are still those tropical fruit notes at its core, while the Port cask brings a satisfying weight to it all. Having sampled it with local langoustines, the sweet soy notes really resonated, and I'm looking forward to trying it as an accompaniment to sushi soon. 
Inside Glenglassaugh distillery
It wouldn't be a distillery trip without a look around the distillery! The Glenglassaugh warehouses are packed with rack upon rack of barrels in every direction. Though the distillery was founded in 1875, many of the original buildings were demolished and rebuilt in the 1960s. It's an exciting indication of planned future output that more warehouses are currently under construction, with Buchanan keen to keep everything on site. 
The still house is home to two stills, a spirit still of 12,700 litres and a wash still of 17,200 litres. The stills are off for summer, meaning we could get nice and close, and the whole place was filled with ambient music, clever backlighting, and beautiful local flora. Standing in the 1960s building feels a bit like being on a boat, with its wide central staircase leading down to the lower deck. Buchanan threw open the distillery doors, letting in the evening sun and revealing the sea view while Barrie, our captain, led the way with our final tasting. It was time for the culmination of our visit – the big reveal of the new flagship Glenglassaugh 12 Year Old single malt.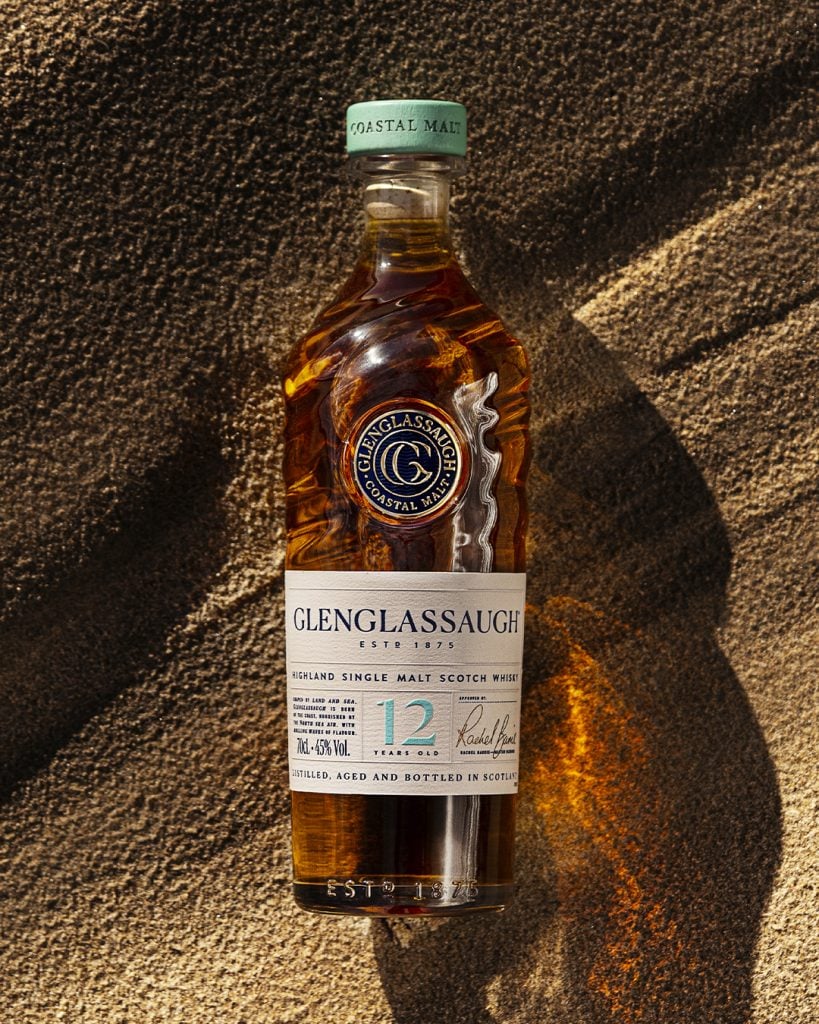 This is matured in bourbon, sherry, and red wine casks, and bottled at 45% ABV
Nose: Brimming with apricot, fig rolls, candied nuts, and waves of coastal breeze. 
Palate: That sweet stone fruit continues on the palate, with toasty notes of vanilla, and creamy hazelnut meringues. 
Finish: Softly salted cherry chocolate, and a lingering nuttiness which Barrie aptly described as candied pistachio, while I was given a delicious reminder of Daim bars. (or Dime bars, for readers who prefer the pre-2005 spelling, I don't mind how it's spelled, but I will always pronounce it "Dime").
A sparkling cocktail showcased the 12 Year Old's mixing potential, and we continued to explore all three new single malts alongside an accompanying dinner… then continued to enjoy them long into the light Aberdeen evening.
I revisited the 12 Year Old throughout the evening, it's a superbly laid back single malt with so much to explore. The sweet nuttiness really stood out for me, I reckon it'll be a great crowd-pleaser for times when I need whisky for a varied group of drinkers. 
A sense of place?
The concept of "sense of place" is always one that will be debated in the whisky world, but it does feel like an ethos to Barrie and Buchanan. Would the whisky taste different if you picked up the distillery and its warehouses and plonked them inland? They certainly think so, and tasting on location, hearing their passion for place, craft, and product had me wanting to believe. I did feel that I could detect a very delicate salinity that nestles in the whisky, and a vibrant, recognisable core style that could in my mind connect to the place it is made, as well as the people who make it. 
This is a range that has something for everyone, showcasing an exciting core style that promises much for the years to come. 
Awaken your senses and try the new range from Glenglassaugh for yourself right here! Click on links for prices and to buy.