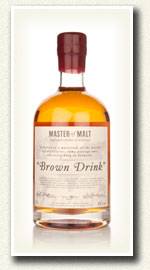 So – we've been doing our Drinks by the Dram
whisky sample service for almost a year now, and in that time have decanted 'loads' of 700ml bottles into 30ml samples.
700 divided by 30 is 690, so even if one is slightly generous with the 30ml measure, there's still going to be a little drop or two left over.
My original plan (and I thought it was a darned good one) was to save all of this up, and make some awesome cocktails at the staff Christmas party, or maybe do something at the directors' joint birthday party, but it turns out that "a little drop or two" multiplied by "loads" is about 37 full-sized bottles-worth.
Even we aren't that thirsty.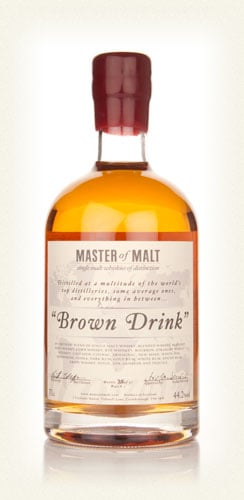 Perhaps unsurprisingly, there isn't really a word or a term that describes the madcap concoction that we've created so my friends – I give you the latest, and probably most bonkers concoction we've ever released.
Master of Malt's 'Brown Drink'
(we thought long and hard about that name – promise).
This is a blend of pretty much every single liquid that we've ever drammed, incorporating Single Malt Whisky, Blended Malt Whisky, Blended Whisky, Grain Whisky, Corn Whiskey, Rye Whiskey, Bourbon, Straight Wheat Whiskey, Calvados, Cognac, Armagnac, New-Make, White Dog, Moonshine, Vodka, Dark Rum, White Rum, Spiced Rum, Sotol, Gin, Genever and Tequila […and breathe…]
Naturally, we were kind of expecting this to end in a muddle of flavours with no discernable 'taste' of its own, but we were more than a bit surprised to find that it didn't taste half bad!
I handed a glass to our web editor but a few moments ago, and here's what he came up with:
Nose: Rather malty with a decent amount of peat and some nutmeg. It's quite sweet too, with manuka honey, toffee apple and brown sugar, and a hint of vanilla. Something tangy develops in the glass, like sour apple sweets, and there's just a hint of old-fashioned cola and coconut ice.
Palate: Tangy and very spicy. This is absurdly enjoyable, and it tastes bizarre. Grassy, gristy with hints of condensed milk, some coriander seeds, nutmeg, and more than a suggestion of gin botanicals. There's also a hint of the rubber they use to make basketballs, which is a refreshing change from all those other whiskies which don't taste like sporting products. Very herbal as it develops.
Finish: Long, very spicy and warming. Some cold coffee, almond, and gin botanicals on the tail, with trailing ginger sweetness.
Overall: Utterly bonkers, but really rather wonderful!
So there we go. Something a bit different for a Wednesday afternoon eh?
Right then – back to some real work – who's got those cask samples?