This week's New Arrival is a Lowland whisky blend from independent bottlers Douglas Laing and it's finished in a single Italian wine cask. It's The Epicurean Amarone Wine Cask Finish.
Over the last ten years red wine cask finishes for whisky have gone from being rare to something most distilleries and independent bottlers will have in their line-up. These range from generic red wine finishes where you are told nothing about the provenance of the casks, to ones where you know the exact producer, like Green Spot's long running Chateau Leoville-Barton expression. And very nice it is too.
Why use red wine casks?
Wine producers get through a lot of barrels because many want the taste of wood in their wine. After two, three or four vintages, the casks aren't adding much anymore so there's a lively second hand market. And as we know, whisky producers need seasoned casks which is why many have jumped on red wine casks. There's a lot of them about. That and marketing.  Oh, and they do bring a certain something to the whisky. The thing is that not all red wines are the same, as you may have noticed if you've ever tasted red wine, which I'm sure you have. An Australian shiraz is not much like Beaujolais. That's before we even get on to the type of wood that the cask is made from, its size, or how many times it was filled. 
Red wine largely has little or no sugar in it which can add a sour note to whiskies, so casks need to be used extremely carefully. Old Amarone barrels as used in our New Arrival of the Week: The Epicurean Amarone Wine Cask Finish have proved a popular choice among whisky blenders because it sort of straddles the red and fortified wine categories. With its flavours of dried fruit and spices, it doesn't taste like a table wine, and at 15.5% ABV (even though it isn't fortified) or more, you certainly shouldn't drink it like one.
What is Amarone?
Amarone (like this one) is made in Valpolicella in Northern Italy from red grapes, mainly corvina, rondinella and corvinone, that are spread out on wicker mats and dried in special lodges, or nowadays dried in temperature-controlled warehouses in the case of larger producers. It's a technique that's been used for centuries to make a wine that is stronger and sweeter. 
The big difference with Amarone, however, is that the yeasts that go to work on those raisined grapes somehow manage to turn all that sugar into alcohol. So you are left with a dry wine with much of the character of a sweet one and delightful bitter taste like really fancy dark chocolate. Amarone means 'great bitter' in Italian. It's what the italian call a vino di meditazione, one to sip thoughtfully with old friends and a nice piece of aged hard cheese. 
Despite its ancient lineage, it's actually a newish wine. Though made in tiny quantities previously for home use, it was only commercialised after the Second World War and only took off outside Italy in the 1980s. Traditionally, Amarone was aged in large Italian or Slavonian oak casks called botti which could be of 1,000 litres or more but in the '00s most producers switched to smaller 225 or 500 litre barriques as used in Bordeaux which imparted more of a new oak character to the wines. 
The cask detective
Independent bottlers Douglas Laing hasn't told us what sort of cask this special Epicurean came from but we can work it out using the power of deduction. You are very unlikely to ever see a botti-aged whisky for two reasons: 1) Botti are used, and cleaned for decades until they are beyond repair and of no use to whisky bottlers. 2) They are enormous and usually built in the winery so it would not be worth anyone's time to remove one. Seeing as 888 bottles, 621 litres, of Epicurean Amarone Wine Cask Finish have been released, it's likely that Douglas Laing filled a 500 litre cask, probably French oak though possibly East European, with a whisky at around 60% ABV and watered it down to 48% ABV for bottling.
While Amarone does impart some of the dried fruit flavours that you might get in sherry or Port casks, it is bitter and there is no sweetness so it's one that needs a bit of care with. It suits a sweeter, fruitier style of whisky like this Lowland blend from Douglas Laing. Anyway, here's what we thought of it. Let us know what you think once you've cracked open your bottle.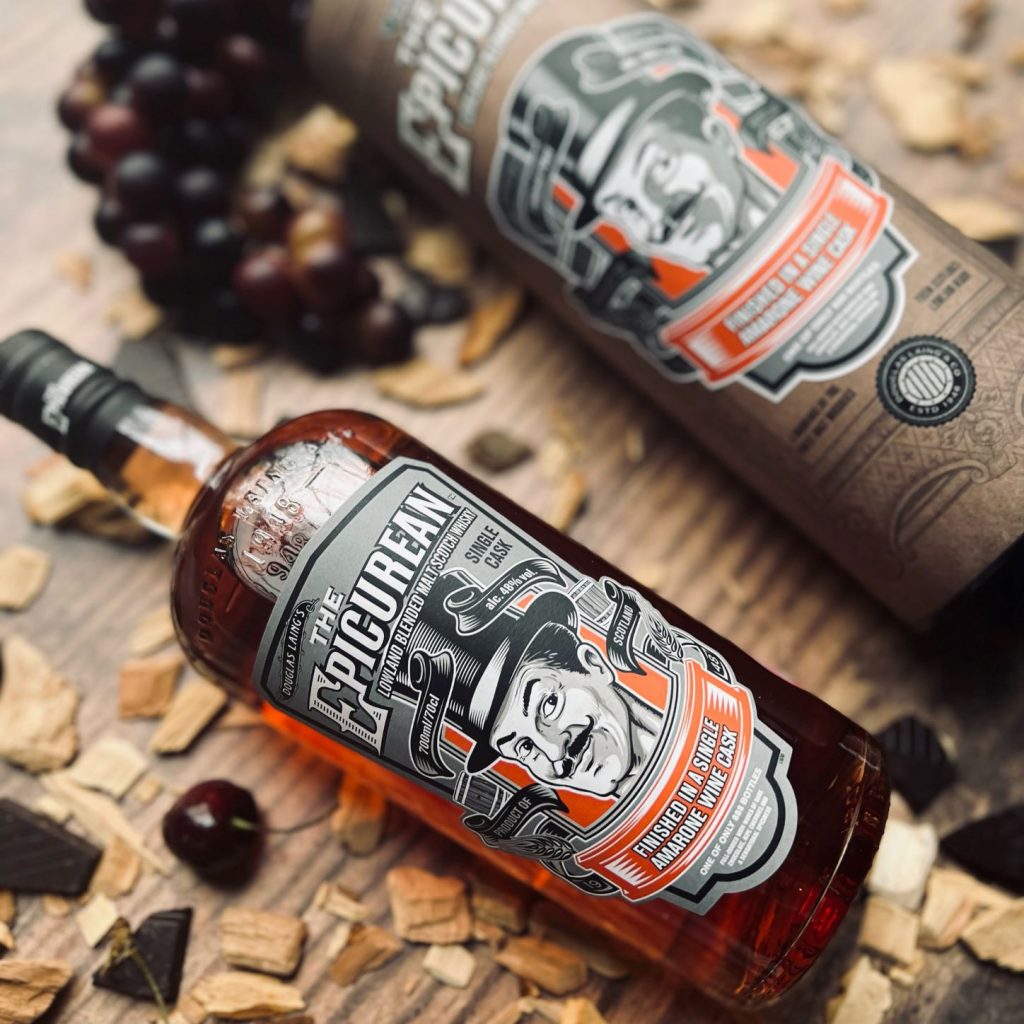 Tasting Note by The Chaps at Master of Malt
Nose: Cocoa nibs, cherries, acai berries, with warm ginger and cinnamon.
Palate: Sweet and spicy, with a medley of red berries and some warm oak throughout.
Finish: Peppery spice builds, with a touch of espresso.
The Epicurean Amarone Wine Cask Finish is available from Master of Malt. Click on the link to buy.