A new week means a new arrival. Today we're shining a spotlight on The English – Heavily Smoked which as its name suggests is a heavily smoked whisky from the English Whisky Company in Norfolk.
There's always something going on at St. George's Distillery in Norfolk, home of the English Whisky Company. Alongside the core range of single malts and interesting grain whiskies, the distillery produces regular limited editions.
In recent years, distiller David Fitt and the team have released triple-distilled whiskies, virgin oak single malts, and various single cask releases. There's never a dull moment.
English whisky, Scottish connection
This latest release, The English – Heavily Smoked 2010, is a nod to the distillery's heritage as the first distiller was Iain Henderson from Laphroaig. A man who knows more than a little about peat and whisky.
There were more than a few eyebrows raised when Henderson took the job at St. George's Distillery in 2006. At the time, the idea of English whisky seemed like a joke. But the founder, Norfolk farmer James Nelstrop, was determined. He'd always dreamed of making whisky and the raw materials were right on his doorstep in the form of seemingly endless fields of shimmering barley.
The family handily owned a building company as well as being farmers, so did all the work themselves. Work began in January 2006 and by December, the first barrels were filled. Then in 2009, St. George's Distillery, later rebranded as the English Whisky Company to differentiate it from another St. George's Distillery, released its first whisky. There were queues for miles to get hold of a bottle and the story made the international news.
Sadly, James Nelstrop died in 2014, but the distillery is safely in the hands of his son Andrew and his wife Katy, who looks after the marketing side of the business. 
Initially, the team stuck with a classic Scottish single malt blueprint. Not only did they have a Scottish distiller but all the stills came from Forsyths of Rothes. There's a wash still of 2750 litres and a spirit of 1800. There's plenty of reflux from the bulge above the base of the spirit still, and the shell and tube condensers.The aim was to produce a classic Lowland-style malt, light and fruity. 
Innovative releases
But under David Fitt, an ex-brewer who learned his art from Henderson, they have branched out with some innovative releases under The Norfolk label including a rye and malted barley whisky, and a malted/unmalted barley Irish single pot still-style whisky. Andrew is full of praise for his distiller: "David has extraordinary taste buds. He has a deep understanding of how different barleys behave. Look at what he does with different cereals in the Farmer's which is made with crystal malt, oats, wheat and rye." 
This latest limited edition, The English – Heavily Smoked, then, is something of a return to tradition. But if you're expecting a Laphroaig-style smoky whisky, you will be in for a surprise. The barley might be heavily peated (to 65 PPM compared with Laphroaig's 45 PPM) but the resulting spirit has the classic English Whisky Company fruitiness. Even with the peated spirit, the cut is taken early so that, as Fitt puts it, "you lose heavy iodine notes and just get bonfire. What's the point of replicating Laphroaig?" It was distilled in 2010, aged largely in ex-bourbon casks, and bottled this year at 46% ABV. Only 1,776 bottles of this 11-year-old single malt have been filled.
In the days before Covid, St. George's Distillery was one of Norfolk's top tourist attractions, attracting over 80,000 visitors a year. There's a great restaurant on site and a shop that stocks not only their whisky but probably the best selection from around the world in East Anglia. We're delighted to hear that it's once again open to visitors.
For those who won't be visiting in the near future, you can take a video tour with Master of Malt or just pick up a bottle and experience the magic of English whisky.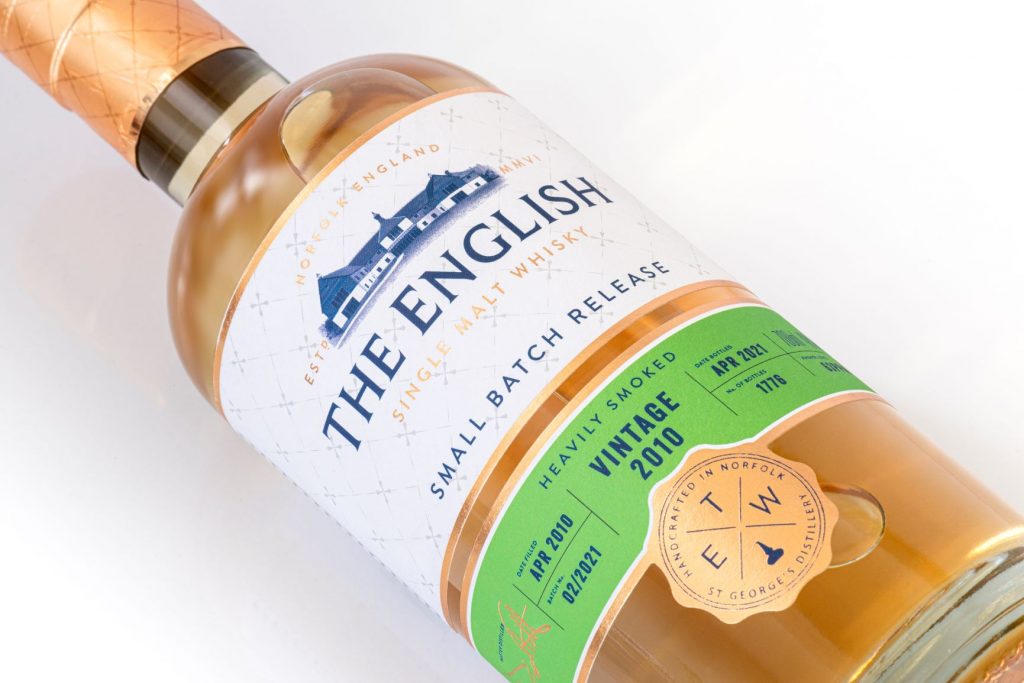 Tasting Note by The Chaps at Master of Malt
Nose: Meaty malt with hints of cured ham and vegetal peat. A little touch of yellow plum sweetness develops underneath.
Palate: Roasted barley, salted butter on toast, cinnamon, granola, bonfires, and flaked almonds.
Finish: Black pepper and red chilli flake, with a slow fade of caramel.
The English – Heavily Smoked 2010 is available from Master of Malt. Click here to buy.