Our New Arrival of the Week is a great way to celebrate the Queen's 70 years on the throne and would also make a great Father's Day gift for the Port-loving dad in your life. It's a bit special, it's Taylor's Very Very Old Tawny Port – Platinum Jubilee Edition!
Earlier this year, our columnist Ian Buxton was complaining about the lack of special bottlings to commemorate the Queen's Platinum Jubilee. Well, now they have arrived, and how! We've even had to construct a whole new inbox to deal with the press releases detailing special commemorative gins, whiskies, cocktails, and all manner of things. 
Perhaps the worst one we received was from one London bar which is putting on a special Jubilee-themed cocktail menu called, wait for it: 'Yas Queen.' We are not amused, as the Queen's great grandmother might have put it. 
Very very old Port
Much more up her street, we think, is an old Tawny Port that has just been released by Taylor's. How old? Well, we don't have an exact figure but apparently, it is 'very very old.'
The Queen and extremely old Ports have history. To celebrate her 90th birthday in 2016, the Symington family released Graham's 90 Year Old Tawny. It was a blend of three old casks, from 1912, 1924, and 1935. They had to get special dispensation from the Port authorities to give it a 90 year old age statement. Previously only 10, 20, 30, and 40 year olds were allowed but the Queen was considered such a good ambassador for the wine that she got a number all of her own.
This latest Taylor's release doesn't have an age statement but it does contain some extremely old and rare casks as the firm's CEO Adrian Bridge explained: "This exceptional Port is drawn from our extensive reserves of the finest wood-aged wines, which have been maturing in seasoned oak casks since the Queen succeeded to the throne, silently attesting to Her Majesty's extraordinary reign as the longest-serving monarch in British history. We are delighted to celebrate such an exceptional commemoration with the launch of a unique Port wine".
Immortal wine
Port, like other fortified wines such as sherry and Madeira, keeps extremely well in cask. Previously these very old wines were either blended into 40-year-old tawnies or more likely kept by the producers for private consumption. But in the last few years, firms such as Taylor's have begun releasing special old bottlings. These include tawnies from a particular year, known as colheitas, including the extraordinary 1896 that we tried last year which was fresh as a daisy. It was also extremely expensive but happily this latest wood-aged special is much more affordable at £350.
We were sent a little sample to try and can confirm that it is an extraordinary experience mingling lively cherry and raspberry fruit with exotic notes of dark chocolate, menthol, and tobacco. If you love an old Cognac or sherried single malt whisky, then you're going to love this. It's particularly good with some old hard cheese like a Cheddar or Comte.
It's the perfect way to celebrate Britain's longest-reigning monarch. Certainly much better than a 'Yas Queen' cocktail menu. Shudders. And don't forget that Father's Day is coming up soon, Saturday 16 June to be precise. This would be the perfect gift for the Port-loving Dad, or the spirits enthusiast who wants to try something a bit different. 
Taylor's Very Very Old Tawny Port – Platinum Jubilee Edition is available from Master of Malt. Click here to buy.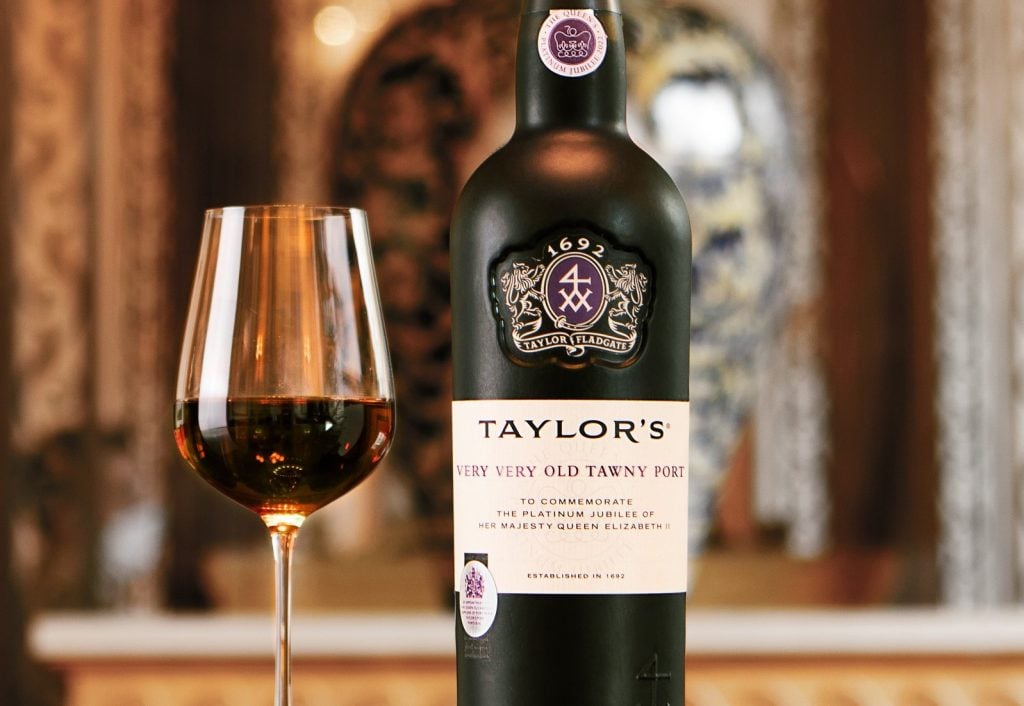 Tasting note from the Chaps at Master of Malt
Nose: Very very spicy with tobacco, menthol, strawberry jam, chocolate, and furniture polish.
Palate: Super tangy, lively acidity, just a whisper of tannin, and then vivid raspberry and cherry fruit. Really intense.
Finish: Very long with toffee and walnuts.