Tamdhu's excellent Batch Strength series has another edition. Does it live up to the previous standards? We find out. Tamdhu Batch Strength (Batch 5) has arrived!
There's something fans of big burly sherry bombs and us here at MoM Towers have in common. We love a bit of Tamdhu. The Speysiders boast an outstanding core range of Scotch whisky that's matured solely in American or European oak sherry casks which has put the brand firmly on the map as a distillery capable of creating booze the equal of its many famous neighbours over the last decade.
It's about time too. Tamdhu has spent a fair amount of its history in relative obscurity. Like a number of Scotch whisky distilleries, it's closed and reopened several times since it was founded in the 19th-century and has spent much of its existence as a functional background player, contributing tasty spirit to blends. The Famous Grouse, J&B Rare and Cutty Sark have all benefited from the whisky the Speyside distillery made, but official bottlings have been rare, save for a few exceptions in the 1970's and a couple of editions in 2005.
Not that the founders would particularly mind, as creating quality whisky for popular blends was their express purpose. The group of local businessmen who founded Tamdhu in 1897, who was previously involved in classic whiskies such as Johnnie Walker, Dewars and Bulloch Lade, sunk a colossal £20 million into the project, which included the hiring of the famed Charles C Doig to design the distillery (he worked on 56 Scotch whisky distilleries in total including Aberlour, Glenlivet, and Talisker). Despite this investment, Tamdhu quickly found itself in the hands of Highland Distillers, enjoying a quiet, comfortable period of creating whisky until 1927.
A long period of dormancy followed until 1947 and Tamdhu began to enjoy some post-war success. In 1949, the original floor maltings were modernised to introduce Saladin boxes, a French invention that mechanises the barley turning process, and during the whisky boom of the 1970s, production capacity was tripled with the introduction of four stills in as many years. Once again, the distillery continued to produce whisky without incident or fanfare until April 2010, when it was announced that Tamdhu was to be mothballed by the Edrington Group in 2010. 
Thankfully, the current owners, Ian MacLeod Distillers, saw enough potential in the brand and purchased the distillery in June 2011. New washbacks, warehousing and a visitors centre have been added and production of Tamdhu single malt began once again in May 2013. Now the distillery is best known for its trademark sherry-forward spirit. Every barrel is seasoned for two years with Oloroso sherry of roughly five years of age at its own on-site cooperage. 
Our new arrival, the Tamdhu Batch Strength (Batch 5) is packed full of that sherried goodness you'd expect and was also bottled, un-chill-filtered, at a hefty 59.8% ABV. It's got a lot to live up to. Earlier this year, Tamdhu Batch Strength (Batch 4) enjoyed success at the World Whiskies Awards 2020 finals, The Scotch Whisky Masters and San Francisco World Spirits Competition, scooping all kinds of shiny 'Gold' medals. "After a multi-award-winning year for Batch 4, I know Batch 5 will impress everyone who samples it – with its complex richness, deep intensity and long, rewarding finish," says Sandy McIntyre, Tamdhu distillery manager. "This annual Tamdhu release always goes down well as it is a brilliant showcase of the beautiful colour and flavour derived from our exclusive sherry oak cask maturation process."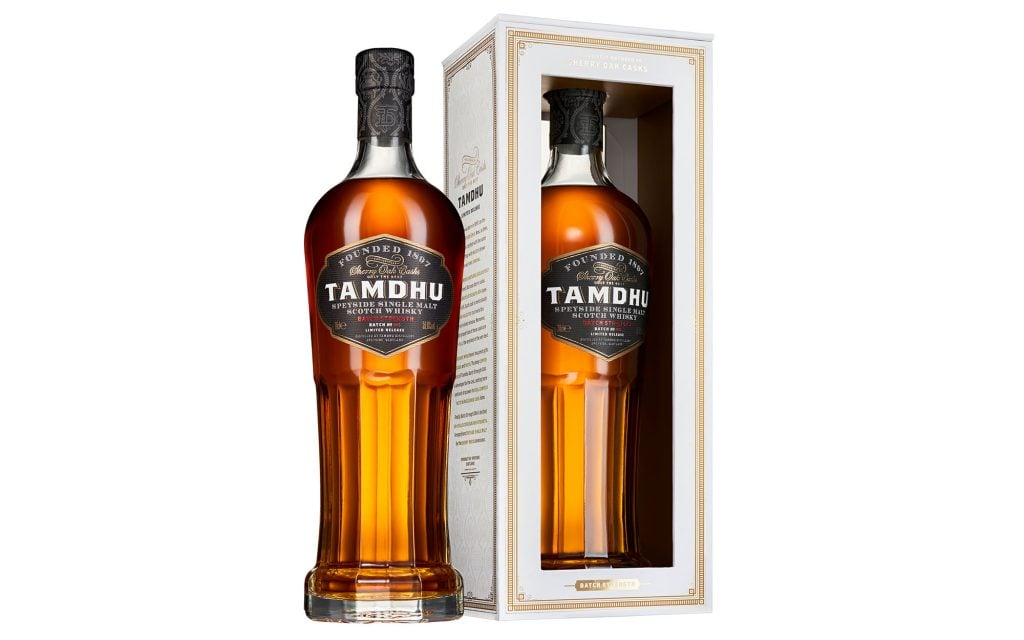 The consistency at which Tamdhu has continued to produce outstanding whisky for this Batch Strength range is one of the reasons it has established itself as a true hidden gem. You'll be pleased to know Tamdhu Batch Strength (Batch 5) lives up to the standard. It's deep, rich and rewarding. Despite the high strength, it's remarkably supple and doesn't require the addition of water. It's another must-have for those who get weak at the knees at the thought of full-bodied, uncompromising sherry monsters, but if that's not your thing don't dismiss it too readily. There's enough subtlety and balance to make this a solid choice for any whisky fan.
Tamdhu Batch Strength (Batch 5) Tasting Note:
Nose: Sultanas, dates and blackberry compote provide a rich, thick opening with dark chocolate and Brazil nuts in support. Huckleberry honey and vanilla tablet bring American oak sweetness alongside notes of bread and butter pudding, fresh apricot jam and caramelised ginger. There's leather-bound books, some sherried funk and spice from clove and cinnamon throughout along with a sprig of mint. 
Palate: More winter spice initially, which bramble fruit, thick treacle and dense fruitcake emerge through. Seville marmalade, occasional pangs of liquorice and chewy, tannic oak add depth among touches of walnut skin bitterness, earthy vanilla and barley sugar. With time comes cedar, cracked black pepper, leather and chocolate ice cream.
Finish: Graciously long and slightly dry, with apple skins, lime, chocolate fudge and fizzy cola bottles.
Tamdhu Batch Strength (Batch 5) is available to purchase from MoM Towers here.