Ben Ellefsen returns to tell us about a new Islay single malt whisky from the clever people at &Whisky. What does it taste like? Well, the clues in the name. Welcome, Roasting Chestnuts & Peat Fire Embers & Mince Pies & Hygge 10 Year Old!
Mince pies have been in the shops for what seems like months already, but the true measure of the commencement of festive nonsense (at least for our household) is when I give up sporadically bringing in armfuls of wood for the odd fire, and instead dig our two big old felt baskets out of the cellar, and pack them full of nicely-seasoned hardwood in the knowledge that we're going to be lighting a fire every night from now on.
People like fire
There's strong evidence that the human 'ahhh – everything's fine' relaxation response to being by a fire is tied to our evolutionary conditioning – fires not only provide(d) practical benefits (warmth, light, food, a deterrent to wolves, coyotes and gruffalos), but acted as a focal point for interaction and social bonding. 
Just as a dram invariably tastes better from a hipflask outside in the biting cold at the end of a long walk, there's something special about a whisky by the fireside. It's not just the warmth, or hypnotic visual aspect that appeals so greatly though – it's the smoke too. 
Roasting Chestnuts & Peat Fire Embers & Mince Pies & Hygge is here
Fitting then that this week's new release (a close relative to the delicious Seaweed & 10 Year Old) focuses on this very experience, whilst simultaneously drawing in notes associated with not only the whisky in the bottle, but the experience itself. Did somebody say 'Meta-Monday'?
This latest release sits at a 'premium drinking' ABV of 48% – this is (at least for me personally) at pretty much the perfect tipping point between easy-drinkability, and whisky-de-contemplazione. We've also upped the quantity of first-fill sherry finished stock used in the blend* from 25% to 50%, because Christmas.
Roasting Chestnuts is a nice shorthand for the richer, sweeter flavour profile from the additional sherry influence, while peat fire embers are more pronounced than ever due to the increased ABV. Mince pies, that's the sherry influence again lending dried fruit and spice notes of course, but there's a depth to the higher ABV liquid which feels enveloping, buttery, pastry-like. Hygge speaks to the overall effect of the dram – it's a markedly different experience to the standard 10 Year Old Seaweed& bottling.   
So, if it's a close cousin to the ever-popular Seaweed & Aeons & Digging & Fire 10 Year Old, it's surely a somewhat handsome cousin who's a lawyer in the week, a doctor at the weekends…
Here's a handy graph to explain
I'll be the first to admit that the &Whisky brand universe can be pretty intimidating (okay, fine, confusing) – but when it comes to the various iterations, they can be thought of as existing on two axes: ABV and sherry cask influence. Allow me to help explain with reference to this handy diagram: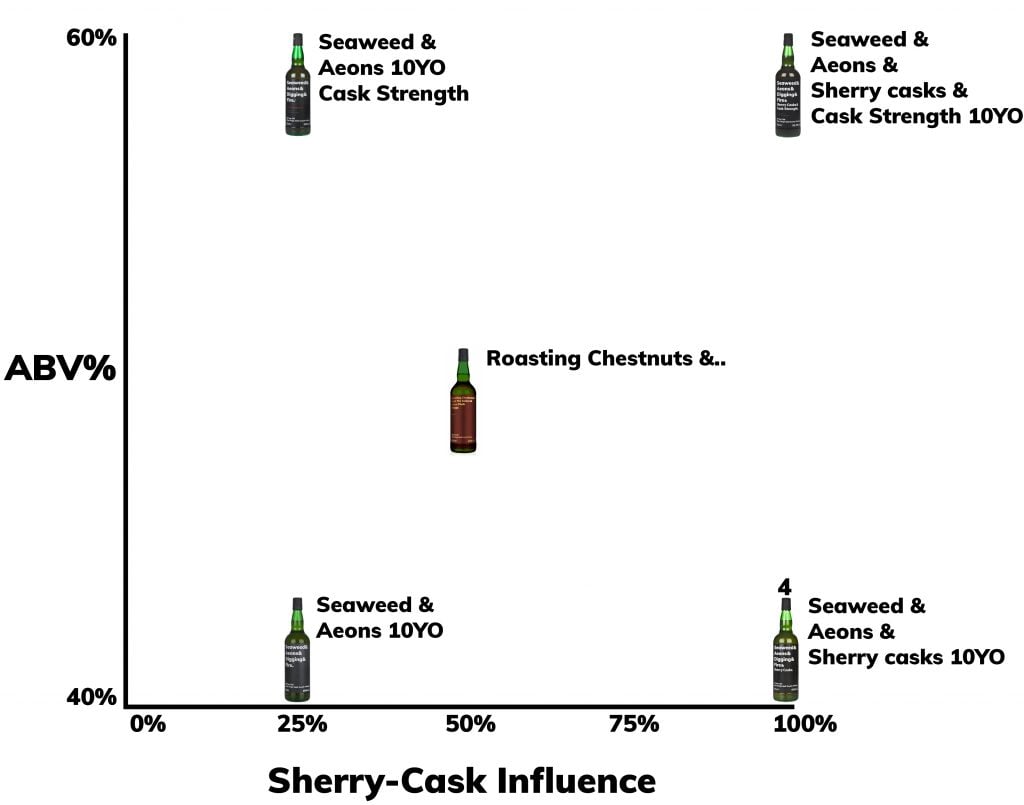 You'll notice also that in stark contrast to the rest of the Seaweed& range, this one's packed in a clear glass bottle as opposed to the usual green glass denoting its peaty provenance. I'd love to give you a compelling reason for this, but honesty being the best policy – I did a shit job at briefing it in to the bottling team and it went into the wrong-coloured glass. No. Wait. Not that – it's a limited-edition, never-to-be-repeated collector's item which you should buy now because the next batch will be in green glass. Yes. That. I like that better. 
Roasting Chestnuts & Peat Fire Embers & Mince Pies & Hygge 10 Year Old is available to buy now from Master of Malt.
Tasting note for Roasting Chestnuts & Peat Fire Embers & Mince Pies & Hygge 10 Year Old
Nose: Hot roasted chestnuts, buttery shortbread, mince pies, and a touch of Islay sea spray.
Palate: Smouldering peat builds, with sticky muscovado sugar, cinnamon and waves of sherry fruit sweetness.
Finish: Sweet, roasted chestnut smoke lingers, along with comforting mince pie spice.
Overall: It doesn't get much better than a dram of this and a warm blanket on a cold, winter's evening, we reckon!
*Of course – it's a single malt (meaning it's all from one distillery), but we put together a blend of different casks to achieve the flavour profile we're after – there's substantial variation even between the first fill oloroso casks we use for finishing.