From the people who brought you Waterford whisky, we have not one but three exciting new rums from the island of Grenada. Renegade Rum is here!
Mark Reynier's voyage into terroir continues with the release of Renegade Rum from Grenada. Reynier has been obsessed with how place affects flavour since his days as a wine merchant. He has made it his life's work to show that this concept, widely accepted in wine, also exists in spirits. He began with Bruichladdich on Islay, before moving on to Waterford in Ireland, where he and his team have crafted a series of whiskies that show stark differences based on where barley is grown, something we've covered extensively on the blog.
Demonstrating terroir in rum
Now, it's rum's turn. Though demonstrating terroir in sugar cane is certainly much less controversial than in whisky with the trade already enthused about clairin, rhum agricole and single estate rums like Appleton in Jamaica.
But as with Waterford, the aim is to systematically break down bottlings by variety, location and distillation type in order to show the impact of terroir. Renegade Rum has been going for six years now, but Reynier has had the idea for much longer. "I started planning the project in June 2015 after an initial exploratory trip to the island. Immediately I felt this was the right home for Renegade after a fruitless 10-year search," he explained.
Starting from scratch
The island of Grenada has a wide variety of different terroirs based on soil type, altitude and micro-climate to grow sugar cane but very little is now grown, so the team had to start from scratch. "Unusually this project has been both back to front and upside down: first we had to propagate cane where none existed to prove it was worthwhile building a distillery; then we had to design it backwards, from the end waste streams back to the incoming cane," Reynier said. 
The island has both French and British influences but the majority of local rums are made from imported molasses, rather than sugar cane juice. Reynier, however, wanted to make agricole-style rums as he feels these more completely transmit differences in terroir.
Not only did they have to plant sugar cane, but they had to build a distillery from scratch. The set-up is totally modern with both pot and column stills. The former with a double retort which removes heavier compounds and the latter has two columns. It's really worth exploring the Renegade website for more details on the production history of the island and videos showing the development of the distillery.
A rollercoaster ride
According to Reynier, it's been a difficult project: "It has been a veritable rollercoaster of a ride since then and several times I was on the point of giving up. Several times I wondered whether I had bitten off more than I could chew." But, he continued, "now we have a landmark, state-of-the-art-distillery built and run by Grenadians to use Grenadian cane – the veritable spirit of Grenada. After all the blood, tears, sweat of determination and technical ingenuity – not to mention a global pandemic – we are delighted that the Renegade Rum Distillery is alive."
So are we especially after trying these first three unaged releases from the distillery. Here's what we had: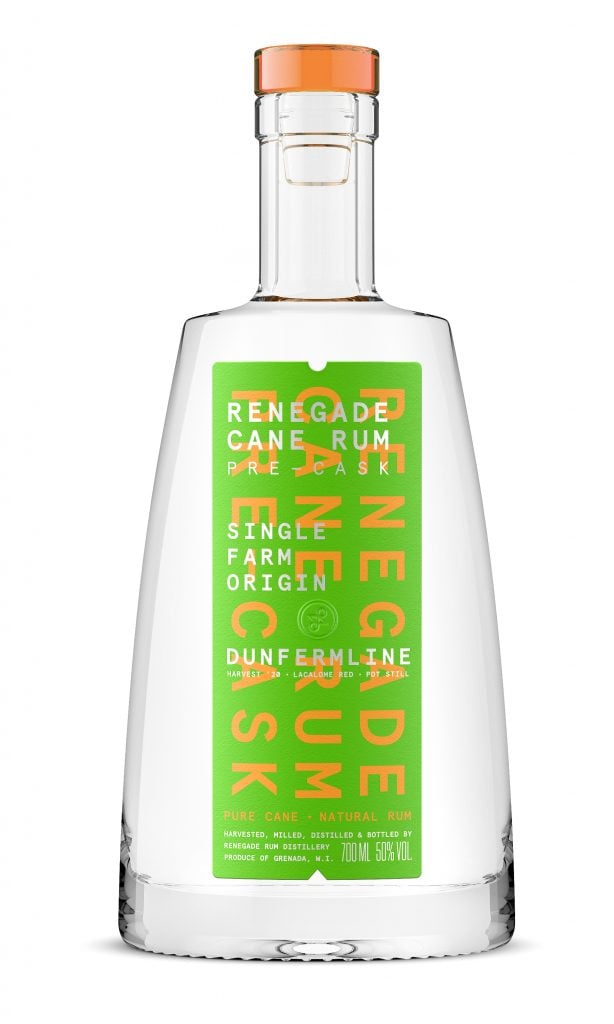 "Dunfermline farm is situated on the east of the island and surrounded by rainforest, but gets little rainfall itself. Water runs down from the nearby hills into the moisture-retentive soil. This is a traditional cane growing area and typically shows high-yield and healthy harvests," the press. The team planted this with a variety of sugarcane called  Lacalome Red. 
Nose: Big funky nose, green bananas, lemon zest, and a touch of smoked meat.
Palate: Concentrated, oily, and thick with a taste like grilled meat. Massive pot still character that will be amazing in cask, I think. There's a herbal and citrus freshness here too.
Finish: Menthol with lingering lemon rind.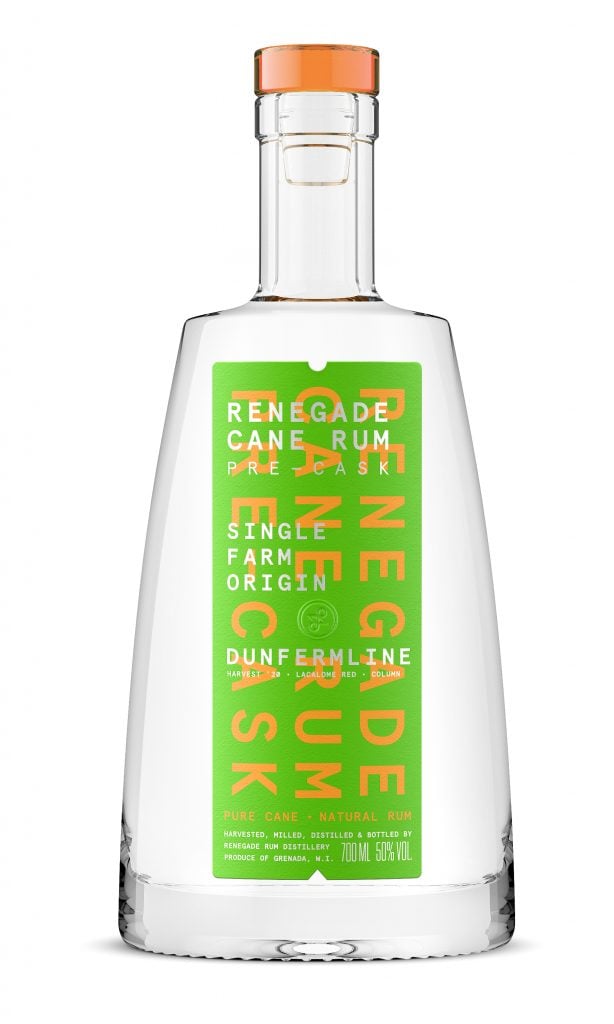 Same estate and variety as above.
Nose: Vegetal and grassy, seriously funky and pungent.
Palate: Lovely spice here, aniseed, peppery, quite controlled on the palate compared to the pot still, with sweet spices.
Finish: Fennel and lemon rind.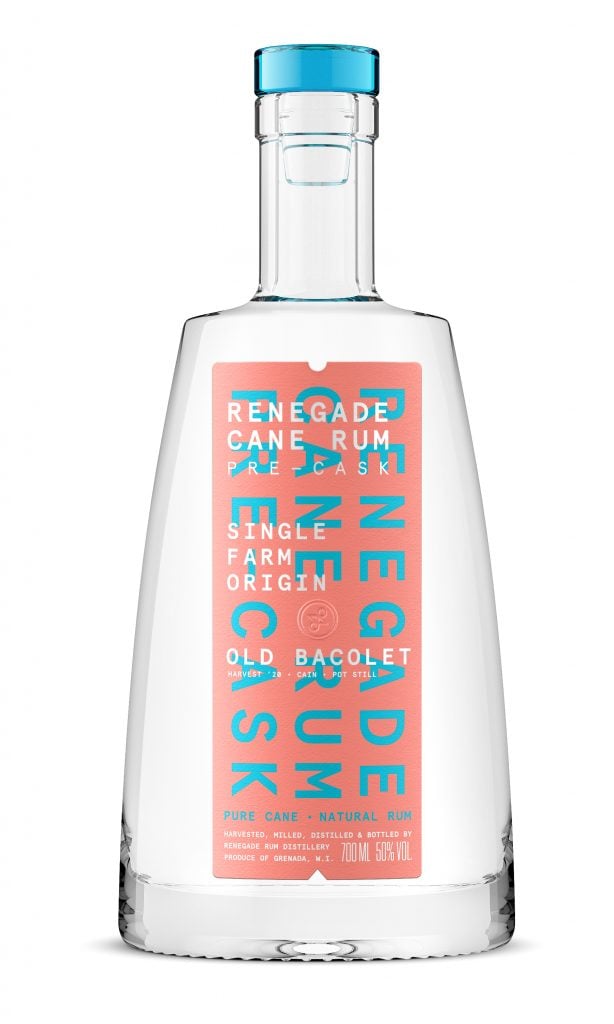 This is made from a variety called Cain. Yes, a sugar cane called Cain. The press release comments: "The cane is harvested from a farm called Old Bacolet on the south coast of Grenada between two rivers – a flat floodplain with rich, clay soil; the farm is surrounded by coconut, papaya, mango and other trees which showcase how fertile the land is. The rivers that flow through Old Bacolet bring a cooling breeze on their way to the sea."
Nose: That's a big nose: oily, acetone, spices, cinnamon, earthy, rotting veg, and some pineapple.
Palate: Spicy and peppery, fresh, grassy, sweet cinnamon and nutmeg,  bacon, herbs, warm spices, and citrus fruit. This has such a lovely underlying sweetness.
Finish: Long and spicy with salami and a texture like a thickened stew, think a lightly funky coq au vin. 
These are superb distinctive rums that are great sipped neat but will also lend themselves to excellent Daiquiris, Mojitos etc. They're alive with grassy agricole-like flavours but the pot stills especially have an amazing weight and meatiness to them that promises much excitement when combined with casks. Watch this space.
Renegade rooms are available from Master of Malt. Click here to buy.