When a brand new Japanese whisky lands at MoM Towers in the midst of a global Japanese whisky shortage, it's pretty special. But learning a second is soon to follow? Well, that's cause for celebration. Here, we toast the arrival of brand spanking new blend, Nikka Tailored – and share details of a follow-up bottling you may be familiar with…
Cast your mind back to the good old days (February 2020), when times were precedented*, hand sanitiser was reasonably-priced, and you could hug your grandmother without risk of repercussions. The same month, we shared word of the sudden – although sadly unsurprising, given the Japanese whisky shortage – discontinuation of Nikka 12 Year Old and Nikka Taketsuru Pure Malt.
Unbeknown to us, Nikka's whisky blending team were busy tinkering away, conjuring up replacement bottlings to meet ongoing demand for Japanese nectar without draining their stocks. And now, like a tasty phoenix rising from the ashes, two new whiskies – permanent bottlings, we might add – are emerging in their place. The first is Nikka Tailored, now available on MoM, closely followed by Nikka Taketsuru Pure Malt (okay fine, it has the same name. But it's a new recipe).
Before we get into the nitty gritty of the blends, let's take a look at the distilleries that make them. Nikka Whisky Distilling Company was founded in 1934 by Masataka Taketsuru, often referred to as 'the father of Japanese whisky', after a two-year trip to Scotland spent working at a number of distilleries. His business started out with the Yoichi distillery in Yoichi, Hokkaidō. Taketsuru's aim? To make as many styles of whisky as possible for his blends.
Using four different peat levels – unpeated, lightly peated, medium peated, and heavily peated barley – five different yeast strains, and a huge variety of casks, Taketsuru could make more than 600 different whiskies, explains Stef Holt, head of education and whisky ambassador at Speciality Brands (Nikka's UK distributor). However, Yoichi's coastal location lent its own influence to the whiskies, so three decades later, in 1969, the company built Miyagikyo distillery in Miyagi Prefecture, Northern Honshu.
Like Yoichi, the inland distillery uses non-peated, lightly peated and medium peated barley (no heavily peated here, though) and five yeast strains to create its whiskies. Miyagikyo is also home to two Coffey stills, which are used to distil the grain whisky according to a recipe of 95% corn, 5% malted barley, before ageing the distillate in used American oak barrels. Speaking of, not only do both distilleries have their own cooperages, but they also share a third cooperage halfway between the two, which makes brand new casks from virgin American oak.
The cask programme follows Scottish tradition – American oak and sherry casks – but with plenty of different options to maximise flavour. Once an ex-bourbon cask has been used a couple of times, the coopers will remove the ends and replace them with new oak, says Holt. "That's called a remade cask," she says. "So you get a combination of old and new casks. And then what they'll also do is re-char casks – scrape the insides out and re-char them." When it comes to sherry, Oloroso and Pedro Ximénez reign supreme. Occasionally, Nikka will create finishes with Japanese oak (Mizunara) though none have made it to the UK.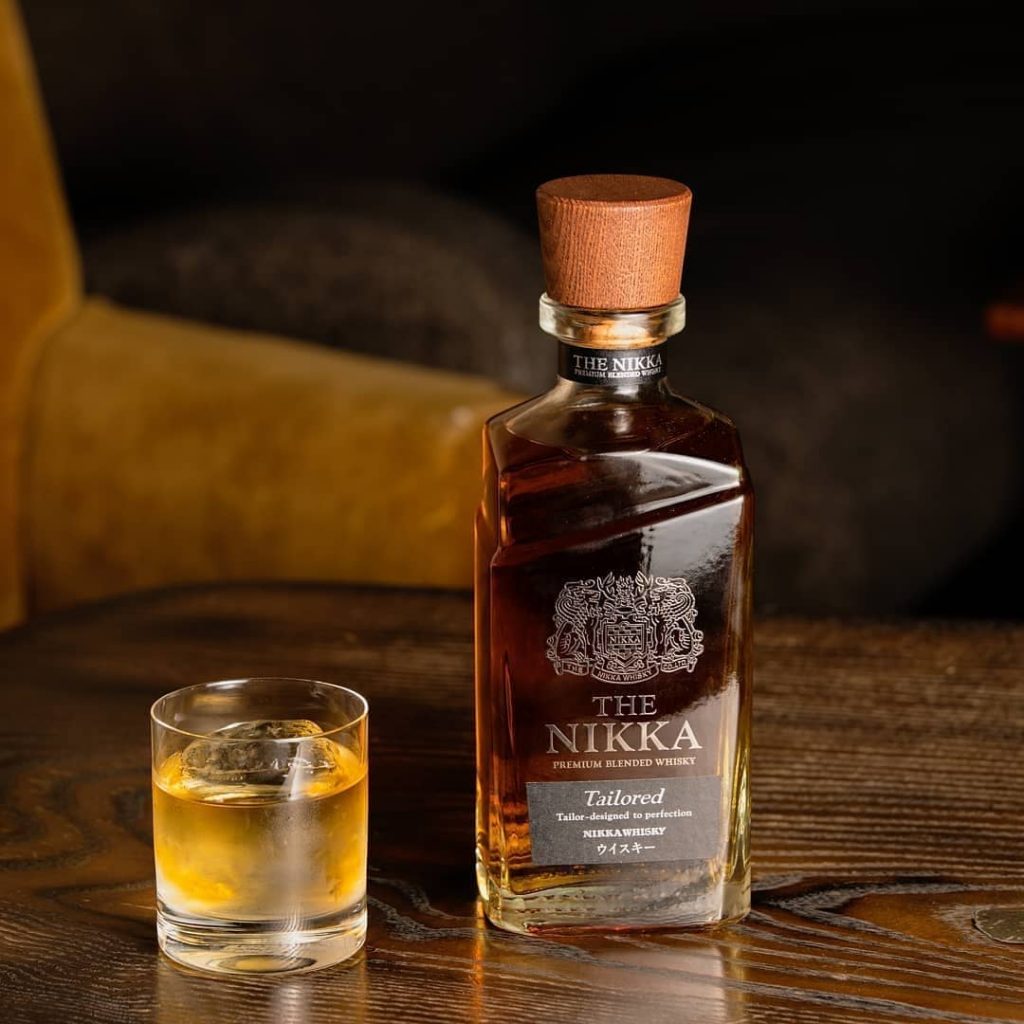 While production is now a 24-hour operation at both Nikka distilleries, there still remains a huge shortage of matured whisky in both warehouses, which is why so many blends – particularly those with age statements – have been culled in recent years. Like the 12 Year Old that came before it, Nikka Tailored is mostly made up of Miyagikyo and Yoichi malts aged in re-made American oak and sherry casks, Holt says, with a touch of grain whisky to bring the recipe together. Flavour-wise, it has "a very similar flavour profile that the 12 used to have, but using whiskies from a much wider variety of ages," she says.
Nikka Taketsuru Pure Malt, meanwhile, sees re-made American oak casks from Miyagikyo blended with sherry cask-aged liquid from both Miyagikyo and Yoichi. "So it's still predominantly Miyagikyo, but they've upped the Yoichi quantity to add a bit more body and smoke," Holt says. The sherry cask influence is also a little lower than the previous recipe. "The last Taketsuru was quite heavily sherried, and it didn't have much Yoichi in it," she explains. "The Yoichi was almost like seasoning, just a tiny hint of salty oiliness. They felt that that was a bit of a departure from the original Taketsuru flavour profiles, which were a little bit more equally balanced."
Enough chit chat. Let's taste them!
*Here in the UK, at least.
Tasting notes for Nikka Tailored (you can buy it here)
Nose: Thick syrupy honey, stewed apple and candied orange, with warming cinnamon and nutmeg.
Palate: Creamy and buttery, with toasted barrel char and bittersweet plum. More honey and raisin.
Finish: Fades into soft malt and vanilla oak, with a slight nuttiness.
Tasting notes for Nikka Taketsuru Pure Malt (you can buy it here)
Nose: Lemon tart, honeysuckle and peppermint up front. A second whiff reveals mellow peat, ginger, dried twig and walnut. 
Palate: Incredibly soft and delicate. Milky chocolate develops into lightly toasted cereal notes and fresh grapefruit and cardamom, all underlined with light smoke.
Finish: Menthol and alpine herbs, with lingering smoke. A touch of salt and sandalwood.