We're very excited to be welcoming Batch #15 of Laphroaig 10 Year Old Cask Strength single malt to MoM Towers. It's a bit of a beastie.
Whereas most whiskies nowadays market themselves as for everyone, Laphroaig takes the opposite approach. It revels in its difficult flavours with a marketing campaign about how some people are going to hate that unique briney medicinal taste. As Nick Ganich from parent company  Edrington UK put it: "The idea that Laphroaig isn't for everyone is what makes it such an iconic and inclusive brand." And don't forget that it is the whisky of choice for Charles III.
If you find the standard 10-year-old bottling a bit much, then you're probably not in the market for the cask-strength version. But for confirmed peatheads, Laphroaig 10 Year Old Cask Strength is going to taste like the elixir of the gods, and they will be queuing up to get their hands on a bottle of Batch #15 which has just landed at MoM Towers. 
Islay peat
But before we get into this special bottling, let's take a quick look at why Laphroaig tastes as it does. It all starts at the malting stage. Not all peat is created equal. Mainland peat tends to be made up of decomposed trees and bushes, whereas Islay peat comes largely from seaweed. The distillery cold smokes 20 to 25% of its own barley in its on-site maltings.
According to David Miles from EBS "You do not see a flame in the Laphroaig kiln," says Miles. "When a flame appears, it's damped down. That cold smoking process helps to give Laphroaig its very distinctive flavour and aroma." The remaining 75 to 80% is peated at neighbouring Port Ellen maltings – all using Islay peat. 
At Laphroaig, they have six stainless steel washbacks and fermentation is fairly short with dried Mauri yeast. The distillation process is unusual with three wash stills and then for the spirit run, three small stills and one large one, which was introduced in 1967. According to former distillery manager John Campbell, the largest still produces: "more cereally/heavier, deeper flavours, whereas the small stills are really quite fruity." Famously, Laphroaig has the longest foreshots run, 45 minutes, of any Scotch whisky meaning that much of the fruity, estery flavours don't go into the whisky.
American oak
Since the late '80s, Laphroaig has been under the same umbrella as Maker's Mark so has access to lots of high-quality American oak. In the distant past, more sherry casks would have been used but nowadays the Laphroaig profile has a strong ex-bourbon element. 
All this adds up to a fearsomely distinctive whisky with lashings of iodine and bonfire tempered by some bourbon sweetness, even at the standard 40% ABV. But when it comes in at a mighty 56.5% ABV like with this latest cask strength release…. Well, now you're talking. 
Laphroaig 10 year old Cask Strength is available from Master of Malt while stocks last. Click here to buy.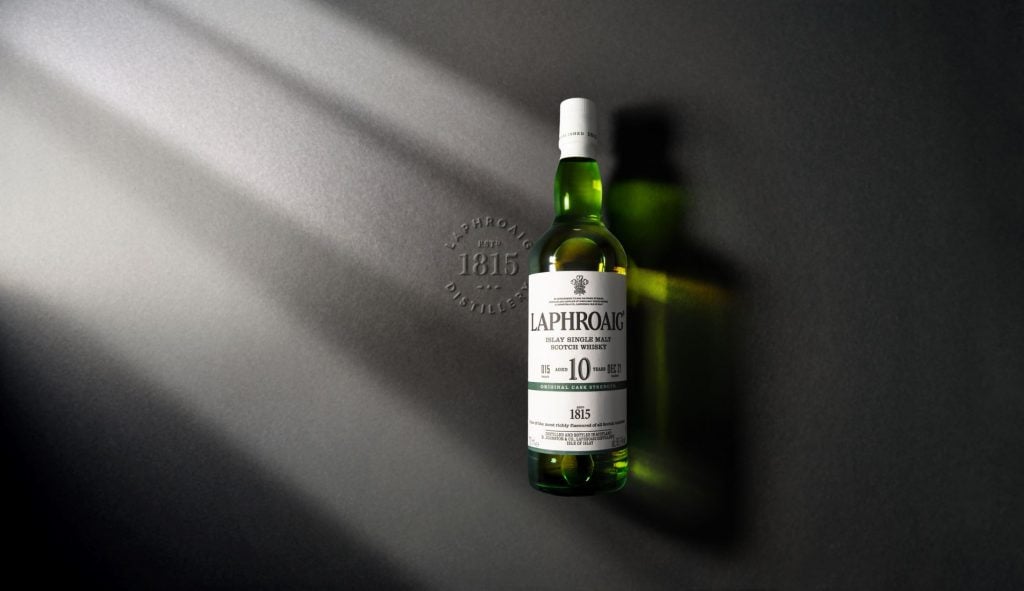 Tasting note from the Chaps at Master of Malt
Nose: Thick waves of iodine peat smoke followed by candied fruit and toffee.
Palate: Rich, earthy, and spicy heaps of clove, cardamom, and chilli. Then, salted caramel, blackcurrant, and a hint of liquorice.
Finish: Huge and drying.