This week we're shining our New Arrival spotlight on a fabulous single cask rye from Finland and it's only available from Master of Malt. It is the mighty Kyrö MoM Cask Exclusive!
Kyrö and Master of Malt have history together. In 2015, we were the first retailer outside Finland to stock its distinctive rye whisky. And now we're collaborating on an exclusive cask strength extremely limited edition whisky. How limited? Well, there are only 49 bottles and we've got the lot. But before we take a closer look, first a recap on Kyrö.
Rye history
It was founded in 2014 in Isokyrö near the Baltic sea coast opposite Sweden by five friends Mikko Koskinen, Kalle Valkonen, Jouni Ritola, Miko Heinilä and Miika Lipiäinen. Originally they began producing around 85,000 litres of pure alcohol a year but following €10million worth of investment in 2019, took production up to 350,000 litres. The team produces a highly regarded Kyrö Gin which has become the best-selling gin in Finland but whisky is the main focus, specifically rye whisky. 
It's a style commonly associated with the US and Canada but one that Kyrö has made its own. Rye is grown widely in the country and according to Lipiäinen, it is farmed extremely sustainably: "We don't need pesticides because most of the central European or Western European pests wouldn't survive this climate," he explained. 
But it's not only the raw materials that are different. Kyrö processes them differently too. Firstly, they only use 100% rye for their whiskies. American and Canadian ryes only have to have 51%. This rye comes entirely from Finland. They also use malted rye rather than the unmalted more commonly seen. This means that they don't need to add enzymes or malted barley to release the sugar from the starch. Fermentation times are long, around six days, so you're getting loads of flavour. 
Another difference is that Kyrö uses double distillation in a copper pot still rather than the more commonly seen columns in North America. They then age in a mixture of ex-bourbon and virgin oak casks to produce a whisky with all the peppery, aromatic spiciness you love from American rye whiskies as well as a lovely balanced sweetness that's full of citrus, caramel, and biscuits.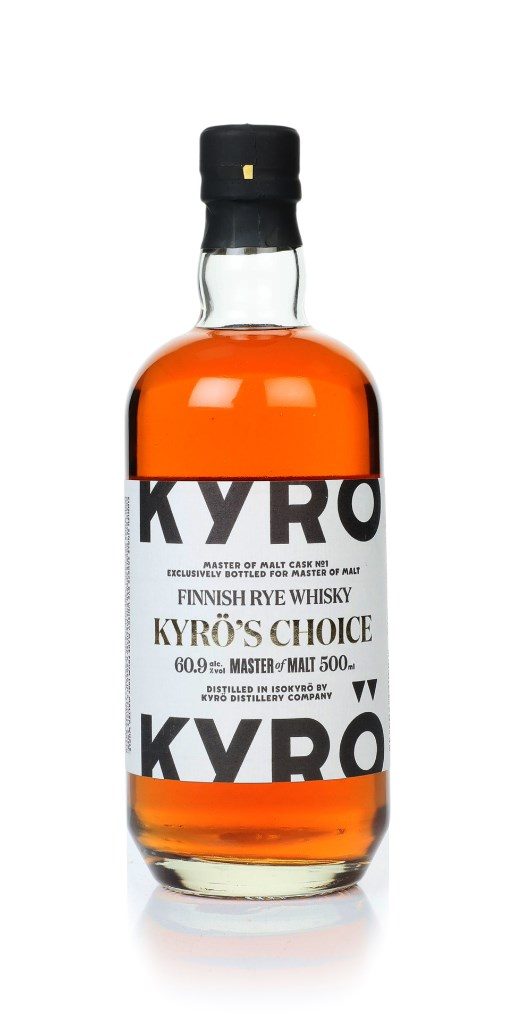 Kyrö  MoM Cask Exclusive
That's the usual bottlings anyway. For our New Arrival, we have something a bit special. It's the product of a single 64-litre white American oak cask, number 3243 to be precise, and around four years old. As with all Kyo whiskies, it is matured in the Ostrobothnia region where the temperature fluctuates between -30°C and +30°C. Following around four years of this extreme ageing, it was bottled at cask strength, 60.9% ABV.
Our buyer was impressed with the whisky's "floral character, nuts. long, gingerbread-like-note, and orange blossom". Sounds pretty tasty, doesn't it? Well, there are only 49 50cl bottles available making this a very rare rye. It's unlikely to hang about for long.  
Kyrö  MoM Cask Exclusive is only available from Master of Malt. Click here to buy.
Tasting note from the Chaps at Master of Malt 
Nose: Floral citrus, cracked black pepper, peanut brittle, a whisper of caraway and red chilli flake.
Palate: Brown sugar, cinnamon, chewy toffee, orange peel, a touch of dark chocolate mousse, stem ginger, and menthol.
Finish: Strong rye warmth, mellowed by juicy orchard fruits and vanilla pod.