This week we're shining our New Arrival spotlight on an Irish whiskey aged in a medley of different woods including Portuguese, American, French and Hungarian oak, and a bit of chestnut for good measure. And they're all in one cask: it's Kinahan's The KASC Project (M).
As we've written about before, the key words in the Irish Whiskey Association's regulations are: "such as oak." This means that producers in Ireland get to experiment with a broader range of trees than their rivals across the Irish sea.
Irish Distillers has released experimental whiskeys aged in chestnut and acacia but perhaps nobody has majored in complicated casks more than Kinahan's. Its latest release is called Kinahan's The KASC Project (M), no that isn't a typo, and it's a single malt aged in a mixture of Portuguese, American, French and Hungarian oak, and a bit of chestnut. Sounds pretty unusual. But the really unusual thing is that all those different types of wood are in one cask!
An old name
The Kinahan name is an old one. It dates back to 1779 and describes itself as the 'pioneer of Irish whiskey'. Operating from vaults underneath Hamilton Row in Dublin, Kinahan's were one of the first to sell matured whiskey, according to the company's history. The brand was particularly popular with Charles Lennox, Lord Lieutenant of Ireland, who had casks for his personal consumption marked with the letters "L.L."
Kinahan's also proved a hit in Victorian London and was the whiskey of choice for cocktail pioneer Jerry Thomas. He specifies the brand in his 1862 Bartenders Guide. But as with so many Irish whiskey brands, Kinahan's did not survive Prohibition in America where it exported over 90% of its production. 
A new company
So the name nowadays doesn't have much of a connection with the original brand. It was revived recently by a team including a South African distiller Quinzil du Plessis and released its first whisky in 2019. But like the original, Kinahan's today doesn't distil its own spirit. Instead, it buys in new make from undisclosed distilleries in Ireland. Whiskey fans can have a lot of fun guessing where the grain and single malts might come from.
Kinahan's big thing is different types of wood which go into its hybrid cask or KASC, as they call it for some reason. The idea of mixing wood in a cask is not unique. Compass Box uses an American oak cask with French oak ends to age some of its whiskeys. Kinahan's, however, really takes this to extremes with five different types of wood used to age its latest release. The website describes Kinahan's The KASC Project (M) as "the world's first hybrid single malt Irish whiskey" and more evocatively as "a riot of wood." Each different type of wood brings something else to the party, see the tasting note below.
And robot brand ambassadors 
Kinahan's is innovating in other ways too. Last year the company announced the arrival of 'digital brand ambassadors''. According to director Zak Oganian, "Building meaningful relationships with consumers is an integral part of our brand longevity. For Kinahan's, implementing new technologies is going to be a journey of trial and error. Once we get it right, the next generation of whiskey drinkers will enjoy a new enriched reality". Sadly, the results, at least to our eyes, are a little underwhelming. One wag described them as "Lawnmower Man but whiskey." We don't think Colin Dunn has anything to worry about yet.
Let's just go back to the whiskey, shall we? The first Kinahan's The Kasc Project release, a blended Irish whiskey, picked up some rave reviews on the Master of Malt website, and we think The KASC Project (M) will be similarly popular. As well as the KASC Project releases, the team also produces a range of more traditionally aged whiskeys as well as some upmarket ones finished in a range of casks including Merlot, Amarone and Armagnac casks. At Kinahan's Whiskey, it's all about the wood.
Kinahan's The KASC Project (M) is available from Master of Malt. Click here to buy.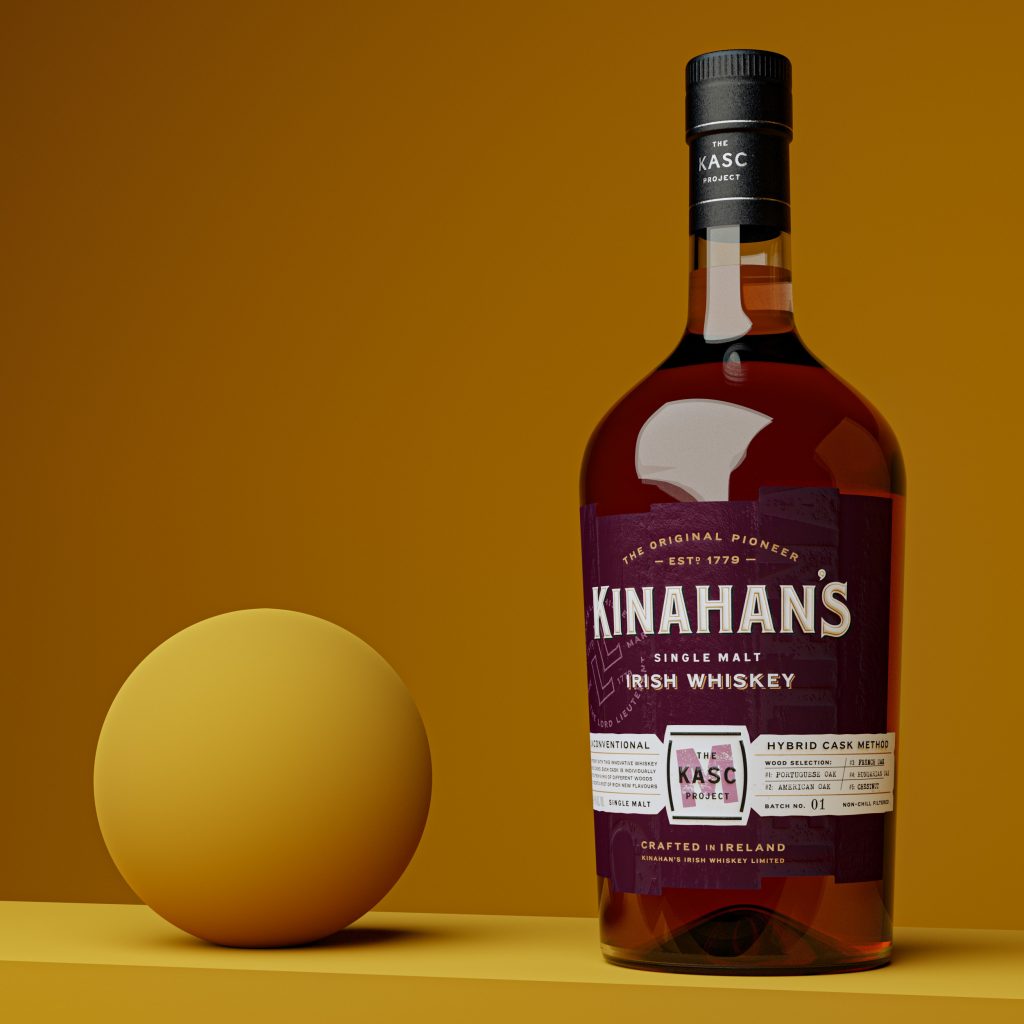 Tasting note from the Chaps at Master of Malt
Nose: Tropical fruit funk, with spiced apple compote, earthy vanilla, and drizzles of dark caramel.
Palate: Papaya, peaches, and crème caramel, with raisins and dark muscovado sugar.
Finish: Buttery apricot crostata with drying oak.