When we last wrote about Fettercairn, we said to expect new incarnations of its 16-year-old expression. And one has just arrived. Let's talk: Fettercairn 16 Year Old – 2nd Release: 2021.
There's new Fettercairn in town and so that's a lovely excuse to talk about how the distillery is really coming into its own these days. A relaunched core range in 2018 has been followed by some cracking limited-edition releases, including the Warehouse Collection and an annual series of 16-year-old bottlings, bringing renewed interest in the brand and undoing some of the negative reception the distillery previously got from some quarters.
It's the 16-year-old releases that we're focusing on today as Fettercairn 16 Year Old – 2nd Release: 2021 has turned up at our doorstep, following the success of the inaugural Fettercairn 16 Years Old last year. The idea behind the yearly editions is to use a new selection of casks to showcase how the Fettercairn spirit responds to different styles, with Oloroso and Palo Cortado sherry, and Port casks being used so far across the two expressions.
The distillery's core range is very much a journey through Fettercairn's DNA, with each bottling being matured in ex-bourbon casks to show how it evolves over time. This means the 16-year-old bottlings are a window into another side of Fettercairn, which is why we're very excited to get stuck into Fettercairn 16 Year Old – 2nd Release: 2021.
Fettercairn flexes its maturation muscles
This latest release makes use of both full sherry-matured and sherry-finished whisky. The casks, sourced from a small, family-run bodega in Jerez, include first-fill Oloroso, refill Oloroso and first-fill Palo Cortado sherry butts, a never to be repeated selection married together to create something distinctive. 
The key is to ensure that these barrels bring something new to the table without trampling all over the Fettercairn tropical fruit and malty house style. Fortunately with master whisky maker Gregg Glass working on the release, this difficult task is in good hands, and whisky fans will be pleased to know that the expression was also bottled at 46.4% ABV without any additional colouring or filtration to allow those natural flavours to shine.
The unique Fettercairn style comes from a unique process, which begins by processing malted barley through a Bühler mill and then an old Victorian, open-top tumble rig mash tun which makes a cloudy wort with a rich, biscuity profile. Fermentation takes place over 60 hours in 13 Oregon pine washbacks, which is followed by distillation in two wash stills and two spirit stills. The latter has arguably Fettercairn's most signature feature, copper cooling rings fitted in the 1950s to lighten the rich wort by boosting reflux. No other distillery uses this method.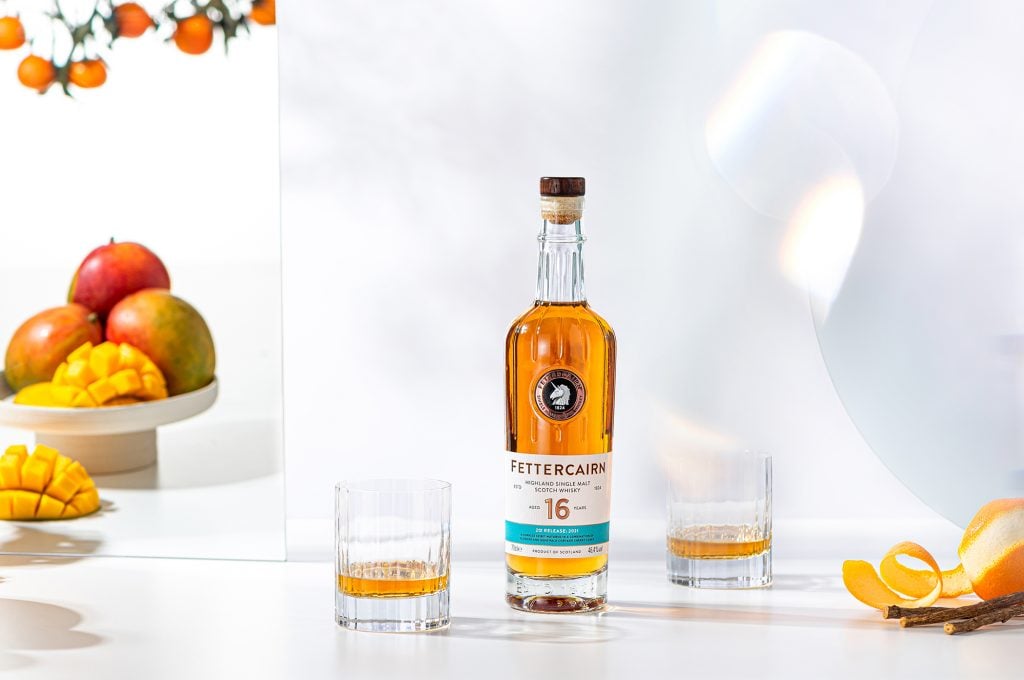 Fettercairn 16 Year Old – 2nd Release: 2021 review
You don't want to see that unique flavour lost in a jumble of cask influence. Thankfully, that's not the case here. Fettercairn 16 Year Old – 2nd Release: 2021 is a really interesting example of how you can sherry a dram and add lots of rich, nutty, and sweet goodness without going into silly sherry bomb territory. The integration is very good, with the Palo Cortado representing a beautiful touch of flair in the selection, adding elegant dry, and bittersweet notes to ensure the dark richness of Oloroso doesn't run away with things.
The previous release was a much more boisterous affair, this is more refined and demonstrates that the Fettercairn approach continues to be an interesting, credible one. The distillery itself says it "showcases the approach we take to making single malt," and that it is "confident that this year's 16 Years Old will be another Fettercairn release that excites and enthralls whisky drinkers." I'm inclined to agree. I think it's the kind of ambitious dram that whisky drinkers will really appreciate, though their wallets might have some objections. Anyway, here's a tasting note:
Nose: Sherry-soaked oak, sugared almonds, vanilla, and mango. There are hints of ginger spice and coffee beans to balance out those sweet notes, as well as some stewed dark fruits in the backdrop.
Palate: A drying palate delivers notes of charred pineapple, salted peanuts, woody spice, and orange zest, with touches of Madeira cake, liquorice and toffee underneath.
Finish: A smattering of drying spice lingers with just a hint of juicy tropical fruits in support.
Fettercairn 16 Year Old – 2nd Release: 2021 is available from Master of Malt. Click here to buy.