Today we're celebrating a single cask release from John Crabbie & Co. Normally this independent bottler keeps the source of its whisky secret but in this case we are allowed to reveal which island distillery it comes from. . . . 
John Crabbie was one of the great pioneers of blended whisky like John Walker and Arthur Bell. Crabbie, who lived from 1806 to 1891, owned a grocery and tea-blending business in Edinburgh, but moved into the whisky trade when phylloxera devastated the vineyards of Cognac leading to demand for an alternative from English drinkers. He acquired casks and started bottling whiskys from more than 70 distilleries around Scotland. With his friend Andrew Usher, he began blending whisky to create a consistent product. This led to him purchasing a brewery in Leith where he set up his own distillery producing not just whisky but also gin and liqueurs including a famous ginger wine. Later the two of them, along with William Sanderson (of VAT 69 fame), would set up the mighty North British grain distillery.
The North British is still going strong but until very recently the Crabbie name was only known for ginger wine, all that whisky heritage was largely forgotten. In 2007, Halewood, the company behind Whitley Neill gin as well as the Aber Falls Distillery, City of London Distillery, Liverpool Gin Distillery, and the Bristol & Bath Rum Distillery, acquired Crabbie. Production of Crabbie's ginger wine moved to Liverpool, shock horror! But Halewood has not neglected Crabbie's Scottish roots. Far from it, in December 2018 the company opened Crabbie & Co, Edinburgh's first single malt distillery in over 100 years. Whisky, of course, takes a long time, so Crabbie has been building a reputation with some award-winning single malts releases from mysterious distilleries.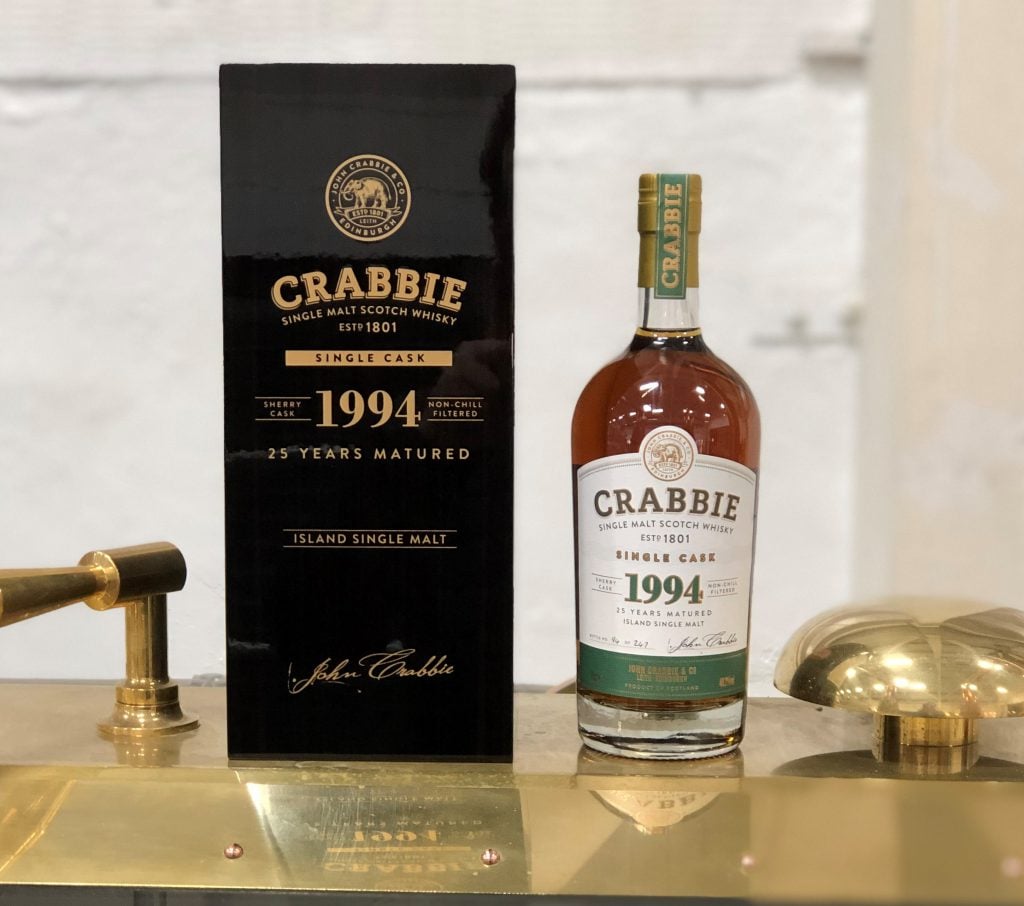 The latest release, however, Crabbie is proud to announce is from Tobermory, a popular distillery at Master of Malt and not only for its excellent whiskies. This particular one was distilled in 1994 and aged in an ex-sherry hogshead and then bottled without chill filtering or the addition of colour at 46.2% ABV. John Kennedy, head of sales for Scotland, commented: "Crabbie 1994 Island Single Malt is one of our most carefully planned releases to date. We'd had cask samples from distilleries all across Scotland and it was a difficult choice, but this sherry cask from Tobermory was absolutely stand out with its nose of sweet macerated dates, fruit cake, warming spice and its orange marmalade and rich dark chocolate finish. It will most certainly appeal to those who take their whisky seriously."
We take our whisky very seriously here and were suitably impressed. Despite the all sherry cask ageing, it's not what you'd think of as a 'sherry bomb'. The nose is aromatic, minty even, followed by sweet toffee, coffee and dark chocolate notes. In the mouth, it's fruity and fresh, with cedar, black pepper and muscovado sugar on the finish. All round, it's an elegant drop. It's also a very limited edition with only 247 bottles available for all of the UK market. We think it's a great tribute to a giant of Scotch whisky who deserves to be much better known.
Tasting notes from the Chaps at Master of Malt:
Nose: Brandy butter and fruitcake, with a hint of menthol sneaking through.
Palate: Soft on the palate, with sultana, chocolate mousse and malt loaf. A slow build of clove and caraway warmth.
Finish: Tiffin, chocolate peanuts and some fresh mango fruitiness.
Crabbie 25 Year Old 1994 is available now from Master of Malt.