Three great new bottles of Calvados have arrived from a producer that is new to us: Coquerel Calvados VS, VSOP and XO I was lucky enough to taste these brandies at an event earlier this year and I was just knocked out by their sheer appleyness. It sounds like a silly thing to say about a brandy made from apples but these all taste vividly and evocatively of apple. I scribbled in my notepad after tasting the VS, "like walking into a cidery in autumn."
The Coquerel Calvados story
The house was founded in 1937 by Rene Gilbert and is still in family hands today. The current CEO Pierre Martin Neuhaus had a varied career in finance before joining the family business in 2014. The family both own orchards and work with neighbouring farmers to provide the apples they need to make their Calvados (if you want to know about Calvados, read our guide). They use around 40 different cider varieties which are divided up into sharp, bittersweet, sweet and bitter sharp types. 
Fermentation is done using natural yeasts. As it says on their website: "we are convinced that a great Calvados is above all a great cider." They produce different ciders according to how long they want to age the resulting eau-de-vie for. To make VS level Calvados, they ferment for between 30-60 days, while for longer ageing ferments can take up to eight months. Can you imagine all the flavour that builds up in this time? Compare this with whisky where fermentation rarely lasts longer than two days.
Distillation takes place in a traditional short column still – rather like that used in Armagnac – and the cider is distilled on the lees (the dead yeast cells). This produces a spirit of around 72% ABV.  Ageing is done initially in large oak foudres (20,000-30,000 litres) which don't add any wood flavour to the spirit for up to six months before they are transferred to 300 and 400 litre oak barrels to finish ageing. The family uses a mixture of old and new barrels some of which will have contained Cognac, rum, sweet wines or pommeau de Normandie (an aperitif made from Calvados and apple juice rather like Pineau-de-Charentes.)
Tasting Coquerel Calvados
This devotion to flavour and care in ageing is noticeable from the very first sip. These are superbly fruity brandies with none of the strange funky flavours you get in some farmhouse Calvados. But nor are they trying to ape Cognac and go for smooth, long-aged profiles. Coquerel Calvados is all about delicious fruit. As such they make a great introduction to the category. It's hard to imagine anyone not enjoying these lovely spirits. Those vivid flavours are great neat but the VS and the VSOP are both brilliant for mixing. The VS in long drinks with tonic or soda water while the VSOP would be lovely in a Brandy Sour. Meanwhile the XO is hard to beat after a big meal. Here's what we thought of the range.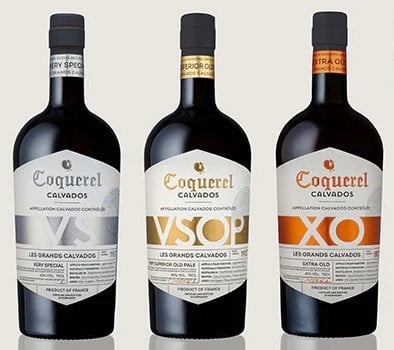 Essence of apple in the mouth, sharp green apples, and sweet honeyed fruit with subtle vanilla and spice notes. 
Spicy brown apples on the nose with cooked apples, toffee and vanilla on the palate. Very pure and fruity with some length. 
Rich palate of apple pie, dark chocolate and toffee leavened with some citrus peel and ending in a long nutty finish.
Click on links for prices and to buy.