This week's New Arrival from Bunnahabhain was originally a distillery-only expression but we've snaffled the lot so it's now available only from Master of Malt. But probably not for long.
The gap left by the cancellation of Fèis Ìle left a huge hole in the life of many whisky lovers. Islay fans are a particularly fanatical bunch and the Covid crisis has meant that this year most won't get their yearly island fix which also means that they won't be able to buy certain releases that are only available from distillery doors. Well, our buyers have seen an opportunity by bringing Islay to you in the form of this former distillery-only release from Bunnahabhain which is now only available from Master of Malt.
It's a 15 year old release that was distilled in February 2003 and filled into refill hogsheads. Then in 2016 it was transferred into amontillado hogsheads for a further two years ageing before it was bottled at cask strength, 57.4% ABV.  1710 bottles have been produced. The flavour is rich with dried fruit and chocolate without a trace of smoke. It's very different from the typical Islay dram.
Bunnahabhain is something of an anomaly on the island in producing mainly unpeated for its single malt. This didn't used to be the case. The distillery was built between 1881 and 1883 by the Islay Distillery Company. The name means 'Mouth of the river' in Gaelic; the river in question being the Margadale. According to Moss & Hume in The Making of Scotch Whisky, when it was built it was the largest distillery on the island with a capacity to produce 200,000 gallons (900,000 litres approximately) a year of highly-flavoured whisky for blending. Its owners merged in 1887 with Glenrothes to become Highland Distilleries Ltd. 
In 1963, production was doubled but the style changed with the closure of its maltings. From now on malt came unpeated from the mainland. Most of this new lighter Bunnahabhain went into Cutty Sark blended whisky. In 1999, Highland Distilleries was acquired by the Edrington Group which then sold Bunnahbhin to Burn Stewart Distillers in 2003. Bunnahabhain new owners kept the light style for the single malt but also used the distillery to make heavily peated malt for the Black Bottle blended whisky. Burn Stewart in turn was bought by South African spirits conglomerate Distill in 2014. It can be hard to keep up with who owns what in Scotch whisky.
The set-up consists of two large onion-shaped wash stills and two smaller pear-shaped spirits stills. Washbacks are traditional Oregon pine. Production now stands at 2.5 million litres a year. A little peated single malt is released under the Mòine label but ours is in the classic post-1963 Bunnahabhain style. Very nice it is too though perhaps not for real Islay headbangers.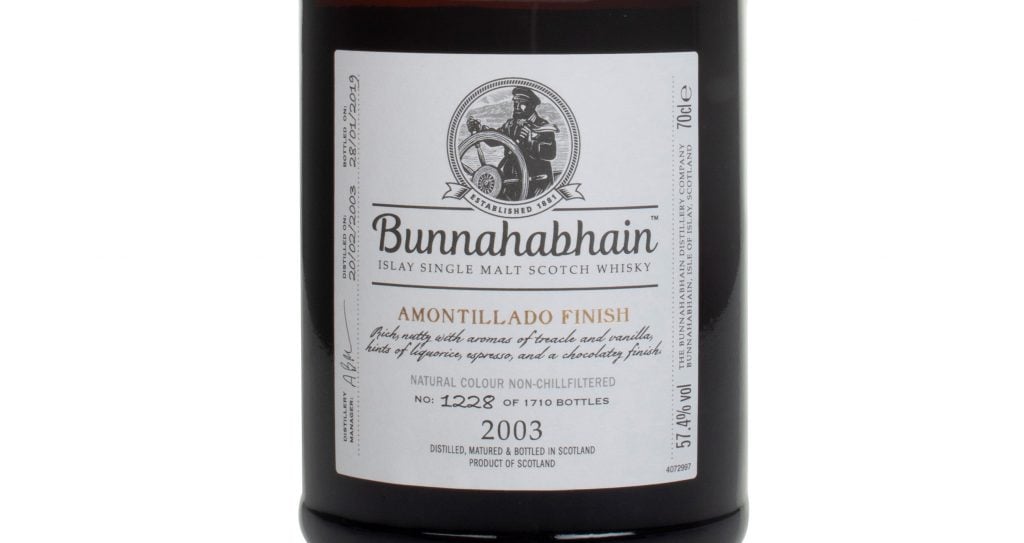 Tasting note from the Chaps at Master of Malt:
Nose: Toasty oak and caramelised nuts, with dusty cocoa, earthy vanilla pod and jammy berries.
Palate: Plump raisin and melted dark chocolate, with mocha, dark treacle and oily nuts alongside forest berries.
Finish: Chocolate-covered raisins linger.
Bunnahabhain 15 Year Old 2003 Amontillado Cask Finish is only available from Master of Malt.