This week we're highlighting an American whiskey that's very close to a bourbon in style but with one crucial difference, created by former Woodford Reserve supremo Dave Scheurich.
Whisky distillers are like master criminals, no, not in terms of morals, well, some of them are, but that's another story. What they have in common is that both announce their retirements, only to be lured out by one final job. Think of Jim McEwan who retired from Bruichladdich in 2015 only to be made an offer he couldn't refuse by the Hunter Laing mob when they were setting up a new distillery on Islay, Ardnahoe. 
Then there's Dave Scheurich, who retired from Brown-Forman in 2010 after over 21 years at the bourbon giant.  He was instrumental in setting up the Woodford Reserve brand and making it one of the most admired whiskeys in America. Before that he had stints with Wild Turkey, and 14 years man and boy at Seagram, the now-defunct Canadian giant who dominated the international spirits business before collapsing in 2000. In 2012 he was given a Lifetime Achievement Award by Whiskey Advocate magazine. After that sort of career, most of us would be happy to take up fishing and long-winded anecdotes, but not Scheurich.
In 2016, it was announced that he had teamed up with the Royal Wine Company (a New York-based business that specialises in kosher wine) to create a new American whiskey brand, Boondocks. The name is inspired by a slightly-pejorative word used by fancy city types for the countryside. What we might call it 'the back of beyond'.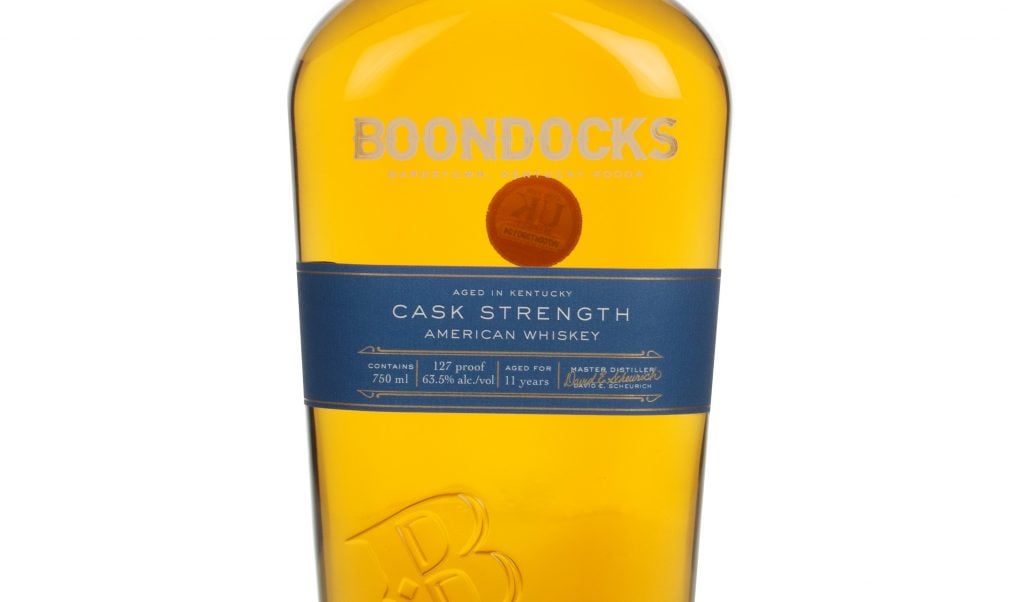 The aim was to create fine American whiskeys that were a bit different from the bourbon norm. Despite its corn-heavy mash bill (80% corn with the rest rye and malted barley), our New Arrival can't be called bourbon because it's not put in new oak casks. Instead like much Scotch, it's aged in used casks. It's also significantly older than most American whiskeys, which to be sold as such in the EU only have to be three years old (and can be much younger in the home market). This is also bottled at cask strength, 63.5% ABV, something that will appeal to aficionados. There's also a 47.5% ABV version as well as an 8 year old bourbon.
With a name like Boondocks, you'd probably imagine it's made in a tiny distillery in the woods, miles from the nearest town of any size, that hasn't changed much since prohibition was repealed and staffed mainly by men called Jedediah. Sadly, nothing so romantic as the brand doesn't have its own distillery and buys in its whiskey. Nothing wrong with that, lots of brands in whiskey, especially in the US and Ireland, don't make their own spirit, it's just not such a good story.
Still what matters most is what's in the glass. And it's good, really good, with a depth of flavour you don't often find in American whiskeys. Previous releases have won awards like a Gold Medal at the Los Angeles International Spirits Competition 2016 and Best of Category in the Ultimate Spirits Challenge 2016. It's a great sipper either with a splash of water, with ice or I can't think of a better whiskey for an Old Fashioned. Drink it slowly, let the ice dilute the high strength and see how it changes.
Tasting note from the Chaps at Master of Malt:
Nose: Strong coffee with just a splash of milk, rich cherry sweetness and a subtly floral hint.
Palate: Toasted almonds and spicy rye, underneath layers of brown sugar and cookie dough.
Finish: Lingering buttery corn and stem ginger.
Boondocks Cask Strength 11 Year Old American Whiskey is available from Master of Malt.