We love featuring an under-the-radar distillery in our New Arrival slot and they don't get less high profile than Allt-á-Bhainne. Before we go any further, this is how it's pronounced:  'ollt-err-vane' not 'autobahn' as some people in the office have been calling it. That's not so hard is it? Right, what we've got here is a very special Allt-á-Bhainne 21 Year Old whisky from a single cask that was distilled in 1996 and bottled for our Master of Malt exclusives range. We'll take a closer look at this special whisky shortly. But first a few words on the distillery which won't be familiar to you, unless you are a whisky superfan. In which case, we salute you!
The Allt-á-Bhainne story
Allt-á-Bhainne's origin story is not a glamorous one. There's no long illicit history or romantic stories about men called Hamish and women called Morag. Though the name is quite poetic: Allt-á-Bhainne means 'the milk burn' in Gaelic and it is located not far from Ben Rinnes near Dufftown, the capital of the Speyside region.
The distillery was built in 1975 by Canadian drinks giant Seagram to make malt whisky for its Chivas range of whiskies. It was less than brilliant timing, as the industry was on the verge of a crash that would wipe out such great names as Port Ellen and Brora. Despite this, the Allt-á-Bhainne distillery survived and was even expanded in 1989. It did, however, briefly close down in 2002 due to lack of demand shortly after moving into the hands of Pernod Ricard following the collapse of the Seagram empire in 2000. Happily in 2005, Allt-á-Bhainne was back, turning out malt whisky for blends like Chivas and Ballantines.
Today the set-up consists of a nine ton stainless steel mashtun and eight stainless steel washbacks. Distillation takes place in two wash stills and two spirit stills, the latter with boil balls in the neck to encourage reflux, and the lyne arms slope upwards. All this copper contact creates a light new make spirit. The distillery has a capacity of 4.5 millions litres of spirits a year. Most of it goes into bourbon refill casks though there is some sherry wood used too. A small amount of peated malt whisky is made here as well.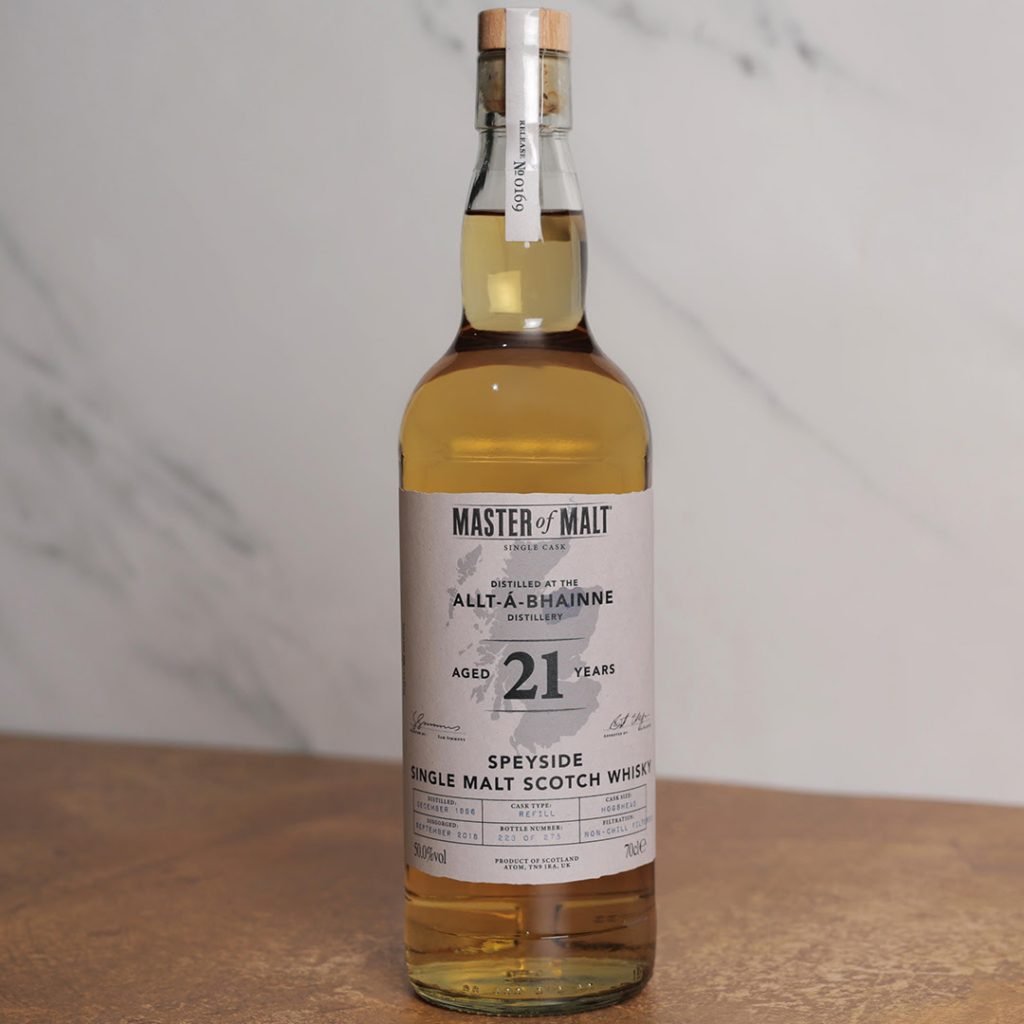 Tasting Allt-á-Bhainne 21 Year Old 1996 Single Cask
There is currently no official Allt-á-Bhainne bottling though a peated NAS edition was launched in 2018 and was then discontinued. If you want to try it as a single malt then you have to go to independent bottlers… like Master of Malt.
What we have here was distilled in 1996 and spent 21 years in a single cask before bottling at 50% ABV. You can expect flavours of spicy toffee, biscuity malt, juicy mango, and candied ginger. Full tasting note below. Only 275 bottles are available and they won't be around for long.
Allt-á-Bhainne 21 Year Old 1996 Single Cask is available from Master of Malt. Click on link for price and to buy.
Tasting note from The Chaps at Master of Malt
Nose: Sweet and tropical, with foam banana sweeties, candied mango, and pureed pineapple backed by rich toasted oak and vanilla.
Palate: Candy sweetness leads, with yellow Fruit Pastilles and barley sugars. Spiced toffee follows, with tangy, spicy notes of rhubarb and ginger crumble, and a dollop of cream.
Finish: Biscuity malt lingers, with charred oak, juicy mango, and crystallised ginger.