Here's something that's sure to get lovers of sherried Speyside whisky all hot and bothered, it's the latest batch of Aberlour's cask strength whisky. Yes, Aberlour A'Bunadh Batch 88 single malt is here. And we think it might be the best one yet, not least because 'Batch 88' sounds really cool. 
A'Bunadh (pronounced 'a-boone-ack' just in case you didn't know) means 'the original' in Gaelic. The series was created in homage to Aberlour's founder James Fleming, and the whisky itself was inspired by the discovery of a time capsule. Like they used to do in Blue Peter. Dated to 1898, the capsule was uncovered in 1975 during the installation of a second set of stills. A'Bunadh is an attempt to recreate the style of whisky from that time period. 
The Aberlour story
Aberlour was established in 1826 by James Gordon and Peter Weir, but after a huge fire broke out in 1879, James Fleming took it upon himself to rebuild the distillery further up the River Spey. Fleming wasn't just a businessman but also a local politician and philanthropist, and one of his most notable acts was to bequeath funds for a footbridge over the dangerous fast-moving river to replace the ferry service. The result was the handsome Victoria suspension bridge which is still there to this day. 
In 1892 Aberlour was sold, but it suffered yet again in 1898 from another serious fire, after which it had to be rebuilt once more. It would appear the newly-built distillery upped its safety standards after that because the building hasn't been torn down by flames since (*touches wood*). In 1945 Aberlour was acquired by S.Campbell & Sons and then in 1973 renovations began to increase the stills from two to four, during the course of which the time capsule was discovered – an original bottle of whisky from 1898 wrapped in a newspaper reporting on the fire from that year.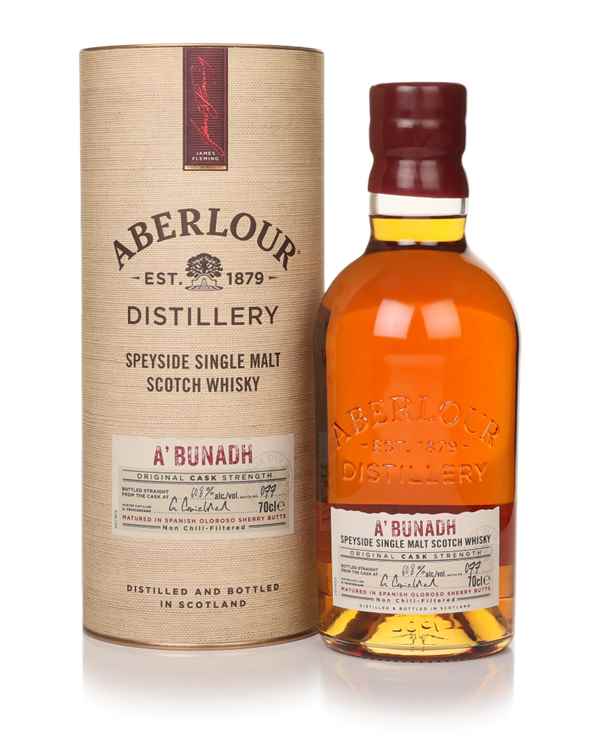 The new batch
Just one year after the still number was doubled, Aberlour changed hands once more, this time to Pernod Ricard. It was the French drinks giant that launched ​​the first A'Bunadh cask strength single malt in 2000. It has become the distillery's most celebrated expression, and that's thanks to its punchy flavour profile. Each release is matured entirely in oloroso sherry casks, which means it's like one big boozy raisin, accompanied by a hefty dose of sticky baking spices.
Aberlour A'Bunadh Batch 88 single malt is available from Master of Malt. Click on links for prices and to buy.
Tasting Note by The Chaps at Master of Malt
Nose: Seville orange marmalade, cocoa, sultanas, and ginger.
Palate: Prunes, allspice, nutmeg, and flamed orange peel.
Finish: Spicy and sweet.