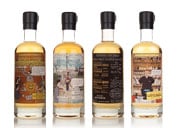 Well that was quite a Christmas.
In fact it's been so busy that 4 new releases have passed us by with nary a mention. Changing that, now I am here with the writing about things. Yes.
Without further ado, onto the explanations behind the crazy stuff that's fallen out of my head and onto paper.
First up this time, we've got an absolute belter of an Islay Whisky, from Kilchoman.
Kilchoman – Batch 1 (That Boutique-y Whisky Company) – 55.5% – 272 bottles
Tasting Note for Kilchoman – Batch 1 (That Boutique-y Whisky Company):
Nose: Barley, honey, peat. A real golden dram. Beautifully balanced, it becomes more buttery, with both lemon sherbets and gummy bears as well as perfectly seasoned popcorn. Dried apricot and rosemary roast potatoes develop whilst water unlocks a little more maritime seaweed.
Palate: Super sweet, warm barley with vanilla and crème brûlée. Peat is ever-present without taking over.
Finish: Less buttery but popcorn is there again alongside more golden barley. Subtle peat lingers with just a hint of freshly ground black pepper.
Overall: This is a cracking little independent Kilchoman. A golden, peaty treat!
Independent bottlings of Kilchoman are staggeringly rare, and we're incredibly fortunate to have been given the chance to add this absolute belter to the Boutique-y line-up. Kilchoman grow a significant proportion of their own barley for use in their whisky, and recently took the decision to switch strains (from Optic to Publican for you super-geeks) in order to increase yields in their own fields (Publican is more weather-resistant) and maximise the output at the distillery. The label depicts the two strains of barley presented for analysis at some super-barley laboratory or other. Less is more on this label, we think.
Pleasingly enough, we can go back in time to the very first trip we took to Feis Ile, the Islay Whisky festival almost four years ago and revisit the interview we conduced with the distillery Manager, John MacLellan here: https://www.masterofmalt.com/Blog/post/Feis-Ile-The-Islay-Whisky-Festival-2011-Part-Five.aspx where he talks excitedly about the impending first bottling of the whisky made using their own Barley. How time flies eh?
Second, we've got a fabulous whisky from Glentauchers.
Glentauchers – Batch 1 (That Boutique-y Whisky Company) – 50.7% – 185 bottles
Tasting Note for Glentauchers – Batch 1 (That Boutique-y Whisky Company):
Nose: Fresh and complex, sweeter floral notes combine with more rich crushed cashews, cereal a touch of oil paint with citrus throughout, especially orange.
Palate: Granola with satsuma and chunks of melon in thick yoghurt.
Finish: Slightly fragrant cereal and grains – more savoury as less of the fruit follows through. Tasty stuff!
Overall: A wonderful whisky this, from a distillery whose single malts we don't see enough of due to their importance in creating the Ballantine's blends.
In this label, set way back in the early 20th Century, a man (let's call him Dan*) is extolling the virtues of the distillery's new 'continuous malt' process (basically producing malt whisky in column stills). Sadly, this production method didn't catch on, and the process was abandoned in favour of the traditional method of producing malt whisky in pot-stills, and grain whisky separately in column stills.
Third, we go to Littlemill, and probably the world's foremost collector of the aforementioned whisky, Menno Bijmolt, who we first met back in 2010 at Maltstock.
Littlemill – Batch 1 (That Boutique-y Whisky Company) – 47.4% – 151 bottles
Tasting Note for Littlemill – Batch 1 (That Boutique-y Whisky Company):
Nose: Some straw is balanced with sweetness – stone fruit and proper Jelly Babies with the powder. As it opens up, it becomes all about malted milk biscuits and custard creams, with tangerine emerging too.
Palate: Malty with fantastic mouthfeel and creamy oak.
Finish: Earthy spices, nutty vanilla.
Overall: Creamy and incredibly drinkable at 47.4%, with wonderful mouthfeel – a closed distillery on top form.
Menno runs a fabulous whisky shop in Opijnen, in The Netherlands, and keeps his collection on full display in his shop, and regularly has to shoo away customers who want to buy bottles from it. 'Not for sale!' is the cry that goes up!
Finally, we're off to a Highland favourite – Glen Garioch.
Glen Garioch – Batch 1 (That Boutique-y Whisky Company) – 50.6% – 284 bottles
Tasting Note for Glen Garioch – Batch 1 (That Boutique-y Whisky Company):
Nose: Thyme honey, shortcrust pastry (with a little apple-y mincemeat inside it) and lemon peel. White pepper, toffee and a touch of stock but still fruity. Buttery notes develop.
Palate: Ginger Nuts, orange zest and buttery barley.
Finish: Drying with mixed fruit and nuts.
Overall: An intriguing little Highland whisky, with an innocuous looking label that is actually a work of the very finest science fiction. Star Wars came out in 1977 too, perhaps Ryan's planning to see it before he goes Back To The Future.
Now this one may take some explaining. You see, back in the late 1970s, Glen Garioch embarked upon a brave, and incredibly forward-thinking mission to use the waste heat produced by the distillation process at the distillery. Their idea was to use it to heat an enormous greenhouse attached to the distillery complex, in which they grew all manner of deliciousness. Kiwi Fruit, Tomatoes, and so on.
In this label, we can see Prince Charles discussing the hot topic of heat reclamation whilst a familiar face lurks in the background. That's right, it's Barman, and Glen Garioch fan extraordinaire Ryan Chetiyawardana, who's hopped aboard his time-machine to come and rob some tomatoes.
Obviously.
Ben
*Dan. Dan. Dan.